Watch Party: The Power of Capital- Advancing Black Entrepreneurs
We're excited to announce a new partnership with Chase for Business to offer Advancing Black Entrepreneurs with Shea Taylor, Sr. Consultant.
About this event
In partnership with Black Enterprise, the National Urban League, the U.S. Black Chambers and the National Minority Supplier Development Council, Advancing Black Entrepreneurs by Chase for Business has developed a series of information-packed sessions that help expand your financial knowledge, including the latest – The Power of Capital.
Chase for Business and Advancing Black Pathways have come together for Advancing Black Entrepreneurs – a collection of practical resources tailored to help Black business owners grow and scale their business through by Chase for Business and US Black Chambers, Inc. providing a collection of practical resources tailored to help Black business owners grow and scale their businesses through educational courses delivered by our coalition of prominent Black advocacy groups designed to help businesses recover and move forward, on-demand tools that business owners can leverage virtually whenever and wherever, and business spotlights and articles that showcase real life Black business owners.
In this pre-recorded 90-minute guided digital session, you'll gain:
Insight on capital options business owners can consider
An understanding of what financial data is important
A deep dive into ways your business can access credit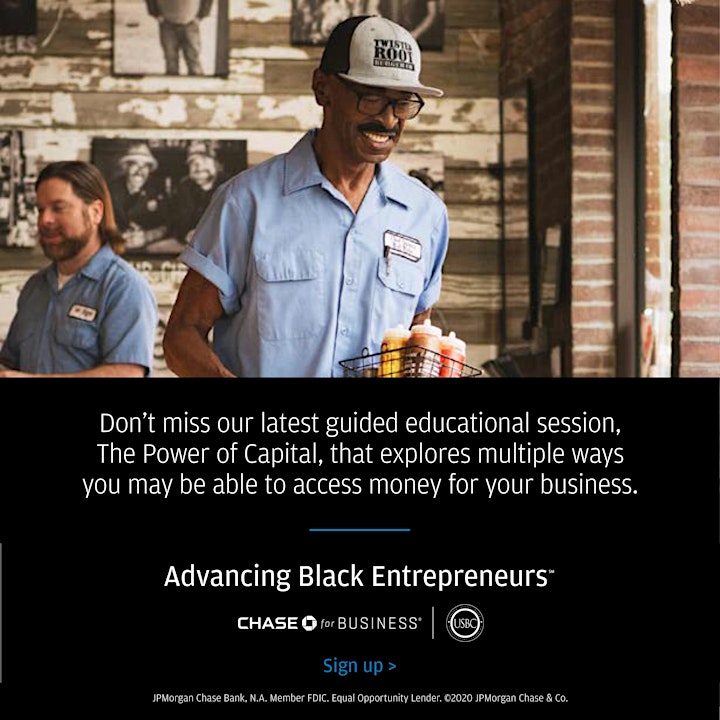 About Our Special Guest Speaker: Shea Taylor, Sr. Business Consultant with JP Morgan Chase
In 2006, Shea graduated from Valdosta State University located in South Georgia. Upon graduation, he moved back to Atlanta to pursue a career in the financial service industry and he just celebrated his 10th anniversary with the firm. He has won multiple Outstanding Achiever awards during his tenure and has also served as the event coordinator Atlanta's 1st Bold Leadership team. He has also worked on many Chase projects, his most recent being Advancing Black Pathways. In his previous role, he was a Business Relationship Manager II covering the Atlanta Market.
Shea's family background is deeply rooted in the local and national business communities. As a child, he was fortunate to shadow family members as they wrote and argued policy for the advancement of African Americans, Latin X, and other immigrant business owners in Texas and Washington DC. He has also seen firsthand how the science of business combined with financial literacy can change the legacy of a family. This understanding gave him the insight to build effective partnerships with local CDFI's in the City of Atlanta. He started with Chase Bank as a Branch Manager, helping the Atlanta expansion after JPMorgan acquired Washington Mutual.
Organizer of Watch Party: The Power of Capital- Advancing Black Entrepreneurs
The Capital Pathways program is a series of 10 workshops across the nation funded by the U.S. Department of Commerce Minority Business Development Agency's Broad Agency Announcement, and managed by the U.S. Black Chambers, Inc. Community Economic Development Corporation. The USBC CEDC designs, develops and delivers financial education and business improvement programs to underserved communities nationwide.  For more information on the Capital Pathways program, please visit www.capitalpathways.com.