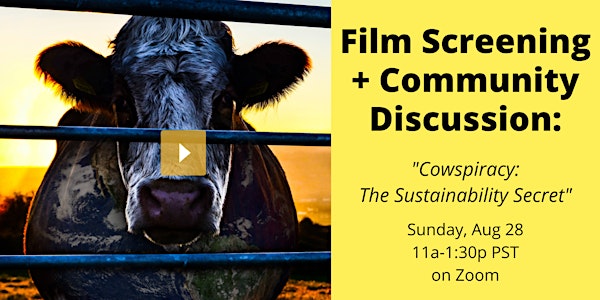 Watch Party + Discussion: "Cowspiracy: The Sustainability Secret"
"Cowspiracy" watch party, vegan snack suggestions, and film discussion in community.
About this event
Hosts: Thanissara and Charity Kahn
Location: Zoom
Gather with us to view in community the ground-breaking film "Cowspiracy: The Sustainability Secret", which reveals the truths about the meat and dairy industry as it relates to human health, ethics, and the very future of the planet.
We'll follow the viewing with journaling, discussion, a guided meditation, and tools for responding to what comes up.
Ahead of time, we'll be sharing some yummy, simple vegan recipes, so we can share a communal meal even from a distance.
NOTE: If you've already seen the movie or prefer to watch it ahead of time and join us for the discussion portion, feel free to log in at 12:45pm.
Schedule:
11am - gather and connect, eat!
11:15-12:45pm --> movie viewing with bio/stretch/breath breaks
12:45-1:30pm --> discussion etc
Resources:
Eye-opening summary of facts from the film
Film Summary:
"Cowspiracy: The Sustainability Secret" is a groundbreaking feature-length environmental documentary following intrepid filmmaker Kip Andersen as he uncovers the most destructive industry facing the planet today – and investigates why the world's leading environmental organizations are too afraid to talk about it."