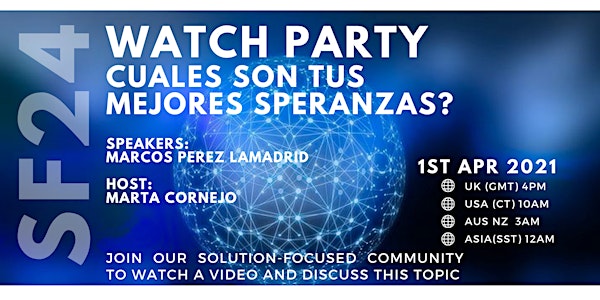 Watch party - Cuales son tus mejores speranzas?
Join our solution-focused community to watch a video and discuss the topic "Cuales son tus mejores speranzas?" in Spanish.
About this event
We'd like to keep connections going in the worldwide SF community, and using the amazing archive of sessions from SF24 20 could be a great way of doing it.
We're launching a series of Watch Parties, on the first Thursday of each month, at 4 pm UK-time!
Facilitated by Marta Cornejo, we'll spend an hour together on Zoom, watching a selected extract from one of the recorded session in Spanish - "Cuales son tus mejores speranzas?", for 10 minutes or so, then enjoy a hosted discussion about the topic presented.
Marcos Perez Lamadrid will join the call, answer questions, and develop their line of thinking.
And of course, you can watch the whole of any featured presentation in advance on our Youtube channel:
https://youtu.be/G-4zYeGzk3I
See you there!