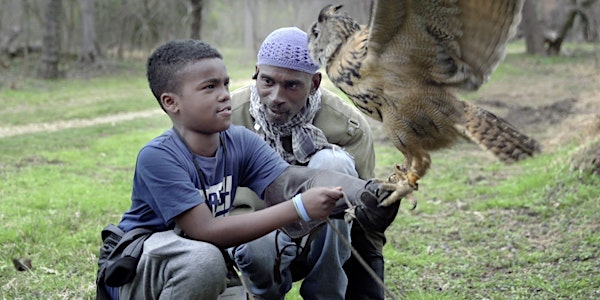 Watch Party! Celebrate Black Birders Week with The Falconer
Join a free virtual screening & discussion of the award-winning film, The Falconer & let's celebrate Black Birders Week, May 30-June 5
About this event
Join thousands of people across the country in celebrating Black Birders Week May 30 - June 5, 2021. Nature in the City, Golden Gate Audubon, and Outdoor Afro are teaming up to host a free virtual film screening of The Falconer, and we hope you'll come!
The Falconer is a documentary following Master Falconer, Rodney Stotts on his mission to build a bird sanctuary and provide access to nature for his stressed community. It's a story of second chances: for injured birds of prey, for an abandoned plot of land, for a group of teenagers who have dropped out of high school, and for Rodney himself.
http://www.thefalconerfilm.com/
We are hosting this free virtual screening with partners across the country to spotlight Black birders and the joy and healing experienced in the natural world, as well as the work to be done to combat racism and promote inclusivity in nature.
Due to social distancing, we may be watching separately, but we are in this together!
Details:
This is a live watch party. It's important to watch from a place with a strong and reliable internet connection in order to have the best experience possible. The film is 72 minutes long. The event will begin with a brief introduction, then we'll watch the film together and have about 30 minutes for discussion/reflection & taking action. This is a public event, and the more people who participate, the better, so please send this invite to a friend, and encourage them to register.
Call to Action:
This is a free event, and we encourage you to take action by supporting racial justice and outdoor access in all our work. For all who are able to do so, we suggest a direct donation of $50 to Rodney Stotts, Nature in the City, Golden Gate Audubon, or Outdoor Afro.
Here are links to donate directly:
Rodney's Raptors — bit.ly/give-to-RR
Nature in the City — bit.ly/give-to-NTC
Golden Gate Audubon Society — bit.ly/give-to-GGAS
Outdoor Afro — bit.ly/give-to-OA