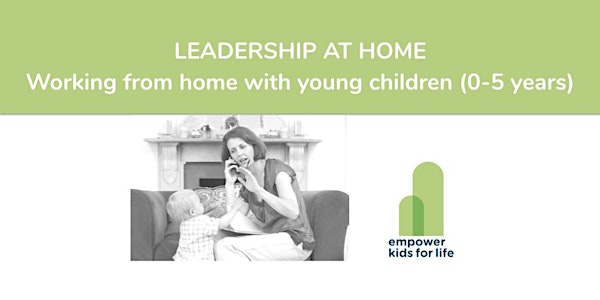 WATCH NOW! Leadership at Home: Working from home with young children (0-5 years)
When and where
Location
Online Course 91401
Description
WATCH ANYTIME FOR LIMITED TIME!
Working from home with a young child is a challenge. Their attention span is short, plus being at home with you working is a completely new situation, for both you and your child.
While you appreciate the time you are spending together, you need practical tools to make this work.
Join us for this one-hour workshop to learn how you can foster your children's creativity, and yours, at home while fostering independent play.
We will talk about managing our day and easy and interesting materials and explorations with things you might already have at your home according to your child's age. More importantly, we will discuss the why's and the how's to make our time together intentional and fun by improving our communication and trust.
Parents are busier than ever.
1) We will send you the link to the zoom recording and password so you can watch it when it's convenient for you before June 4th.
2) We will send a separate link for an exclusive 45 minute Q&A Session for participants on Thursday, June 4th at 7:300 pm PST/9:30 Colombia/10:30 pm Miami.
Thank you for supporting consultants and small businesses!
We are offering a very special price to make it accessible to everyone! If you can't afford it but you are interested reach out!