Description
The Mystery of the Missing Professor
The year is 1905. Last year, it was widely believed that the brilliant Professor Nigel Thurgood, inventor of the Infinity Engine, had been killed under mysterious circumstances. Now, however, whispers abound that the Professor is not dead at all.
Some say that Thurgood was a visionary inventor, others decry him as a madman who contracted with demons to create his many steam-powered inventions. Thurgood certainly kept company with some interesting characters, that much is certain.
Thurgood was deeply involved with two different secret societies. One of them is called Section 12, and the other fashions itself the Ordo Templi Orientis. Both groups have been searching for the professor, and now they need you to unravel the mystery and put the pieces together.
Informational Overview
You and your fellow pub-crawlers are a team of investigators that have been hired by a young lady named Penelope Primms to investigate the disappearance of Professor Nigel Thurgood, her sometime lover. In order to do so, you will need to speak to various associates he had in two secret organizations. One is called Section 12, the other is called the Ordo Templi Orientis. During your adventure, you will meet a variety of characters from these groups (and perhaps others…) who have different information. You can choose to help them or not help them, and what you choose will impact the outcome of your adventure. The groups despise one another, and will not work together, so you may be asked to choose a side as your adventure progresses.
You may optionally play as a current member of one of these organizations. If you choose to do that, you will have special skills that enable you to gather more information from certain characters.



Secret Societies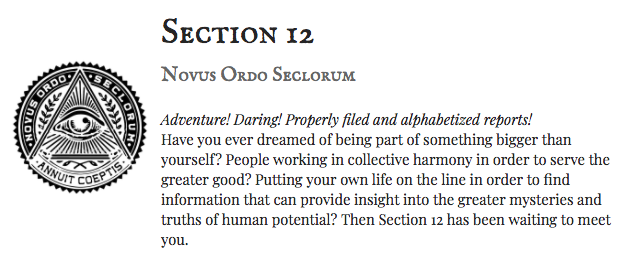 How to Play
You will start your adventure at the time you (and your group) have registered for. You will meet Penelope Primms and she will give you the location of your first contact. Each contact you meet will have a challenge for you to solve in order to gain their trust and confidence. Some will be social, some mental, and some (very moderate) physical challenges.
The game has "story mode" which has fewer puzzles, and "challenge mode" which contains befuddling puzzles at each stage. After you solve an initial "story mode" task, the character you are assisting will ask you "Would you like a challenge?". You can simply say yes or no depending on your preference.
Accessibility
We endeavor to make these challenges accessible, but recognize that there are some limitations that will apply. If one challenge is not suitable for you, don't worry, there are many more that you should hopefully find fun and interesting!
The game does require mobility within the bounds of going from venue to venue (all of which are wheelchair accessible). Often the "challenge" puzzles will be pen/paper. If you have a specific accessibility need, please contact us and we would love to work with you to ensure your enjoyment!
---
Event Details:
Teams of up to 6 people will undertake the adventure
Teams will start at staggered times, meeting at the tent at the appointed time
The pub crawl should take 2-3 hours, depending on how quickly participants choose to go
Participants should expect to travel! Not terribly far, but traveling by foot or wheelchair from place to place is expected
Incantrix Productions assumes no liability for drinks– over 21, drink at your own risk!
Refund Policy: We do not give refunds through Eventbrite due to the nature of our performances, however tickets can be transfered to another person. Please contact us directly if you need to speak with us about any issues you have at info@incantrixproductions.com and we will happily work with you on your specific situation.