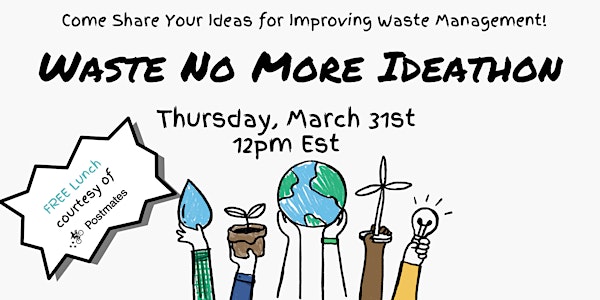 Waste Not: An Ideation Event for Waste Management
Do you have ideas on a solution to waste management or how to use waste as an energy source? Join us for our ideathon!
About this event
We're looking for people who are passionate about innovative solutions to waste management—and who want to turn their ideas into real products and services for nonprofit organizations.
The Waste No More Ideathon is an open call for innovators interested in finding solutions to solid waste management challenges. It aims to bring together forward-thinking, capable individuals with the goal of introducing ideas that will increase the reuse and recycling of solid waste, ultimately reducing the amount of waste going to landfills.
Help us support nonprofit organizations that are working to solve the problem of waste management!
Ready to save the planet?
Join us!
All attendees will receive a special code to get a FREE meal courtesty of Postmates.
Must attend in order to get code. Coupon code is only valid on March 31st until 6pm Est.