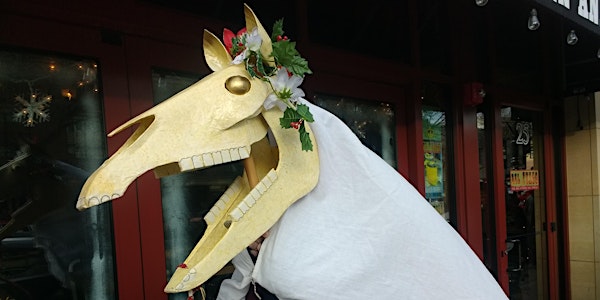 Wassail! A Patchogue Winter Bar Crawl
Join us for a unique winter bar crawl, while learning about a beautiful and ancient Celtic tradition.
When and where
Location
Tap Room 114 West Main Street Patchogue, NY 11772
About this event
It is a Welsh custom, but variations on the Mari can be seen throughout regions where Celtic culture has survived. She is a vestige from a time when shamanic ritual dominated the British Isles. The Mari Lwyd (pronounced "Mary La-eed," Welsh for "white, or pure mare,") is the centerpiece of our wassail adventure. She is a horse skull mounted to the end of a pole. The carrier hides under a white sheet, while a spring-loaded jaw allows him/her to snap at brave pedestrians who inquire too closely.
The practice of Christmas caroling traces its origins to the ritualized begging seen in the Middle Ages, when it was known as wassailing. A convoy of cavorting merrymakers leads the Mari to pubs, at which point a series of riddles and rhymes are exchanged with those inside. Eventually, the doors would open and the wassailers would enter, where they are offered food and drink. In return for their hospitality, those inside receive a blessing from the Mari, as her appearance is a token of good luck for the coming New Year. Her presence marks the passage of the dark days of winter and the return of the sun. 
We will be meeting on the second floor of The Tap Room for a historical discussion on the Mari Lwyd. In the event of light rain, bring an umbrella. Heavy downpour might cancel the event, so please check the Patchogue Chamber of Commerce website for updates. We hope you can join us for this informative and fun Christmas experience!