WASHTO 2021 Sponsorship & Exhibitors
Take advantage of this opportunity to have a presence during WASHTO 2021!
About this event
On September 12 - 15, 2021 transportation professionals will gather in Salt Lake City, Utah for the 2021 Western Association of State Highway and Transportation Officials (WASHTO) Annual Conference.
WASHTO 2021 will be attended by State Department of Transportation Directors, Chief Engineers, and executive leadership from the 18 western most states in the country, as well as executives from the US Department of Transportation and Federal Highway Administration. Other notable attendees are national transportation leaders from the private sector and academia.
Approximately 300* attendees will experience WASHTO 2021, which will feature informative breakout sessions, technical tours and information covering all areas of interest in highway transportation.
Due to current COVID-19 restrictions, sponsorship and exhibitor opportunities have been changed from previous conferences and are subject to change as these guidelines are updated. At this time, attendance will be limited for sponsors, exhibitors, and attendees to keep all attending stay safe and to abide by current CDC guidelines. Regardless, our team is committed to doing everything in our power to make this conference beneficial for all .
Are you interested in a unique sponsorship opportunity you don't see listed here? Call Amalia Andrews, Meeting Planner, at 801-699-5967 to discuss some ideas!
Click the green 'Tickets' button to the right to purchase your sponsorship and/or exhibitor package now!
*Maximum attendees subject to change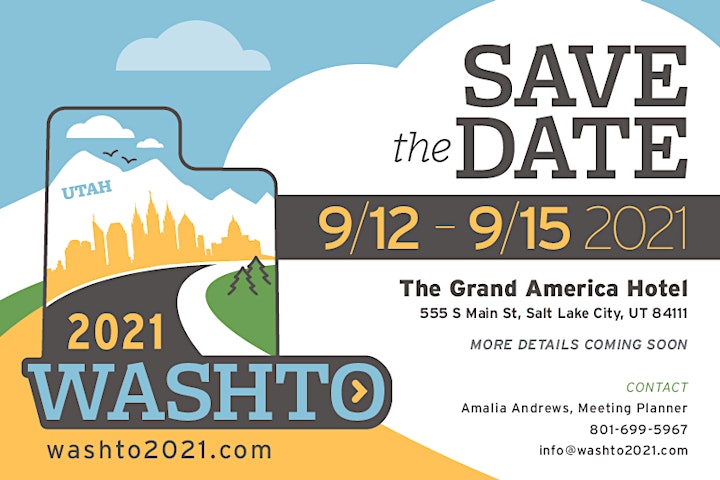 Organizer of WASHTO 2021 Sponsorship & Exhibitors