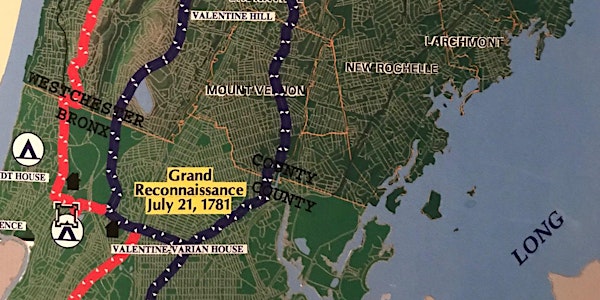 Washington, Rochambeau and the Grand Reconnaissance
Revolutionary Westchester 250 presents: Washington, Rochambeau and the Grand Reconnaissance, July 21-23, 1781
By Revolutionary Westchester 250
Date and time
Wednesday, March 16, 2022 · 4 - 6pm EDT
Location
St. Joseph's Seminary 201 Seminary Avenue Yonkers, NY 10704
About this event
The Grand Reconnaissance was the joint French American military operation in Westchester County and the Bronx, in July 1781. It is an overlooked moment in the history of the American Revolution, but it was a pivotal moment for the fate of the young United States.
From their joint encampment in Greenburgh, the French and Americans troops moved to southern Westchester and spent three days surveying the British strength in upper Manhattan to determine if a successful attack there was possible. It soon became clear that it was not, and the allies made the fateful decision to march together to Yorktown, Virginia, where they were victorious, and the British General Lord Cornwallis surrendered to them. Without this Reconnaissance, U.S. history could have had a much different outcome.
Dr. Iris de Rode, author and lecturer, earned her doctoral degree in France in 2019 and has done extensive research on the French participation in the American Revolution, based on unpublished French sources. During her lecture, she will share her findings on the Grand Reconnaissance, based on a report of one of its participants, the Major General Chastellux (1734-1788).
Forum Participants: Dr. Erik Weiselberg, Nick Dembowski, Constance Kehoe
Co-sponsors: Friends of Odell House Rochambeau Headquarters, Yonkers Historical Society, Kingsbridge Historical Society