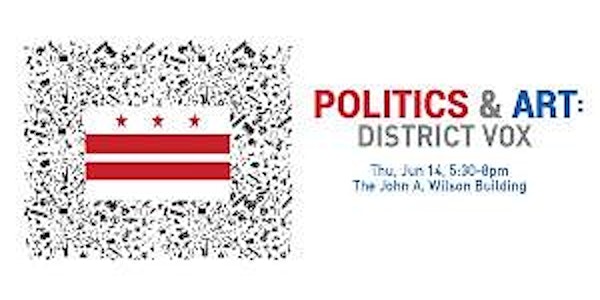 Washington Performing Arts Presents Politics & Art featuring Copper Ros...
Event Information
Location
Wilson Building
1350 Pennsylvania Avenue Northwest
Washington, DC 20004
Description
Now in its fourth year, Politics & Art is an annual event presented by Washington Performing Arts' Mars Urban Arts Initiative and Councilmember David Grosso. This year's theme will be District Vox—a celebration of voice—from song to spoken word. Politics & Art: District Vox spotlights D.C.-based artists who use the power of their voices to inspire, entertain, and empower in showcase performances on three stages. The evening provides a snapshot of the vibrant artistry that exists throughout the entire District.
Free, but registration required. Register here.
Lineup of performers:
ACHORD (Members of the Washington Performing Arts Men & Women of the Gospel Choir)
Adejoké
Anne Thomas
Ayanna Lee & Philippe the Haitian of Devine Nature
The BlakGold Ensemble
The Capital Hearings
Cody Valentine of Allthebestkids
Copper Rose & Bone
The Darrell Johnson Group
ENTATY Trio
Flo Anito & Seth Kibel
Fly By Light Performance Troupe
Hannah Jaye and the Hideaways
Heather Frank and Jeff Hamlin
iMusical: The Improvised Musical
Melanie Edwards
Natalie E. Illum
The Philosopher
Phoenix Amor
Purify Love
SongRise
Songs for a City
Split This Rock
Stories by Carlos Rosario School Students
Students from KIPP DC
Victoria I. Williams
Event attendees are subject to building security procedures. Please review policies here.
Politics & Art is made possible in part by the generous support of Washington Gas. Washington Performing Arts' Mars Urban Arts Initiative is generously supported by Jacqueline Badger Mars and Mars, Incorporated.
DowntownDC Sculpt & Shape • Thu, Jun 14, 5:30-6:30pm • Freedom Plaza
The DowntownDC BID, in partnership with Washington Performing Arts' Mars Urban Arts Initiative, presents a special Sculpt and Shape session featuring DJ Ben Chang, in conjunction with Politics & Art: District Vox.
Date and time
Location
Wilson Building
1350 Pennsylvania Avenue Northwest
Washington, DC 20004