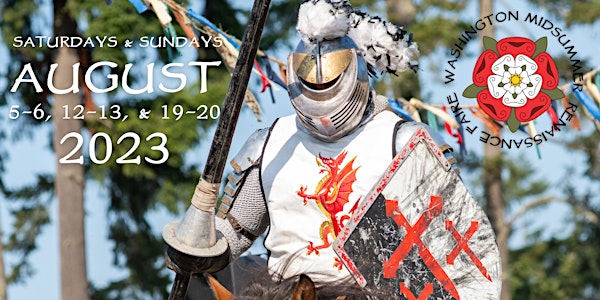 Multiple dates
Washington Midsummer Renaissance Faire 2023 GENERAL ADMISSION
Welcome to the Village of Merriwick! Three fun-filled weekends of merriment and interactive adventure!
By Washington Renaissance Arts & Education Society
Date and time
Starts on Saturday, August 5 · 10am PDT
Location
Washington Midsummer Renaissance Faire at The Kelley Farm 20021 Sumner Buckley Hwy Bonney Lake, WA 98391
About this event
Join in the Revelry and Merriment!
Come join us at The Washington Midsummer Renaissance Faire for three magical and interactive weekends of Family Fun!
LOCATION: Kelley Farm at 19401 Sumner-Buckley Highway, Bonney Lake, WA 98391
Bring Your Family and Friends and help us celebrate one of the Largest Theatrical Events in WASHINGTON STATE!
The Washington Midsummer Renaissance Faire in Bonney Lake, Washington features full contact jousting, world-class fencing demonstrations, country dancing, games, music, magicians, puppet shows, and more!
Our Gates are open from 10 am to 7 pm all three weekends!
ALL TICKETS ARE ONLY GOOD FOR THE DATE(S) PURCHASED.
Ticket sales are ONLINE only. No tickets will be sold at the GATE.
Children age 12 years old and younger are FREE!
(With paying adult - Get a ticket for each child)
Free Parking Available! Handicapped Parking available!
Enjoy Three Weekends of Renaissance Revelry!
August 5th & 6th -  Cogs & Corsets on the High Seas
Join the Village of Merriwick as we kick off our 13th Season with a celebration for the ages! Cogs, nuts, bolts --- and corsets? And where? On the High Seas? YES PLEASE! We're mashing up 2 fan faves that go together like PB&J for this incredible Opening Weekend: Steampunk & Pirates! All things are possible on this weekend of wonder, invention & adventure! The lines between fiction & science begin to blur as visitors showcase their inventive gadgets, outfits, props, & more - but don't forget the Pirates! Wealth, fame, power – and the chance to attain it - has every pirate, swashbuckler, & scallywag converging in Merriwick! What will happen when these 2 worlds collide? The possibilities are endless in this magnificent world of imagination and innovation. It's a time-travelling adventure sure to delight all – young & old!
August 12th & 13th - An Enchanted World of Mythical Beasts & Beings
The magical inhabitants of the realm have come out to play on this 2nd weekend of mirth & merriment! The tales of old magic & the mystical arts thrive in this weekend dedicated to fantasy creatures & beings of all ages & varieties! Dress to impress for this Fantasy-themed weekend, where the only limit is your imagination! Faeries, elves, sprites, dragons, trolls, wizards, and every kind of fanciful creatures will bring enchantment to the lanes of Merriwick. Dress up in your favorite whimsical attire – from faerie (or dragon) wings, to unicorn horns, & feel free to take inspiration from your favorite fantasy game, story, movie - or use your own imagination! Join us as the veil thins between our world & the supernatural – Mythical Beasts & Beings abound!
August 19th & 20th - Invaders From the North: Vikings & Valkyries
On our closing weekend, Merriwick is being invaded by the Great Horde! Vikings & all other manner of Barbarians will be seen throughout the towne! You'll feast on a giant turkey leg, drink mead from your favorite mug or horn, and pillage (albeit gently) through our magnificent Marketplace full of artisans from every corner of the realm & beyond. Wear your best leathers & furs, break out the face paint, and don those epic braids as you unleash your inner Viking or Valkyrie! The wild abandon of the invaders is infectious, and all will feel its pull. Join us as we close out our 13th Season – only the strongest will survive the iron will of the Vikings!
***********************************************************************************************
After Hours Entertainment is NOT included with the General Admission Day tickets.
Day admission and After Hours Entertainment is included with camping packages.
After Hours Entertainment Tickets are available here: Click Here
Camping Packages are available here: Click Here
*Please note that all sales are final and there are no refunds/returns.
**The Washington Midsummer Renaissance Faire is a WRAES Production.**
General FAQs
How much do I pay for parking?
Parking is in a large farm field and there is NO fee for parking. Please lock your vehicle. The WMRF and WRAES is not responsible for lost/stolen/damaged vehicles or property in the parking lot.
Are children under 12 years old free and do I need a ticket for them?
Children 12 years old and younger are free with paying adult. There is NO charge for this ticket. However, we require that you still obtain a FREE child ticket for each child 12 years old and younger. This ticket must be present at the time of admission to help us with capacity compliance.
Can I buy tickets at the Towne Gate when I arrive or do I have to buy them online?
Tickets are ONLY available online and are NOT for sale at the Towne Gate.
Are dogs allowed at the Faire?
Service animals ONLY are allowed on the fairgrounds site. Pets are not allowed at the Faire. We ask that you please do not leave your pet unattended in your car or camp site during these hours.
All service animals will be admitted into WMRF in accordance with ADA regulations and Washington State Law. Click Here for more information.
Are there ID or minimum age requirements to enter the Ale Houses?
Only adults 21+ with valid state or government issued ID may enter the Ale Houses and enjoy adult beverages.
Do I have to bring my printed ticket to the event?
You may print your ticket or have your ticket scanned either as an electronic copy on your device or on the Eventbrite App at the Towne Gate. 
Is my registration fee or ticket transferrable?
Yes, you can give your ticket to a friend or family member. 
Is it ok if the name on my ticket or registration doesn't match the person who attends?
Yes, one person in the family can buy the tickets for all in the group. 
Are tickets the same price online as they are at the Towne Gate?
Tickets are ONLY available online and are NOT for sale at the Towne Gate.
Is the site wheelchair and stroller friendly?
The site is a grass field but is flat and accessible to wheelchairs and strollers. There are some gravel areas in the parking area that many find challenging without assistance.
Do you have wheelchairs or strollers to rent?
We do not have wheelchairs or strollers available to rent at this time. 
Do I have to wear a costume? 
It is not required to wear a costume to attend the Faire. However, many of our guests do enjoy dressing up to join in the fun and excitement of being part of the Faire. 
Can my children who are under 18 attend alone? 
ALL children under 18 MUST be accompanied by an adult while on the Faire property. This includes parking and all other areas.
Can I re-enter the Faire if I leave?
Re entry into the Faire is allowed on the SAME day only. Make sure to get a hand stamp when you leave the Towne Gate!
After Hours Entertainment (DAY GUESTS) FAQ
Is there an extra fee for the After Hours Entertainment?
Yes, purchase your bracelet for the After Hours Entertainment Online before you arrive! They're selling out FAST! These are good to stay on site on Friday from 6pm - Midnight or Saturday Night from 7pm - Midnight only. **No access to the Camping Area with this pass.**
Is the rest of the Faire open After Hours?
After Hours Entertainment has limited access to main Faire site. Merchants and Food booths are NOT open after 7pm. Not all after hours entertainment is available for those under 18 years old. Entertainment in the Ale House is only for those guests 21+ with valid state or government issued ID. We do have several shows after hours in the Arena that are open for guests under 21 years old. (Check the current schedule on our website). Children under 18 may stay free of charge for After Hours Entertainment with paying adult.
I have questions that were not listed here. How do I contact the organizer?
If you have further questions, please contact us at info@washingtonfaire.com
About the organizer
Questions??
info@wraes.org