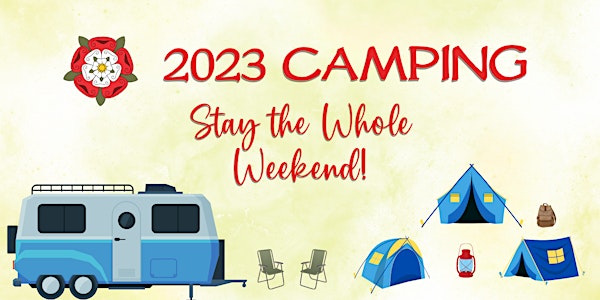 Washington Midsummer Renaissance Faire 2023 CAMPING PACKAGES
Camp with us at the Washington Midsummer Renaissance Faire 2023!
When and where
Location
Washington Midsummer Renaissance Faire at The Kelley Farm 20021 Sumner Buckley Hwy Bonney Lake, WA 98391
About this event
A Whole Weekend of Fun for the Whole Family!
WMRF offers a unique experience not found at many festivals – the opportunity to camp with us! Her Majesty, Queen Elizabeth, I invites you to stay in the Merriwick Meadows and spend the entire weekend galivanting through Faire, meeting new friends, and making unforgettable memories! We have evening entertainment on both Friday & Saturday nights so you can fully enjoy the festivities without worrying about getting home or drinking & driving.
A few important things to remember:
1. Camping tickets are all-inclusive (minus the pub crawl). What does this mean? It means you get entrance to the Faire Saturday & Sunday, entrance to both the Friday night & Saturday night events, and camping space (Friday – Sunday).
2. Camping tickets are *date specific* and *capped* at a certain number. We are working hard this season to avoid over-crowding. We want everyone to have a great experience.
3. Friday evening entertainment is for 21+ only. Saturday entertainment is available for all ages.
4. If you are camping with a group, let the Camping Staff know when you check in, and they will do their best to accommodate your larger group to camp all together.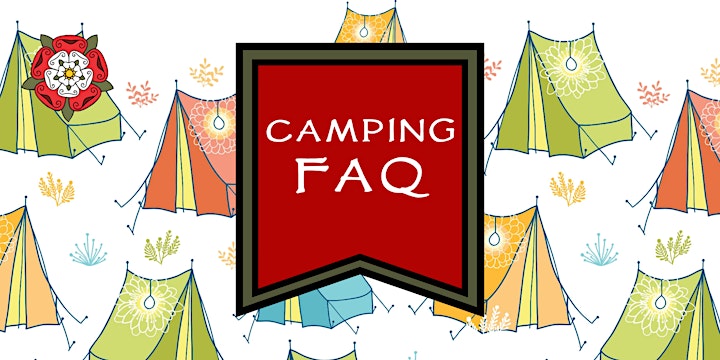 FAQ
1. Do I need a reservation?
Our Camping Packages are all-inclusive for a weekend of fun and excitement at the Faire. Camping Packages should be bought in advance. Tickets are NOT available for purchase at the Faire. Camping packages are date-specific so choose your weekend!
2. Can I park near my camp?
You may park your vehicle in your camping area as long as it is not in the 'fire lane' and it is not impeding other's ability to camp. You may drive to the main site and park closer if desired.
3. What are the "Quiet Hours"?
Quiet hours start at 10:00 pm, so we ask that you speak in whispers and silence all things that make noise.
This includes generators, drumming, loud music, and loud parties.
4. What facilities are available?
Our camping area is a large field and very primitive. There are no plug-ins, but it's ok to use a generator during the daylight hours (6am – 10pm). We have porta-potties and a dumpster for your use. Please remember to pack out your supplies/equipment and garbage.
5. Where and when can I check-in?
Check-in for camping is on Friday from noon until midnight each Friday before the Faire weekends. Check-out is after the Faire on Sunday evening by 8pm. Once you check in on Friday, each family member will receive a bracelet which allows entry into the camping area and into the Faire site during the weekend and after hours. Please ask your family to wear them all weekend. They are waterproof, so it's okay to shower/bathe in them. If you would like to check-in for camping on Saturday, please go to the Towne Gate (on the Main Faire site) and the Towne Gate staff will contact camping staff for help finding your camping space.
If you are camping with a group, let the Camping Staff know when you check in, and they will do their best to accommodate your larger group to camp all together.
***NOTE*** If you have a bracelet, go right to the town gate for entrance on Saturday or Sunday. You don't need to wait in the lines.
6. Can I have a camp fire? What can I cook on?
Open fires are not allowed on our site, per the Pierce County Fire Marshal. This includes, but is not limited to, wood & charcoal braziers, fire pits, tiki torches, open candles or any other source of open flame.
We do allow propane stoves and propane BBQ's for cooking and propane firepits. These items must have a shut-off valve. Candles are allowed only in enclosed lanterns.
Please make sure if you choose to use one of the above approved methods, that you also have a fire extinguisher at your camp.