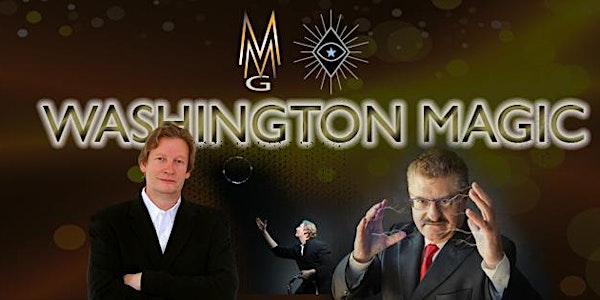 Washington Magic - July 17, 2020
Date and time
Friday, July 17, 2020 · 6:30 - 9:30pm EDT
Location
Arts Club of Washington 2017 I Street Northwest Washington, DC 20006
Refund Policy
Refunds up to 1 day before event
Eventbrite's fee is nonrefundable.
Description
LIVE MAGIC AND MIND READING RIGHT BEFORE YOUR EYES
See what people are calling the "Magic Castle of the East" and visit a night of revolving Close Up Rooms, Parlor Magic, and Stage Miracles with John McLaughlin, Eric Henning, Rahaan Jackson, Savino Recine and David Morey. Celebrate this special night. Surprises. Gifts. Magic.
This special performance at a legendary venue brings to life impossible mind reading, mystery, comedy, and magic right in front of your eyes. Honoring a Victorian tradition of stage and parlor, guests will participate and see, feel, and themselves empower this special evening with some of today's most wide-ranging performers.
Tickets include drinks—open bar for wine, beer, and beverages—and dinner. Close up performance begins at 6:30 p.m. Stage event at 7:15 p.m. at the Arts Club of Washington, 2017 I Street, N.W., Washington, DC. 20006.
Following 12 straight sell-outs, July 17th will be a lucky and special show featuring ALL FOUR of our favorite performers—some of the world's best magicians!
The great ERIC HENNING will display some brand-new classics of magic—and transform our stage with a signature effect he's performed for the President of the United States.
SAVINO RECINE, restauranteur and entrepreneur, will read minds and ignite laugher and again prove we can all have fun with the impossible.
JOHN MCLAUGHLIN, former acting director of the CIA and co-author of Amazon's #1 New Release, Creating Business Magic, will take you behind the scenes of magic's classics and teach you how to think magically.
Best-selling author, strategist, speaker, and magician DAVID MOREY will bring you home with his classic "Real Magic" piece and the most powerful example of magic of the mind: Questions and Answers. David has performed at both Official Inaugural Balls for the 44th President of the United States and is co-author of Creating Business Magic . . .
And RAHAAN JACKSON will be performing his own very special brand of close-up magic to amaze you right before your eyes!