Description
Join us for Global Startup Weekend!
Registration for Full Weekend Program (Developer/Designer/Non-Technical) is CLOSED, but you can still join us for the Official #GEW2017 Launch Party on Sunday!
We are delighted to invite you to our GEW 2017 launch event in collabaration with Gallaudet University at their beautiful campus. We'll have music, drinks and nibbles along with a breathtaking view of Capitol Hill and the DC skyline.
We'll be kicking off with the latest startups coming out of Techstars' Global Startup Weekend, with amazing food and beverages provided. We will then continue to the nearby Union Market area for social mixer and drinks to kick off the annual #GEW2017 in the Greater Washington DC Region.
This will be followed by a brief (we promise) introduction on GEW's activities this year, as well as future plans for the celebration.
Bring your friends and colleagues and join the community in kicking off this special yearly celebration of the entrepeneurial spirit.
---
CHECK OUT THE CAMPUS MAP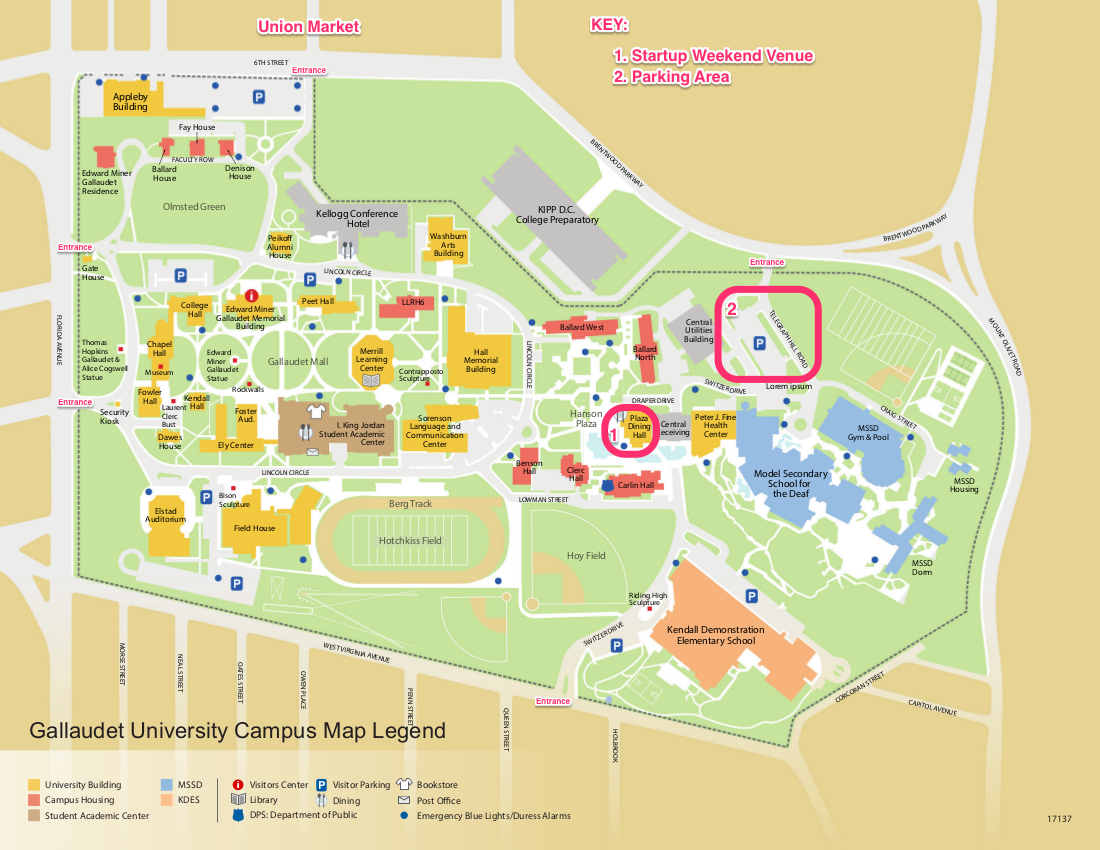 ---
Bring you startup idea to life in 54 hours.
Whether you're a developer, designer, maker, marketer, non-technical or you just want to work with a team to build something awesome, join the Greater Washington DC Region at the Techstars Global Startup Weekend on November 10-12th.
Over 15,000 entrepreneurs will come together for hundreds of events November 10-19, 2017 for Techstars Global Startup Weekend! Techstars Global Startup Weekend (TGSW) connects entrepreneurs, organizing teams, and startup communities around the world. Attendees get access to exclusive resources to help prep for success and make connections to mentors and other startup teams. To help continue growth, the winning team receives helpful perks for building their startup as well as a showcase in our global channels.
At Startup Weekend you can pitch your idea, form a team, validate your concept, build your prototype, present your work to a panel of esteemed judges, and win prizes to help you get your project started - all in just 54 hours!
Come put your hacking skills to the test, you might find a co-founder, meet someone new, or learn an entirely new skill. Join us for a weekend of fun, good food, great company and a valuable learning experience in navigating the crazy startup world!
Startup Weekend is your chance to learn how to take any idea from concept to creation within a matter of days! Whether you are looking to...
get introduced to the world of startups and entrepreneurship,

learn the process for going from concept to creation,

meet experienced, talented, and passionate entrepreneurs in DC,

join or build an all-star team,

or take your own idea from concept to creation.
Startup Weekend is your destination for the weekend of November 10-12th!
---
Techstars Community Leaders - Washingotn DC Region
---
RESOURCES
SPONSORS & PERKS
.CO offers free domains to all attendees during Startup Weekend DC.
Appear.in offers 6 months of premium service for free to all attendees of Startup Weekend DC.
Google for Entrepreneurs offers $300 of Google Cloud services to all Startup Weekend DC attendees.
ACCESS TO QUALITY MENTORS
Seasoned entrepreneurs from companies such as Humble Ventures, GovLoop, Heartful.ly and more, take time out on Saturday and Sunday to help you think through roadblocks as you build out your startup idea. Their time alone will make this program worth the low cost needed to cover materials and food. Connect with industry leaders and have them dedicate their time to help you succeed.
PRIZES
The finalists wll receive various prizes to help them continue past the weekend journey. Past prizes have included free membership credits to co-working spaces, legal counseling, marekting strategy and more. Each event brings new and exciting prizes to help you to further develop and/or launch your startup!
GROW YOUR NETWORK
And don't forget the Judges and Organizers, who are entrepreneurial leaders themselves, from successful exit founders to venture capitalists and angel investors. Did we mention the participants themselves are also some of the most passionate and driven individuals in the region?
Over 15,000 entrepreneurs will come together for hundreds of events November 10-19, 2017 for Techstars Global Startup Weekend to celebrate Global Entrepreneurship Week!
---
FAQ
I have questions, who should I ask?
Check out our Attendee FAQs. If you're unable to find the answer you're looking for, then feel free to email us at dc@startupweekend.org.
What do I get for my Full Weekend ticket price?
Your full weekend ticket (not Demo Day ticket) includes:
Access to the full weekend-long event

Opportunity to pitch your idea on Friday night @ Pitch Fire

Mentoring by all-stars from the tech startup community

Tasty meals all weekend

Collaboration with awesome professionals from throughout DC-Maryland-Virginia

All-star judge's panel lead by startup and entrepreneurial leaders

Membership in the Startup Weekend Community (>200K alumni)

A process for taking any idea from concept to creation in a matter of days

And over 100 new awesome Facebook friends!
An unforgettable and life changing experience that may make you want to quit your job tomorrow!
What is Startup Weeend?
Startup Weekends are 54-hour events designed to provide superior experiential education for technical and non-technical entrepreneurs. Beginning with Friday night pitches and continuing through brainstorming, business plan development, and basic prototype creation, Startup Weekends culminate in Sunday night demos and presentations.
Participants create working startups during the event and are able to collaborate with like-minded individuals outside of their daily networks. All teams hear talks by industry leaders and receive valuable feedback from local entrepreneurials.
The weekend is centered around action, innovation, and education. Whether you are looking for feedback on a idea, a co-founder, specific skill sets, or a team to help you execute, Startup Weekends are the perfect environment in which to test your idea and take the first steps towards launching your own startup.
Terms of Participation Agreement
It is our job to provide you with an incredible networking and learning opportunity. Our intention is that you meet some amazing people that you might actually start a company with, build relationships with coaches, and learn from your peers. The event is intended to be a collaborative forum for sharing, learning, building, and having fun. As such, by registering as a participant, you acknowledge that any ideas shared by you or anyone else over the course of the event are contributions to the overall experience and community. If you as a participant are worried about someone stealing your ideas, please reconsider your participation in the event itself or simply refrain from sharing specifics about your idea.
As a member of your startup community, you agree to to be inclusive of any and all people and their ideas. You agree to act professionally, treat everyone with respect, and treat the event facilities with proper care. You agree that you are responsible for any accidents or damages that you cause. You also agree to not hold Startup Weekend, your local volunteer team, or any of the event supporters liable for any loss, damage, injury, or any other unforeseeable incident.
By Participating at the event, you grant Startup Weekend permission to capture photo/video of the event. You can find the exact legal terms on our FAQ Page but to summarize, we want to share your success with the world.
By submitting your information above you agree to the Techstars website's Privacy Policy, and you consent to receive email communication from Techstars and its programs about events and updates that may interest you.
Refund Policy
No refunds will be granted within 7 days of the event if food and drink have already been ordered. Apologies for any inconvenience this may cause.
---
Celebrate #GEW2017
During one week each November, thousands of events and competitions in 160 countries inspire millions to engage in entrepreneurial activity while connecting them to potential collaborators, mentors and even investors.
Powered by the Kauffman Foundation, the initiative is supported by dozens of world leaders and a network of more than 15,000 partner organizations. GEW is held November 13-19, 2017.
A Guide For Your Entrepreneurial Journey
Startup Digest is the personalized insider newsletter for all things startup in Washington DC and around the world.
Whether you're just thinking about dipping your toe into entrepreneurial waters, or are a seasoned startup white-water rafter, Digest helps by connecting you with your startup community through events and top-notch content.
A Celebration of Entrepreneurs in the Greater Washington DC Region
Startup Week™ brings entrepreneurs, local leaders, and friends together over five days to build momentum and opportunity around the DC, Maryland and Virginia metro area's unique entrepreneurial identity.
Join in a celebration led by entrepreneurs and hosted in the entrepreneurial spaces you love.