Washington D.C. iPhone/iPad Boot Camp - Three Day IOS 7 Certificate Intensive Workshop

Monthly Event - Every 2 months, Fourth Friday of every month: 10:00 AM to 6:00 PM (EDT)
Event Details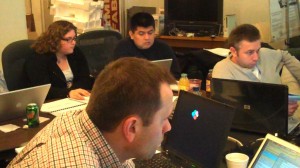 Read the Blog Posting about the iPhone Boot Camp Experience
If you want to develop apps on the iphone you need this intensive workshop. Don't try this on your own, unless you have a couple of months to spare " —Craeg K Strong - lead developer, Arielpartners.com 
The opportunities for iPhone applications developers has never been better. Apple has paid out over 5 billion dollars to developers with App in the iPhone app store. iPhone developers' work-for-hire is the highest paid in the software industry.
The iPhone Boot Camps are arguably the most affordable and experienced iPhone application development workshops. Our rates are often half the price of other workshops and our trainers the most experienced in the field, with apps in the top ten in the iPhone store and/or authors of popular books on iPhone development.
Since 2008 we have trained over 1,000 developers in over sixty workshops in the United States, Canada, Australia and the UK . The training range from on-site training sessions for Fortune 500 companies such as IBM, General Motors, Bank of America and 3 and 6 day intensive workshops for developers from companies and independent software developers.
We are the only iPhone training to offer advanced workshops and a full money back guarantee after the first day of the workshop if you are not completely satisfied with the training - no questions asked. Keep in mind that if you do not have a basic understanding of Object Oriented Programming (OOP) the workshop will be extremely challenging.
We specialize only in iPhone application development training. No other iPhone workshop has trained as many developers and we've learned a great deal from all our training sessions. Our workshop use proven course materials developed and tested over time and we teach the latest versions of the SDK/Xcode - currently IOS 6. The workshops are all small workshops with one-on-one hands on instruction under the supervision of the trainer. 
At the conclusion of the workshop we offer an industry recognized certificate and membership in our vast network of iPhone Boot Camp alumni to further advance your career in iPhone development, including job postings from our alumni and other companies. Frequently after the workshops developers follow up their training with the trainers and partner on developing apps and if we have space available in our other workshops we offer you the opportunity to take the workshop over at no additional cost. 
Our mission is to train you to develop iPhone apps on your own and most developers are able to so after completing the training. In fact iPhone Boot Camp alumni now have apps in the top ten in the Apple store with millions of downloads.
What you will learn? 
Note: This is a general syllabus. Not every feature mentioned will be covered in every workshop. Topics may vary from workshop to workshop and the final syllabus is customized by the individual trainer and by the interests of the developers attending the individual workshops.
What you will learn? 
Syllabus 
Note: Some features listed below may not be covered. The actual workshop depends on the current state of the art in the SDK and the interests of the students in the workshop.
Developing Applications Using the iOS 6 SDK
Course Format: Lecture and hands on lab.
Prerequisites: Some programming object-oriented programming experience using some variant of the C language (such as C++, C#, or maybe even Objective-C). Familiarity with the iPhone itself and Apple's included applications to get a good working sense of the iPhone look and feel. It would also help to browse the App Store and download and become familiar with (if applicable) the kinds of applications the student is considering developing.
Hardware and software requirements: An Intel-based Macintosh computer (MacBook Pro 15 inch laptops are a popular choice but any of the latest Macintoshes will do) with the either Mac OS X 10.7 or 10.8 (preferred) and Xcode 4.5 installed.
Course Outcomes
The outcome of the class is not to teach the student how to program using the iPhone SDK. It is to teach the student to develop applications using the iPhone SDK

It asks and answers the questions developers ask as they develop their first several apps The Class Approach
• Build a single application that will run on all iOS devices (currently iPhone, iPad, and iPod Touch) that includes:
o Controls, animation, sound, block objects, and the primary iOS design patterns oNavigation using table views and navigation controllers
o Background processing, mapping, and location services that will implement all of the material below:
Designing Apps
• The user experience • Context based design
Working With Xcode 4
• Designing user interfaces in Xcode 4 (formerly done in Interface Builder) using storyboards o Taking advantage of segues
Using the Simulator

The Xcode Debugger

The Static and Runtime Architectures

The SDK
• Design Patterns
o Model-View-Controller (MVC) o Delegation
o Block Object
o Target-Action
o Managed Memory Model
• Frameworks
o Using frameworks
o Adding frameworks
• Models, Views, and Controllers
o Windows and views § Sub views
o The role of view controllers
o Designing the model • Delegation
o The App delegate
o Protocols
• The Block Object Pattern
o How it works
o How you will use it
§ Completion handlers § Notification handlers
§ Error handlers
§ View animation and transitions
The Target-Action Pattern

Memory Management
o How memory management works o The fundamental rules
o Observing low memory
The Runtime Architecture
The application lifecycle

Being multitasking aware

Taking advantage of multitasking

Execution in background

Responding to application launch

Objective – C (Additional objective C will be covered in context as needed)
• Defining classes, and methods
o Other constructs that promote dynamic extension of classes
• Messages
o Using selectors
• Defining a Class o Classes
o Instance variables
Class Implementation

o Methods

Modern Objective-C
o Numbers and Strings
o Dictionaries and arrays
Properties

Initialization

Creating a base class and inheriting from it
• Protocols
o Adopting protocols
o Designing your own protocol Notifications
• The notification system
o State change notifications
Local Notifications
Local Notifications in foreground o Sending

o Processing

Local Notifications in background

o Sending
o Processing

Data Management
Saving data to NSUserDefaults

Saving data to a file

The URL loading system
o The preferred way to access local and remote data o The NSURLRequest
o Asynchronous loading
Bundle data

Property lists

Navigating the Application
• Navigation controllers
o Root view controllers
o The controller stack • The navigation bar
Implementing the User Interface
View geometry

User Interface elements
o Button, text views, image views o Outlets
o Actions
o Enabling and disabling
• Core animation
o Scrolling the View
o User interface element animations
o Rotating views
Tracking touches

Gesture recognizers

Audio

Music

Table Views
• Creating Table views
o Creating and formatting the view itself o Specifying the table view configuration
Data sources and delegates

Table view cells
o Built-in Table view cell styles o Custom Table view styles
o Disclosure buttons
o Images
• Selection in a Table view Web Views
• Using web views for content
o Using HTML in web views
o Web views and auto dialing • Loading web pages
o Navigating web pages in the app • Accessing data from the web
o Web services
Maps
• Map views
o The Map view delegate
Tracking location changes

Annotations
o The Annotation objects o Annotation views
§ Default
§ Built-in
§ Creating your own § Dragging
• Regions
o Region for Annotation Group
Reverse Geocoding

(Forward) Geocoding

Core Location
Positioning methods and technologies

The three services
o The standard location service
o The significant-change location service o Region monitoring
Reducing battery drain

Using location based services in background 
Saving State
Resuming the application where the user left off

Why you have to save state

State saving approaches

User Preferences
The Settings Application o Guidelines

How to add new settings

Setting the defaults

Setting preferences from within the application 
Trainers
Our trainers are all very experienced iPhone developers  and some are also authors of best selling books on the iPhone and Obj-C . 
Authors/developers include Jeff LaMarche ("Beginning iPhone Development. Exploring the SDK" – apress ), Stephen Kochan ("Programming Objective- C 2.0" – Addison WesleyPress) Dan Pilone ("Head First iPhone Development- A Learners Guide to Creating Objective- Applications for the iPhone" – O'Reilly Press)  Jonathon Manning and Paris  Buttfield-Addison ("iPhone and iPad Game Development for Dummies" – Wiley Press) and Matthew Campbell ("How to Make an iPhone App- Mobile App Mastery")
Developers only include trainers Eddie Marks and James Anthony (co-founders Inedible Software, developers of the best selling game "Shotgun"), Ben Sgro (senior software engineer and development manager, Elephant Ventures) , Charles Gamble (founder, Percula Software) and Oz Michaeli (co-founder, Spiralstormgames.com)
What should I bring with me?
An Intel Macintosh laptop computer

Latest version of XCode and the iPhone SDK installed on your Macintosh laptop

An iPhone or iPod Touch, if you have one (optional)

Basic programming knowledge, including object-oriented programming experience, such as Java,, NET, C,  Visual Studio
Why take a workshop when I can read books, attend a lecture watch videos and webinars?
Most people, even those with extensive experience in programming, find the SDK difficult to master. Books and video are great to prepare for a workshop but there  is still no substitute for a small hands on workshop with other developer, where you can ask questions to an experienced instructor looking over your shoulder as you go through the episodes step by step. Basically it saves you month of time and money.
Press About the iPhone Boot Camp
38 Minutes Blog: Developers Perspective on iPhone Boot Camp
arnstechnica Get your pre-WWDC dev juices flowing at the iPhone Mansion
More Info about the iPhone Boot Camp
To find out more about the iPhone Boot Camp, including videos, a detailed syllabus and detailed info on how to prepare for the workshop visit our main site iphonebootcamp.com
To speak with a iPhone Boot Camp representative:  (1) 212-767-9722
Note: Our preferred communication is via email. Emails are usually answered within 24 hours
Have questions about Washington D.C. iPhone/iPad Boot Camp - Three Day IOS 7 Certificate Intensive Workshop?
Contact IPhone Boot Camp
Where

Affinity Lab
920 U Street
First Floor
Washington, 20001


Monthly Event - Every 2 months, Fourth Friday of every month: 10:00 AM to 6:00 PM (EDT)
Add to my calendar
Washington D.C. iPhone/iPad Boot Camp - Three Day IOS 7 Certificate Intensive Workshop