Washington, DC EndoMarch Rally & Ribbon!
About this event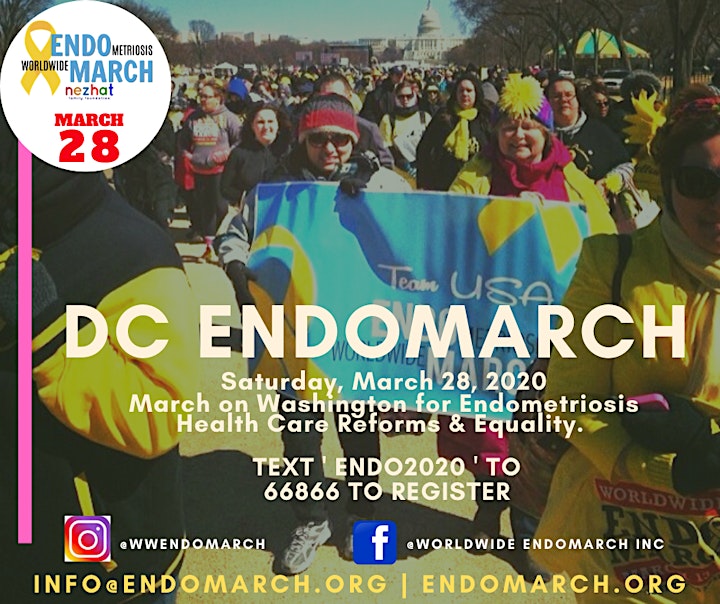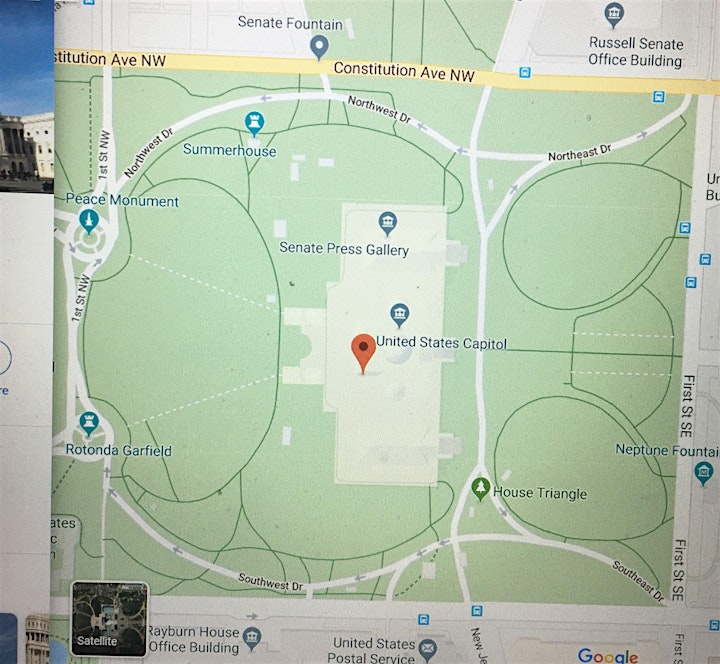 --- EVENT POSTPONED DUE TO CVOID-19 (CORONAVIRUS) PRECAUTIONS. EVENT WILL BE RESCHEDULED WHEN IT IS NO LONGER A HIGH RISK FACTOR ---
VIRTUAL ENDOMARCH REGISTRATION IS STILL OPEN HERE: https://www.eventbrite.com/e/virtual-endomarch-2020-tickets-75008483393
WASHINGTON, DC ENDOMARCH RALLY & RIBBON !
Saturday, March 28, 2020 (2 pm - 4 pm)Get ready to paint DC Yellow! Join us for the 7th Annual Worldwide EndoMarch, Washington, DC EndoMarch Rally & Ribbon awareness event, taking place *outdoors* on Capitol Hill, in sisterhood with the thousands of Endometriosis Activists from around the world who'll be marching in unison on Saturday, March 28, 2020 to continue fighting for Endometriosis Health Care Reforms & Equality. Grab your yellow Endo Gear & come on out to support a great cause, meet fellow Endo Activists from around the world, and be a part of this amazing movement which has ignited a global Endometriosis & Menstrual Health uprising that's helping to improve the lives of the 1 in 10 women, girls, and transgender people whose urgent health needs have been ignored for decades.US-based EndoMarch events are free, family-friendly, and open to all. Additional event details are still TBA. However, you can register here on Eventbrite to reserve your spot and receive automatic email updates.
OUTDOOR EVENT CAPITOL HILL
This is an outdoor event only, taking place on the grassy area of West Side of Capitol Hill, at the corner of First Street, SE and Independence Avenue, SE, Washington, DC, 20003. There is a walking path that goes toward the grassy area that is called Southeast Drive, which we will use to access the grassy area. Additional details forthcoming for best drop-off locations for those taking a taxi/Uber/Lyft. This event will take place, rain or shine, so please check the weather and dress appropriately for an outdoor rally in the month of March in Washington, DC .
FOLLOW US ONLINE
Follow us online on Instagram at @wwendomarch or on Facebook at Worldwide EndoMarch Inc to receive periodic updates. You can also click here to connect to the Facebook Event Page to stay in touch with the local organizers and other participants, or visit the National EndoMarch Team at endomarch.org.
ABOUT THE ENDOMARCH GLOBAL MOVEMENT
The EndoMarch movement has ignited an international endometriosis uprising that has swept across the globe in 60+ countries and counting, leading to dramatically increased awareness and inspiring meaningful policy changes around the world, including here in the U.S., where senators are now involved in spearheading a bipartisan bill to increase federal funding for endometriosis research and public awareness campaigns. Since our first campaign in 2014, the Worldwide EndoMarch has grown to be the largest, internationally-coordinated endometriosis event & coalition in the world, with over 300k followers combined & representing over 100 endometriosis patient advocacy organizations, groups, and medical societies from around the world, which have joined together to fight for change and address the urgent unmet needs of those suffering from endometriosis, a potentially crippling, whole-body chronic disease that is one of the leading causes of gynecologic hospitalization and school absences in adolescent girls. Visit endomarch.org to learn more or email us at info@endomarch.org.