Description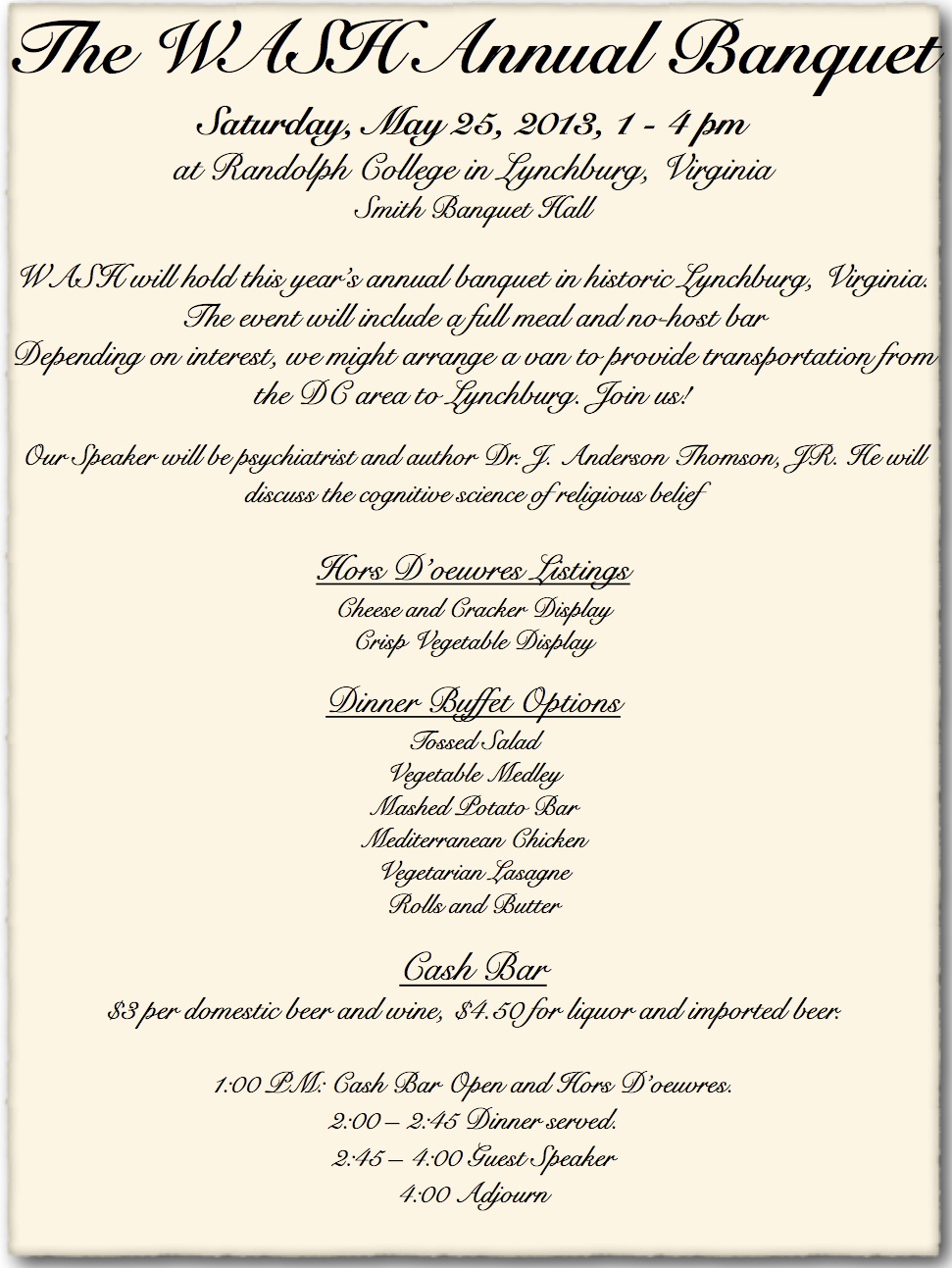 You are invited to attend the Washington Area Secular Humanists' 2013 Annual Banquet in Lynchburg, Virginia on May 25, 2013. You don't need to be a member of WASH to attend. All interested persons are welcome. Casual attire.
(Note: The announcement for this event in the April issue of the WASHline newsletter incorrectly stated that there will be an open bar. This is not the case. The bar will be a cash bar. We appologize for the error.)

In addition to a wonderful buffet meal and cash bar and opportunity to meet and socialize with fellow secularists, we are honored to host a guest speaker, psychiatrist and author
Dr. J. Anderson Thomson, Jr.
A synopsis of Dr. Thomson's talk is given below.
We are the first generation in the history of the world who knows how and why human minds generate, spread, and consume religious beliefs. Yet, few realize how close we stand to a comprehensive psychological science of religious belief. The implications are limitless.

There is also a massive, irreconcilable conflict between science and religion. Religion was humanity's original cosmology, biology and anthropology. It provided explanations for the origin of the world, life and humans. Science now gives us increasingly complete explanations for those.

J. Anderson Thomson, Jr., M.D. (Andy), will lay out the fundamentals of the cognitive science of religious beliefand the supportive evidence. Dr. Thomson is a psychiatrist in private practice in Charlottesville,Virginia. He is also a staff psychiatrist at Counseling and Psychological Servicesat the University of Virginia Student Health Services and the Institute of Law, Psychiatry and Public Policy at the University of Virginia. He is a Trustee of the Richard Dawkins Foundation for Reason and Science.

His current research interest is in the area of evolutionary psychology and using its principles to understand depression, suicide terrorism, and religious belief. Dr. Thomson has published papers on a variety of issues, including racism, narcissistic personality disorder, forensic psychiatry, depression, and PTSD, and has written psychobiographical essays on Lee Harvey Oswald and Robert E. Lee.

With Russ Federman he co-authored the book, Facing Bipolar: The Young Adult's Guide to Dealing with Bipolar Disorder. His latest book, with Clare Aukofer, Why We Believe in God(s): A Concise Guide to the Science of Faith, was released in 2011.