Description
Please join Author Richard Pryor and his family on March 30th at Davios Italian Restaurant in Lynnfield, MA at the Market Place in Lynnfield. For the book signing of Richard's book, Warriors of Life "Conquering Grief and Battling your way Back to Happiness." Spend the afternoon with Richard, his family and friends as they celebrate the release of his book in hopes that his story and this book will help a lot of people struggling with grief. We will be celebrating with amazing food from Davios, drinks and some incredible entertainment. With each book purchase you will receive a free signed copy of Richard's Book and you can take a selfie with him if you like...with Barbara as well. We are not sure if the GUCCI boys will be allowed in the restaurant...But maybe a cameo outside if possible...and who knows maybe their grandogs will show up, Ollie and the newest addtion to the family, Ollie's bro..Miles.
PROCEEDS FROM THIS GALA will benefit his son's foundation. The Richie Pryor Foundation
General Admission is $55. It includes food, fun, laughs and a signed copy of his book.
The VIP Experience is priceless at $80. This VIP Experience will get you food, drinks, even more fun, a signed copy of his book as well as an intimate gallery reading (Messages from Heaven) from Jocelyn (2-4pm), The North Shore Medium. Because of space constraints we only have a limited supply of the VIP Experience. To avoid interruptions the ddoors for reading will close at 2pm .
The Warriors of Life Warriors of Life helps people who have lost a child or loved one navigate the painful journey of grief. The book outlines a lot of the challenges that Richard encountered on his journey, how he handled stress and depression. What helped him annihilate the stress, eliminate depression and face his grief head on to move forward through it. In the process discovering his true self, his purpose and the feeling of happiness which we should all be enjoying.

To purchase book and get more information about the book and Richard's Journey. www.thewarriorsoflife.com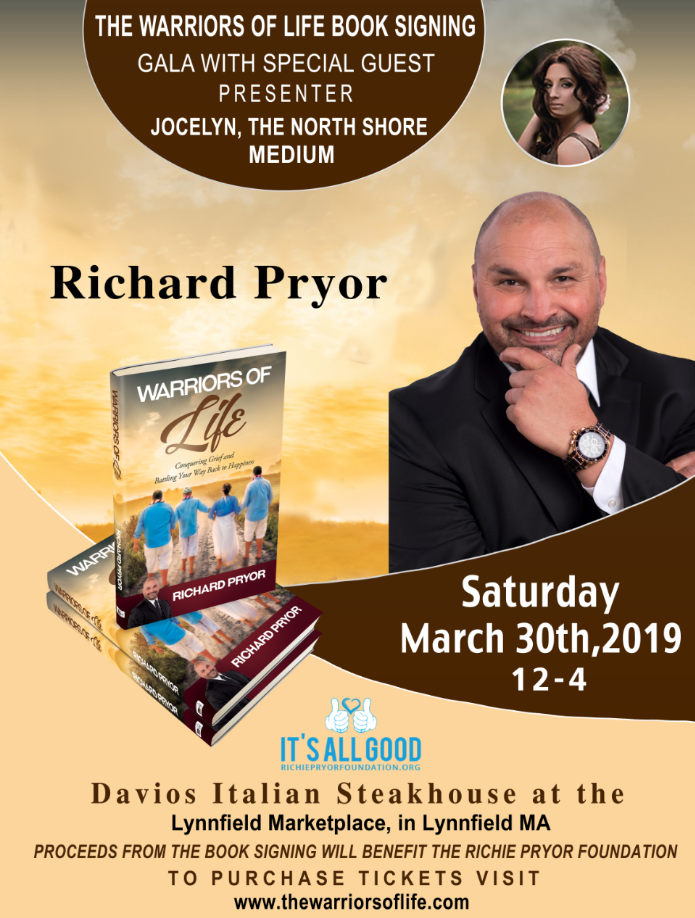 Organizer of Warriors of Life Book Signing Gala with Author Richard Pryor