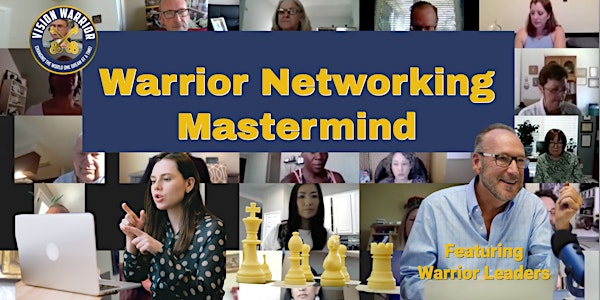 Warrior Networking Mastermind - 2023 Kickoff
Many of our Warrior Networking community (local and global) have begun or completed their 2022 Year-in-Review. Regardless, IT'S NOT TOO LATE
About this event
"Warriors Focus Forward" but We Build Upon our Wins and we Learn from our Challenges.
During this inspiring Kickoff to our 2023 Warrior Networking journey ALL participants will have the opportunity to share their priorities and suggestions for MOVING FORWARD AND GROWING their business and impact in all areas of their lives (Finances, Business Operations, Work life, Body, Mindset, Spiritual, Home, Office/Workspace, Systems, Relationships, Community, Network, Clients/Partners and Experiences/Events).
Warrior Networking Masterminds - Moderators and leaders of this series have HUNDREDS OF YEARS of success in ALL areas of business and life. They have been and ARE servant leaders willing to create a safe and impactful mastermind for those choosing to participate.