Description
Twin Cities Wine Education presents a special Saturday afternoon class featuring some of the best Ports ever produced!
WARRE'S VINTAGE PORT VERTICAL
Featuring 2003, 2000, 1994, 1980, and 1970
Twin Cities Wine Education LLC is proud to present a very special evening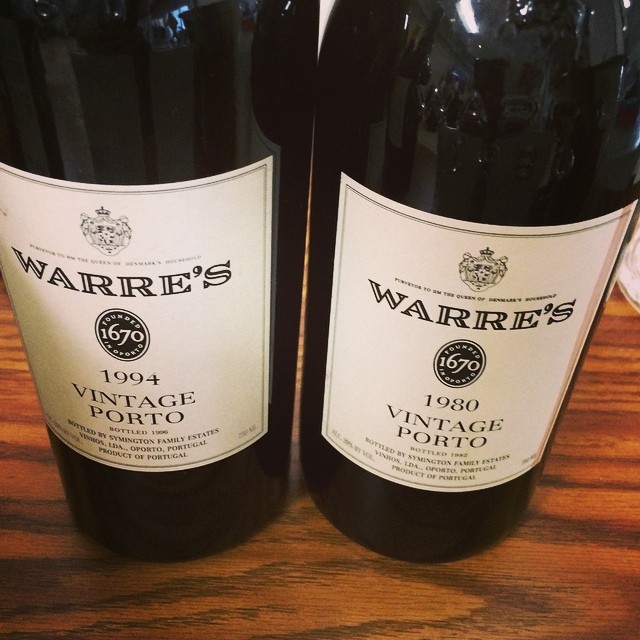 Vintage Port is, without a doubt, one of the crown jewels of the wine world. Legendary houses such as Quinta do Noval, Graham's, and Warre's have been bringing us joy for centuries. Only made in the best of years, Vintage Port ages gracefully for decades, but is often popped way too young.
Rarely can people wait long enough for proper aging (it's just too tempting!) and even more rare is to experience perfect aged Vintage Port directly from the cellars of the top houses, ensuring perfect storage.
In this special event we will pop the top Vintage Ports from the house of Warre's going back 47 years, shipped DIRECTLY from the Warre's Lodge in Oporto, Portugal.
*** Seating is extremely limted for this special event ***

Wines we will be tasting:
2003 Warre's Vintage Port
Robert Parker's Wine Advocate – 93 points – "Black pepper, sealing wax, spices, and toast are found in the nose of the potentially exceptional 2003 Warre's Vintage Port. A concentrated, backward e ort, its youthful, classically ungenerous, masculine character reveals black pepper laced dark fruits. Silky-textured in its immensely endowed mid-palate, this top- ight e ort displays an admirably long, tannin- lled nish. It will require serious cellaring. Projected maturity: 2030-2050."
2000 Warre's Vintage Port
Wine Spectator - 92 - 94 points - Outstanding - "A solid and powerful young wine, with mineral and currant character. Full-bodied, with well integrated tannins and a long nish. Outstanding."
"In 2000, the best wines are fantastic, with all the power and richness you could hope for, and they have the added appeal of being from the rst vintage of the millennium."
1994 Warre's
94 points Parker: "One of the finest Warres I have ever tasted, this opaque purple-colored wine is made in a drier style (a la Dow), yet it is expressive, extremely full-bodied, with superb richness, purity, and well-integrated alcohol and tannin. It possesses a great mid-palate as well as impressive length. Tasters should take note of the wealth of peppery, licorice-scented and flavored raspberry and blackcurrant fruit. Look for it to be ready to drink in 10-12 years, and keep for 30+. This is a profound example of Warre vintage port."
1980 Warre's
93+ points Nick Burwood: "Excellent colour showing no hint of age, smokey dense hedge fruit aromas, brulée summer pudding, hints of chocolate, spice - racy but with concentration. An elegant wine whose only fault was to follow on the legendary '77 vintage. No rush on this showing, should be good for at least another 10 years."
1970 Warre's
"Very serious wine, still challenging, with almonds, figs and prunes, all dribbled with bittersweet chocolate. Warm and embracing…". - Dorothy Gaiter and John Brecker , The Wall Street Journal 03/02/2006

"Gloriously vibrant wet violets nose. What a marvellous mouthful of sweet, voluptuous roses and raisins. Superb – and so youthful". - Serena Sutcliffe , Sotheby's Catalogue 17/07/2002

"…sweet, full-bodied, rich, almost too rich, yet not overpowering, with the perfect weight and balance I expect from Warre at its best." - Michael Broadbent , Vintage Wine 01/01/2002
In addition to the above wines, we will have a short "Port 101" session at the beginning, covering the process of production to help with your Port education.
I hope you can join us for this incredible retrospective of the Vintage Ports of Warre's!