Description
Warp-Faced Double Weave on Backstrap Looms
with Laverne Waddington
THIS WORKSHOP IS NOW FULL.
ANY ADDITIONAL PARTICIPANTS WILL BE TAKEN IN ORDER FROM THE WAITLIST.
Friday, October 6, 9am to 4pm
Saturday, October 7, 9am to 4pm
Sunday, October 8, 9am to 4pm
Cost: $220 WGGC members; $245 non-members
Materials Fee: $10/person, which includes all yarn and most equipment used in class
Students need to bring: scissors, two (2) 3" metal screw-down type "C" clamps, a pencil (not pen) for charting, an eraser, note-taking materials, and a personal copy of the handout that will be emailed in pdf format a few days before class.
Skill Level: From the instructor: "
People need to know how to weave warp-faced cloth... how to handle the weft, when to beat etc. That could be on an inkle loom or with tablets. They don't necessarily need to know how to use a backstrap loom."

Students will sit in chairs at tables, not on the floor.
Workshop Limit: 8
Chair: Janie Yates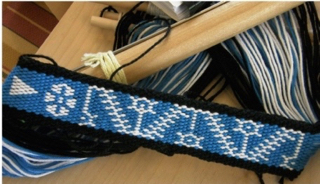 This warp-faced double weave structure gives weavers the ability to create sturdy bands with clean, crisp designs on backgrounds of solid color using only two simple sheds. Both faces of the band are structurally identical with colors reversed. Because it is basically plain weave and, therefore, does not require the complexities of warp-float length and alignment to be considered, it allows the weaver to advance quite quickly to creating original patterns. I liken it to "doodling" on plain weave.
In this three-day workshop, we will use patterns drawn from Bolivian and Bedouin weaving to create narrow bands of crisp geometric, plant, and animal figures on prepared warps. Students will be encouraged to create their own motifs as they become increasingly comfortable with the sequence of moves used to create the two layers of cloth in this double weave structure. Participants will later wind their own wider warps which will give them access to an even greater variety of patterns.
On the third day we will learn how to add extra heddles to make the process more efficient as well as how to incorporate strips of double weave in plain-weave cloth.
Questions about the workshop? Contact the chair, Janie Yates, at janie.yates67@gmail.com.
Weavers Guild of Cincinnati Cancellation Policies Regarding Student Fees:
If the teacher or Guild cancels workshop – full refund to all registered and cancelled students. Generally, the teacher or the Guild may cancel the workshop three (3) three or more weeks before the workshop start date. This is stipulated in the instructor's contract but can be flexible if both parties agree.

If a registered student wishes to cancel, s/he must:

Contact the Workshop Chair

If canceling thirty (30) or more days before workshop start date, student receives a refund of the workshop fee minus a $50 cancellation fee.

Cancel twenty-nine (29) or fewer days before the workshop start date

Refund workshop fee minus $50 cancellation fee

only

if vacant spot is filled by another person (from waitlist or otherwise).

No refund if spot remains vacant.

Registered student may independently find someone to take his/her place at the workshop with no extra fees involved as long as no cancellation is performed through EventBrite. Workshop Chair MUST be notified. In this situation, the primary registered student is responsible for all fees, passing on information to their replacement, etc.
About the Instructor: Laverne Waddington has been learning to weave on simple looms with indigenous teachers in South America since 1996. In her home in Santa Cruz, Bolivia, she draws on ethnic design influences from around the world to create pieces on a backstrap loom using the various techniques and structures she has studied in South America.
In 2010, she published her first book on one of her favorite warp-faced patterning techniques, Andean Pebble Weave, which was followed by More Adventures in Warp-faced Pick-up Patterns in 2012. Her articles on backstrap weaving and indigenous textiles have appeared in Handwoven and Shuttle, Spindle & Dyepot.
Laverne has shared her skills and experiences with many visitors to Bolivia over the years and now reaches a global audience with her weaving tutorials and travel tales on her blog. She provides online advice and support to weavers through forums such as Ravelry and teaches and speaks at guilds and textile conferences around the world.
Find her at https://backstrapweaving.wordpress.com.