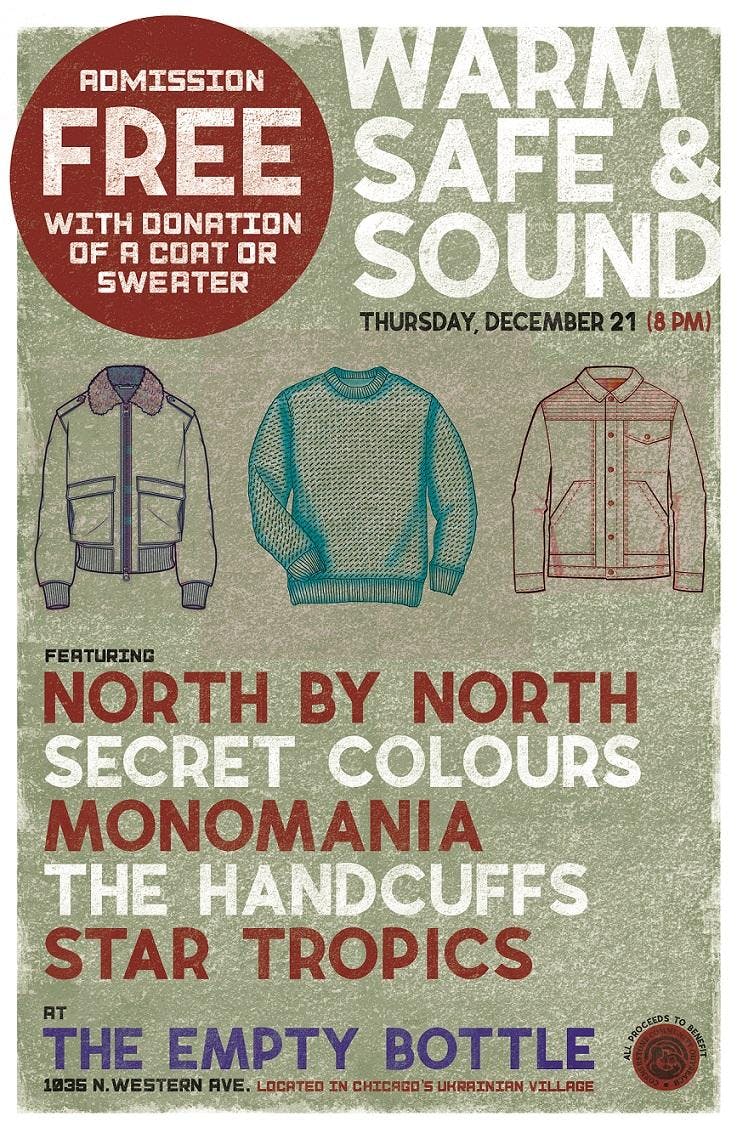 About this Event
Warm, Safe & Sound, a coat/sweater benefit concert intended to provide clothes for Chicago's homeless. The organization that will be receiving the clothes is Cornerstone Community Outreach: http://www.ccolife.org/
Emanating from the windy city of Chicago, IL, USA, SECRET COLOURS is an independently run music collective that has progressed from their roots in rock, constantly striving to innovate their sound. Since their inception in 2010, the band has worked to collaborate its contemporary range of personalities guided by the leadership of the group's core members, TOMMY EVANS & JUSTIN FREDERICK. The collective has appeared with the likes of DOCTOR DOG, RINGO DEATHSTARR, ELEPHANT STONE, SPINDRIFT, ASTEROID #4, THE RAVEONETTES, THE NIGHT BEATS, WARPAINT and THE WARLOCKS. 
NORTH BY NORTH have been on tour forever (more or less), but they're stopping in their town tonight to give Chicago what we so desperately need: Heavy, angular rock that veers in spastic-but-anthemic directions. The band's first two albums, 2014's Something Wicked and 2016's Last Days of Magic, are packed to the brim with hook-laden, noisy fury and are perfect for fans of fuzzy, bluesy rock & roll that refuses to quit. Each record has a whopping EIGHTEEN and SEVENTEEN songs, respectively, proving that this pair is truly instane and won't stop til they've melted into a puddle before your very eyes.
STAR TROPICS began as a bass & guitar duo huddled around a drum machine and has since evolved into a four-piece indiepop band determined to write carefree, primary-colored pop songs. Blending boy/girl vocals on top of jangly Rickenbacker leads, a healthy dose of fuzzy rhythms and the pulse of a driving beat, their songs can be described as equal parts celebratory and introspective. 
Led by critically acclaimed drummer Brad Elvis and vocalist/rhythm guitarist Chloe F. Orwell, Chicago's THE HANDCUFFS explore broad sonic territory while believing in the power of a great radio hook. THE HANDCUFFS inhabit some of the same musical domain as T-Rex, Spiders from Mars Era Bowie, and early Blondie - all filtered through a modern lens - and deliver bold, sexy songs with memorable melodies and unexpected twists.