Location
St. Luke's Center
4923 East Capitol Street, SE
Washington, DC 20019
Description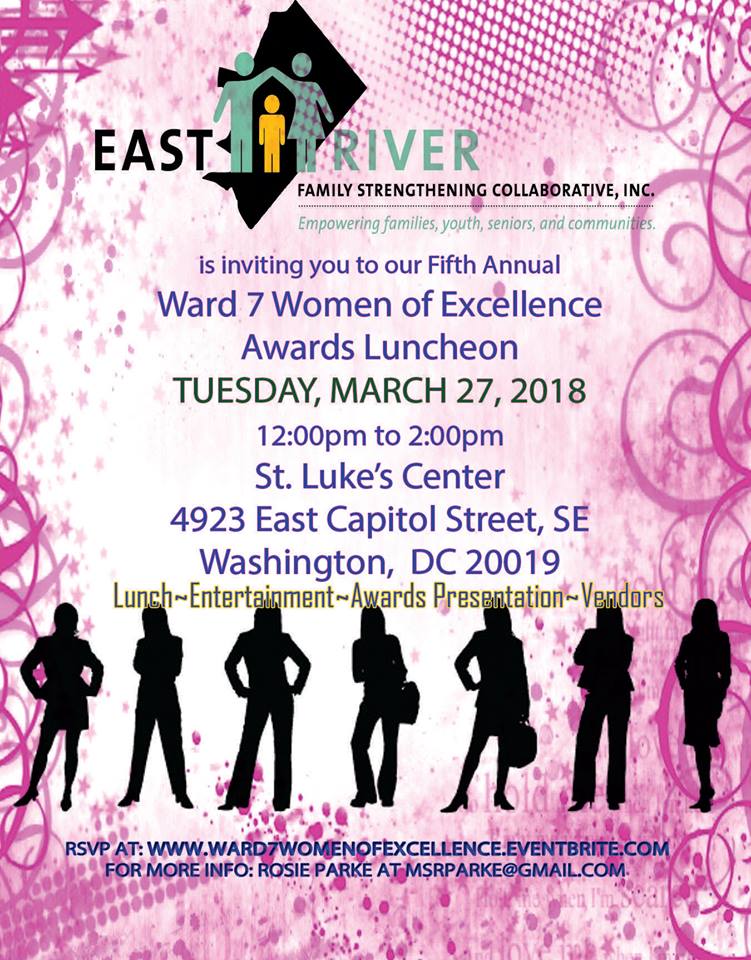 Nominations Now Open for Ward 7 Woman of Excellence
Submit the name of a woman who had made significant contributions for at least two consecutive years to improving the lives of seniors in Ward 7, allowing them to age gracefully in place. Submissions must be in by Wednesday, February 28, 2018.
For over 21 years, ERFSC has had the privilege of serving the Ward 7 community by providing essential services to our residents. During our years of service, we have been extremely fortunate to work with many women who are leading by example and those who exemplify excellence and dedication to community service.
Each March, we take time to reflect on amazing women in Ward 7 who are making strides in our community and to date, we have honored 30 women (two posthumously). This year, as we celebrate Women's History Month, we realize we have a lot of women to celebrate because of their work with seniors living in Ward 7. We have seen caregivers work with seniors, neighbors, therapists, fitness and wellness enthusiasts and community members who are committed to helping seniors age in place, go above and beyond for our seniors and this makes us extremely happy to honor them.
According to the 2010 U.S. Census for Washington, DC, of the 98,152 living in the District, 13,183 of them reside in Ward 7; representing 13.4% of the senior population. We know that seniors are the history and backbone of our community and many of them are playing the role of mothers and caregivers to our children, who will eventually become seniors themselves. This is your chance to help ERFSC to highlight a woman whose work with Ward 7 seniors is exemplary and needs recognition.
On Thursday, March 22, 2018, we will be hosting our Fifth "7 Ward 7 Women of Excellence" Awards Luncheon and a total of seven outstanding Ward 7 women will be honored. We are inviting YOU to help us select 6 of the 7 women to be honored!
Everyone is invited and encouraged to find an outstanding woman whose work with Ward 7 seniors is exemplary and has been for at least two years. This woman is one to be admired and imitated, and because of her, youth and the Ward 7 community are learning how they too can do their part to protect our seniors and assist them to age gracefully in place. This woman could be a caregiver, a woman who has adopted a senior, a woman who advocates for a senior, or a woman who provides essential services for seniors in Ward 7. The nominated woman should either live in Ward 7 or has worked in Ward 7 for at least two years providing significant care to Ward 7 seniors. ERFSC will select the top 6 nominees from entries received.
This year's luncheon will be held from noon to 2pm on Thursday, March 22, 2018 at St. Luke's Center, located at 4923 50th Street, SE, DC.
GUIDELINES FOR SUBMITTING A NOMINATION:
A typed letter of nomination should follow the criteria for selection listed below, and be approximately 1,000 words. Bullet points are acceptable.

The nomination must be signed.

Please nominate only one individual.
CRITERIA FOR SELECTION (include in nomination letter):
State the name, home address or business address of the woman nominated

(if the nominee does not live in Ward 7, documentation must be provided that shows her significant commitment to Ward 7 seniors for at least two years)

Give evidence of her commitment, dedication and service to the lives of seniors in Ward 7, measured by the quality and diversity of her service, her work ethic and integrity

List how she has been recognized and honored for her professional and personal achievements in the past. (List awards, honors and distinctions she has received and significant contributions she has made)

Give evidence of her sensitivity to the needs of seniors, enabling them to age gracefully in place through her service

Give evidence how she is an "advocate for seniors" in Ward 7 and other communities

Give evidence of how other women emulate her and/or why other women should emulate her

The nominee

must

either live or work in Ward 7

The nominee must be someone who has consistently demonstrated excellence in service to seniors in the Ward 7 community service for at least two years.
Letters of nomination should be sent to Rosie Parke via email to msrparke@gmail.com. The deadline for submission is Wednesday, February 28, 2018.
To RSVP for tickets to the Luncheon, visit www.ward7womenofexcellence.eventbrite.com.
Check out the Video from 2014.