Description

The Patch in collaboration with Washington Parks and People presents the 1st annual HARVEST FESTIVAL on Saturday, October 28th from 3:00pm to 7:00pm at the Marvin Gaye Greening Center. This free, family-friendly event will give the community a taste of farm life and Washington D.C.'s very first pumpkin patch!

The Harvest Festival will offer a chance for community members to put their phones down and engage! Supporting Sponsor Washington Parks and People, not only generously donated the farm but have joined us as an ongoing community partner.
Activities will include pumpkin picking, potting demonstration, harvest vision board, haunted house, hayrides, live music, and more!!!
"The Patch" is a collaborative effort between entrepreneurs "Grower" Losia N. and "Radio Personality" Nakkia M. for the culture! Our program is about altering methods of economics, culture, ecology, and economics. Our programs empower children and families to make healthier lifestyle choices and to green the city and their homes with edible plantings.
Through programs and events, "The Patch" strives to cultivate a broader awareness of sustainability through altering methods, and healthy lifestyles choices.
For more donations or to partner please contact 240-244-9250 or visit www.thepatchdc.org.
FB: The Patch DC
Instagram: @ThePatchDC
#ThePatchDC
Educate. Plant. Grow. Eat.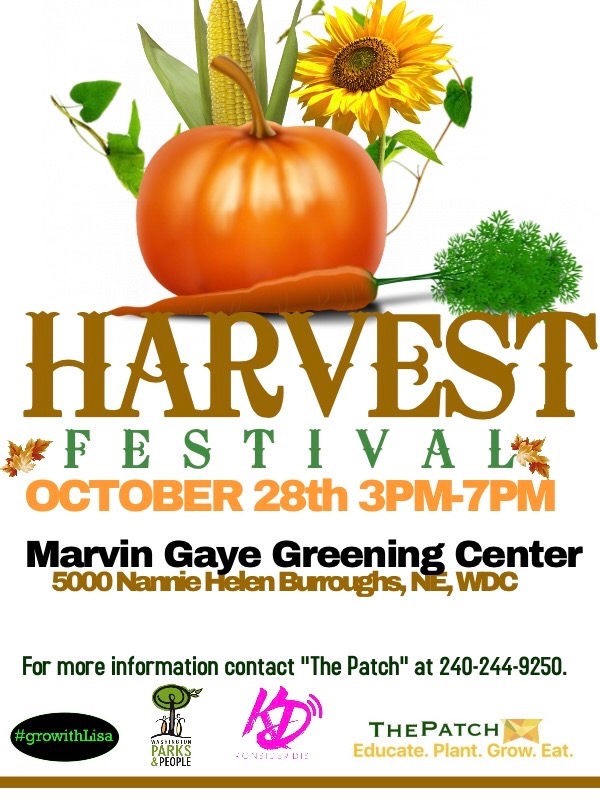 Date and Time
Location
Marvin Gaye Greening Center
5000 Nannie Helen Burroughs Avenue Northeast
Washington, DC 20019
Refund Policy