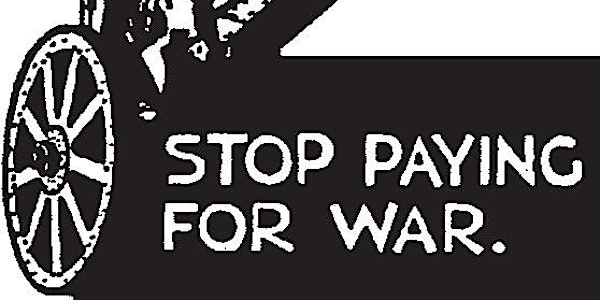 War Tax Resisters Workshop
When and where
Location
Joyce Beers Community Center 3900 Vermont Street San Diego, CA 92103
Description
The Uhuru Solidarity Movement, the National War Tax Resistance Coordinating Committee (San Diego) and 9/11 Truth San Diego have joined together for this important workshop.
War tax resistance is immediate and direct action against endless war. Popularized by Thoreau 200 years ago, 1000s now refuse to pay for war. US war machine takes ~50% of your taxes to militarize the world. Learn how to redirect your taxes. Invest in People; Divest From War. 99 tactics to Defund War!
Take the Reparations Challenge! The Uhuru Solidarity Movement makes the case for reparations by asking all War Tax Resisters to consider paying reparations to Black Star Industries - the foundation for a liberated African economy. Black Star Industries was created by the African People's Socialist Party which has worked tirelessly to make reparations a household word. There is no social justice without reparations! Black Star Industries is in the process of creating an African economy and marketplace, building dual and contending power with parasitic capitalism which was born from slavery, genocide and colonialism. All white people have benefited from the stolen resources of African people and need to return these stolen resources through diverting our war tax to reparations!

Black Star Industries generates resources for economic development programs and projects of the African People's Socialist Party, creating organizational self-reliance and fostering collective African business ownership and community commerce.
Black Star Industries begins to replace the colonialist economy which is clearly not meeting the needs of the African community.
The impact of the current economic crisis is deep for African working class people who face mass unemployment, imprisonment, home foreclosures, and an ever-widening wealth gap.
The world economy was created at the expense of African and other oppressed peoples. As more and more people around the world are demanding and taking back their resources, the U.S. and Europe go into a crisis that they attempt to solve at our expense. The white community must support the development of an independent economy that meets the needs of all people.

Black Star Industries is THE economic future, developing wealth and prosperity for Africa and African people everywhere. and ensuring that no one in the world experiences the oppression of parasitic capitalism.

It is an economy that will sustain the worldwide African community and put them on the road to independence and self-determination. We can support their economic development as African people help each other not as charity, but to create a self-sustaining economy that they control.
Black Star Industries is the legacy of Marcus Garvey and the creation and vision of APSP Chairman Omali Yeshitela