Description
AoH Events & Hardroadz Media
Presents:
W.A.R - TWO DAY FESTIVAL
Coming this New Year 2019! We are bringing more troops for this battle in Los Angeles! Get ready soldiers!!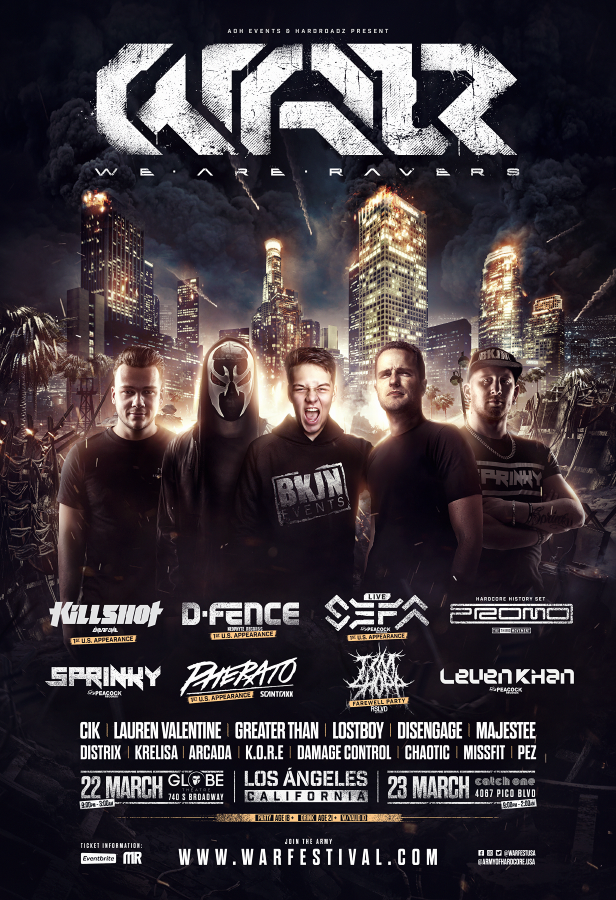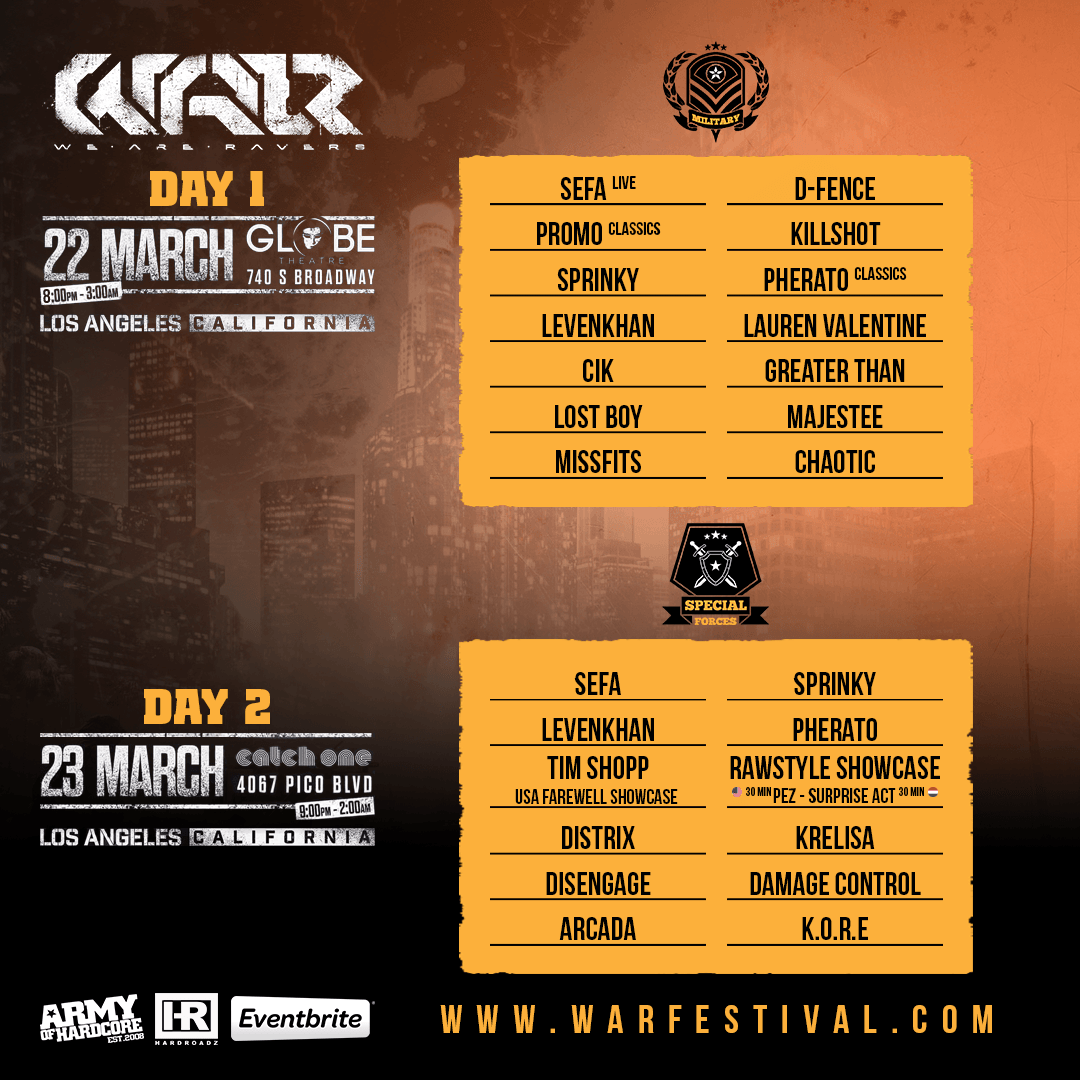 (date is subject to change due to artists availability and artists may change if they dont met US visa requirements)
Here at AoH Events we strive to bring you the best experience by providing quality Events.
-----------------------------------------------------------------------

⬛◼▪ Battlefield / Tickets ▪◼⬛

✖ SURVIVAL PACK : $25.00 (SOLD OUT)

✖ TIER 2 : $44.00 (SOLD OUT)
✖ BUNDLE PACK : $80
✖ TIER 3 : $54.00


► EVENTBRITE :
https://www.eventbrite.com/o/aoh-events-15934084247

��� Hard Tickets ���
Message our team!
Fernando Anaya (Los Angeles Area)
Fabian Peña (San Bernardino Area)
Michell Cruz (OC/Long beach Area)
Dylan Dizzy Ordonez (South Bay)
Orb Ágency ( East Los Angeles Area)
Jaime Velazq (Whittier/Montebello Area)
David HC Sankey (Phoenix, Arizona)

-----------------------------------------------------------------------------

⬛◼▪ CONTACT ▪◼⬛

✖ jaime@armyofhardcore.com

⬛◼▪ JOIN THE ARMY TEAM ▪◼⬛

✖ Fernando@armyofhardcore.com

-----------------------------------------------------------------------------

⬛◼▪ SUIVEZ-NOUS / Follow us ▪◼⬛

✖ WEB : www.warfestival.com
✖ WEB: www.armyofhardcore.com
✖ INSTRAGRAM : https://www.instagram.com/armyofhardcoreusa/

-----------------------------------------------------------------------------

�� WAR Zone / Venue ���

� Globe Theatre - Downtown LA
� 2 rooms
� Capacity 1700
� 18+ to enroll / 21+ to drink
Bottle Service w/ Private Balcony viewing
Marcel – Globel Theatre
1-805-216-8449
⬛◼▪ Alliance Team ▪◼⬛

✖ Hardroadz Media
✖ BA events
✖ Arizona Hardcore Junkies
✖ Rave Till Dawn
✖ Peacock Records
✖ More to be announced