'War Against the People: Israel, the Palestinians and Global Pacification' - Jeff Halper London Book Launch

Wednesday, October 7, 2015 from 7:00 PM to 9:00 PM (BST)
Event Details
'War Against the People: Israel, the Palestinians and Global Pacification' 
London Book Launch
- Published in September, 2015 by Pluto Books
Following the sold out previews at Greenbelt festival this summer, we are delighted to announce Jeff Halper's official London book launch. The first of Jeff's public meetings for his tour that will take him to 14 cities will have him interviewed by writer and broadcaster John McCarthy on the subject of his new book.
Signed copies will be available for you to purchase. As tickets are limited, please book in advance.
This talk is also a fundraising opportunity for ICAHD as the campaign continues to end Israel's policy of home demolitions and the displacement of the Palestinian population, and to continue rebuilding Palestinian homes. ICAHD's political non-violent direct action has resulted in the rebuilding of 189 Palestinian homes.
Please note, doors open at 7pm for a prompt 7.15pm start.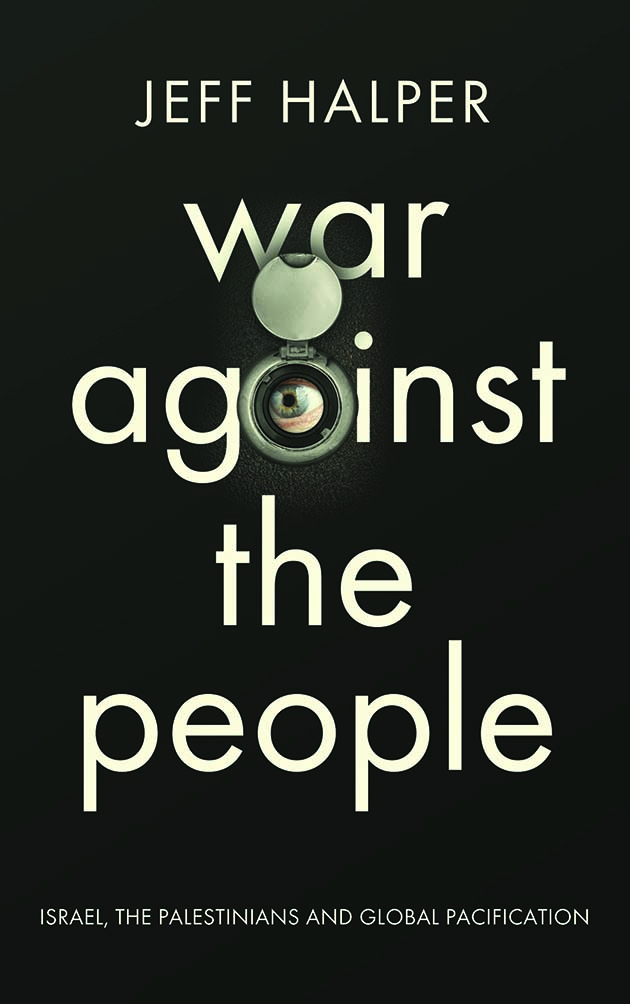 'War Against the People' book synopsis:
Modern warfare has a new form. The days of international combat are fading. So how do major world powers maintain control over their people today?
War Against the People is a disturbing insight into the new ways world powers such as the US, Israel, Britain and China forge war today. It is a subliminal war of surveillance and whitewashed terror, conducted through new, high-tech military apparatuses, designed and first used in Israel against the Palestinian population. Including hidden camera systems, sophisticated sensors, information databases on civilian activity, automated targeting systems and, in some cases, unmanned drones, it is used to control the very people the nation's leaders profess to serve.
Drawing from years of research, as well as investigations and interviews conducted at international arms fairs, Jeff Halper reveals that this practice is much more insidious than was previously thought. As Western governments tighten the grip on their use of private information and claw back individual liberties, War Against the People is a timely reminder that fundamental human rights are being compromised for vast sections of the world, and that this is a subject that should concern everyone. 
Jeff Halper: 
An Israeli anthropologist and the Co-Founder of the Israeli Committee Against House Demolitions (ICAHD), Jeff Halper is also the author of An Israeli in Palestine (Pluto, 2008) and Obstacles to Peace (ICAHD, 2013; & ICAHD, 2015).
Jeff Halper participated in the first (and successful) attempt of the Free Gaza Movement to break the Israeli siege by sailing into Gaza. Jeff was a witness providing evidence of Israel's apartheid policies during the Russell Tribunal on Palestine's session in South Africa, and was nominated by the American Friends Service Committee for the 2006 Nobel Peace Prize, together with the Palestinian intellectual and activist Ghassan Andoni. 
John McCarthy:
On his first foreign assignment, to Lebanon in 1986, he was abducted, by Islamic Fundamentalists and held hostage for more than five years. Subsequently, this experience was explored in the film Blind Flight and in John's book Some Other Rainbow (co-written with Jill Morrell).
His other books are (with Brian Keenan) Between Extremes, A Ghost Upon Your Path: An Irish Journey, and You Can't Hide the Sun: A Journey through Palestine. Alongside his writing John has worked in television for the BBC, ITV, Sky Arts and Al Jazeera. In radio he is a regular presenter on the BBC World Service and BBC Radio 4. He is Patron of the charity Freedom From Torture.
Have questions about 'War Against the People: Israel, the Palestinians and Global Pacification' - Jeff Halper London Book Launch?
Contact ICAHD UK
When & Where

John Wesley Hall, The Wesley Hotel
81-103 Euston St
Euston
NW1 2EZ London
United Kingdom


Wednesday, October 7, 2015 from 7:00 PM to 9:00 PM (BST)
Add to my calendar
Organizer
ICAHD is a non-violent, direct-action group originally established to oppose and resist Israeli demolition of Palestinian houses in the Occupied Territory.