Description
Thanks for coming, everyone! Check the recap here to see photos from the party and other ways you can help!
Update: The best source of information on how to help is here:
How to register to be tested - How to organize your own donor drive - Information for international donors & organizers - Other ways you can help - FAQ
Donate to support the cost of test kits here!
Thanks to the fine folks at StackExchange, Cookies.com, and Brooklyn Brewery for their support!
Our friend Amit Gupta, one of the nicest and most amazing people we know, has recently been diagnosed with leukemia. He urgently needs to find someone who can donate bone marrow to help him in his fight!
To fight leukemia, he needs matching bone marrow. Despite 9.5 million people on the National Registry, South Asians are severely underrepresented. The odds for an Indian minority finding a match in the registry are 1 in 20,000.
1. The most important thing you can do is get anyone you know of South Asian descent to get tested.
The test is super fast, easy, and painless. If you're in New York, come to New Work City for a party Friday, October 14. If you can't make it, you can
register online
!
We will have spirits, music, and registration kits galore. Forward widely (especially to people in NYC)! RSVP here soon!
Also on Facebook!
2. After spreading the word, donations to support the test costs will be a big help.
We are teaming up with
SAMAR
, awesome non-profit donor recruitment group, who will cover the $100 per person
cost
of lab tests and database maintenance. If you're willing to cover all or part of cost for yourself or others, the donation is encouraged and appreciated.
Most importantly, cost should not deter anyone from registering.
Already registered? Awesome! Bring friends to the party and help raise funds for the cause.

-Deedee, Isuru, Jackie, Miro, Nick, Rachel and Tony

-----
Who are we?
We are friends and former roommates of Amit's. The donations are being run through New Work City, a coworking space and community center for independents inspired by Amit's work. We are all volunteering our time and resources to help our friend.
How donation works:
The National Marrow Donor Program® (NMDP) and our Be The Match Foundation® are nonprofit organizations dedicated to creating an opportunity for all patients to receive the bone marrow or umbilical cord blood transplant they need, when they need it.
If you can't attend our registration drive, you can sign up for a kit online. It takes 5 minutes and they will mail the kit to your home. Another 5 minutes, mail it back and you are done.
If you are matched and proceed, there are two ways of donating. Most donations do not involve surgery (peripheral blood cell donation), and take only an hour. The second method (bone marrow donation) is a surgical procedure done under anesthesia. Typically, you'd get to go home on the day of the donation. With the latter, there with some pain in their lower back for a few days afterwards. Because only five percent or less of a donor's marrow is needed to save the patient's life, the donor's immune system stays strong and the cells replace themselves within four to six weeks. In either case, there is little risk to donor and you remake what you give in couple of weeks.
Frequently Asked Questions
Here are some answers, from a long-running campaign in San Fransisco.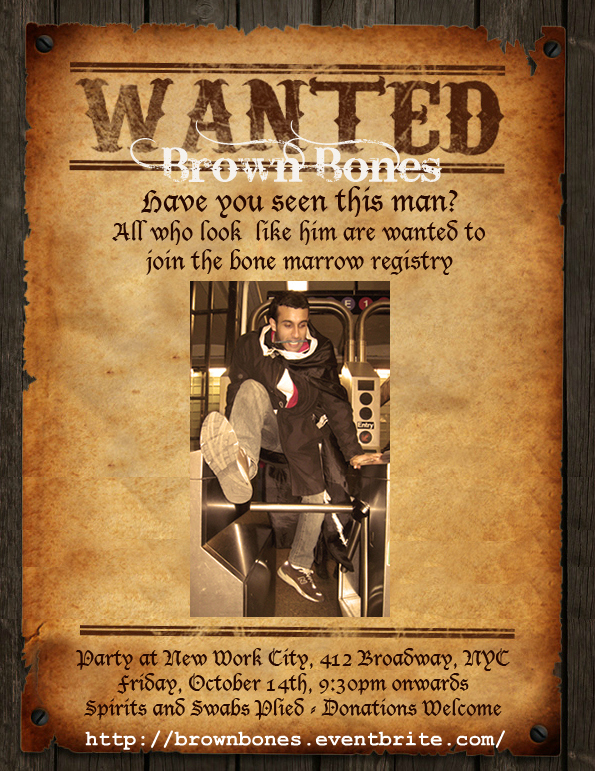 Organizer of WANTED: Brown Bones Benefit Party
This party is being put together by friends of Amit, mostly his former roommates at House 2.0. The party is being hosted by New Work City, a community coworking space that drew its original inspiration from one of Amit's projects.