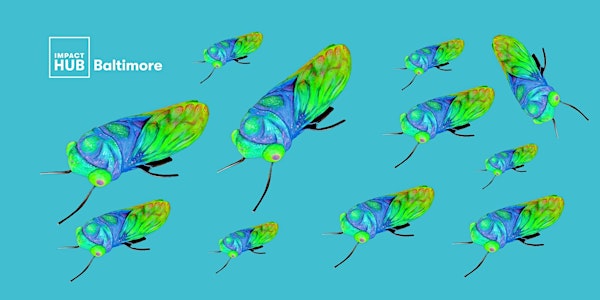 Wanna paint a cicada for Cicada Parade-a, a community art project?
If you are interested in adopting a cicada to decorate and display publicly we have 9 ready for artists who identify as POC at IHB!
When and where
Location
Impact Hub Baltimore 10 East North Avenue Baltimore, MD 21202
About this event
Alanah Nichole Davis who serves as the Marketing & Outreach Manager of the Impact Hub Baltimore and Mike Bowman of Formstone Castle Collective have teamed up to make sure POC are represented in Cicada Parade-a, a community art project welcoming this new brood of cicadas to Baltimore.
Ready to adopt and get paintin'?
Register on Eventbrite and Alanah will be in touch with a pickup time at Impact Hub Baltimore. E-mail Alanah@baltimore.impacthub.net your adoption pledge and coordinate a time for pickup.
What is Cicada Parade-a?
Cicada Parade-a is A large-scale collaborative art project organized by Formstone Castle Collective that will be on display in and around the greater Baltimore area starting in May and running through the end of summer of 2021. This project celebrates the re-emergence of Brood X, central Maryland's 17-year cicada brood, which will return by the trillions to Maryland during spring and summer 2021.
The Cicada Adoption Process:
Adopting a bug does come with responsibilities
The bug must be decorated in such a way that it can be displayed publicly.
The bug must be returned to Formstone Castle at 218 S Castle Street, Baltimore, MD 21231or Impact Hub Baltimore at 10 E. North Avenue to hang starting no later than May 21st . If there is a delay, let us know.
Please use materials that will not fall apart or make a mess for the duration of the summer. These will be subject to all of the conditions of Baltimore City from weather to vandalism so please take that into consideration in your design.
Have deeper questions about the parade, collaboration or sponsorship and want to talk to Mike over at Formstone Castle?
410-861-7369
mike@cicada2021.com
Are you an artist but do not identify as POC and want to adopt a cicada?
Here is the traditional Cicada Parade-a Interest Form, Mike will be in touch. He's got alot of plaster on his hands for this project, be patient and don't bug him, get it?
Graphic Banner for Eventbrite made using photograph by Mel Til in the Cicada-parade-a Facebook group which everyone can join!