Description
Auction Panel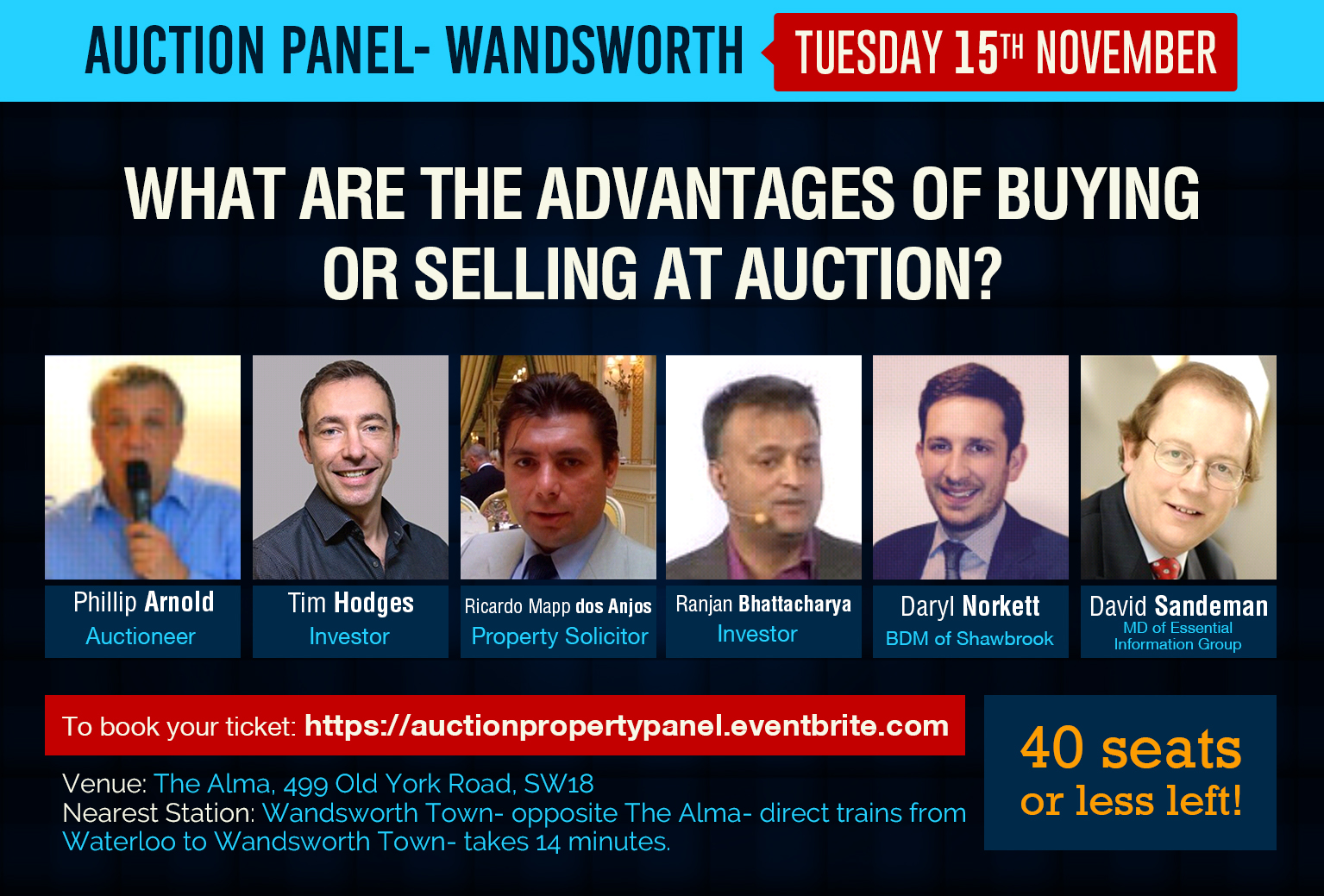 About those on the Panel:
Ranjan Bhattacharya:

Ranjan Bhattacharya is a seasoned property investor and developer who over the last 25 years has built an extensive portfolio of residential and commercial property in London. He is a former management consultant with Accenture and has an MBA from the Cranfield School of Management.
He is the author of the best-selling 'Build Your Property Empire – Home Study Course'. Ranjan is also an advisor to Channel 4's Property Ladder and has been a regular speaker at the Property Investor Show since 2004.
Ranjan bought his first investment property in 1990 having just graduated from University. With no cash of his own, he had no choice but to structure the deal to be no money down purchase. Ever since buying income generating property with little money down, has been the 'corner-stone' of his investment strategy.
Tim Hodges
Tim is one of the co-founders who started his property journey in 1998, becoming a property investor/landlord/developer. His experience encompasses many facets including portfolio building, managing multi refurbishment projects, trading and more importantly acquisitions.
Tim has sourced over 100 projects, ranging from single units in Hammersmith to multi-million projects in East London. Alongside this he has built up a London residential portfolio of 24 properties with an equity of £3.6m producing £12.5k of income per month. Recently, he closed The Vincit Group's largest deal to date, a £4m semi-commercial purchase with a potential GDV of £8m.
Tim has been on many property judging panels and forums including Property Investor News, The Canary Wharf PIN and The Lambeth Private Sector Housing Forum. He currently writes a regular column for the acclaimed property magazine "Property Investor News" and is regularly invited to speak at various property events. His main focus is to develop long-term relationships with sourcers to maximise their return and at the same time to deliver our vision for The Vincit Foundation.
A little about Phillip Arnold Auctioneers:
Having worked in the property industry for over 30 years, I still enjoy it as much as I did as an office junior all those years ago. I have worked for corporate enterprises and have also owned my own businesses.

The world of property auctions is a fantastic industry to be in, full of excitement and intrigue. My current business venture, being Phillip Arnold Auctions is rapidly growing and I aim to take this business forward to new dimensions.

Phiilip Arnold Auctions deal with all residential & commercial disposals, acquisitions & sales, valuations and property auction opportunities.

Whether acting for a housing association, local authority, mortgage lender or "Joe Public", I value every client and will always offer the best service I can with the aim of achieving the best result on their behalf.

Specialties: Delivering quality customer service and achieving/exceeding results and targets. This has been regularly shown and predominantly highlighted in May 2012, when my firm produced a perfect 100% success rate in the auction room. This fantastic achievement was well documented in the Estates Gazette. I can not find a record of this being done by any firm in London this century.(Please advise me if I am wrong as I dont wish to misquote).


David Sandeman- EIG
Being ahead of the times and at the forefront of development within the auction industry was the founding purpose of the business. David Sandeman, founder of EIG when trying to buy at auction himself discovered that the information he wanted just wasn't readily available so at the very beginning he created Faxwise. The company has continued to be a pioneer within the industry through changing times.
Daryl Norkett- BDM for Shawbrook
Ricardo Mapp Dos Anjos- Residential Property Solicitor for Fisher Meredith
The Panel will cover:
What research would you do before you bid on a property?
Do you have advice about bidding technique, so not to put the price up?
What tricks do sellers do to get the property to sell?
What are the liabilities of an auctioneer and a seller?
How much time do I have to finance the deal?
Why should l get legal before bidding at an auction?
Where are there hidden costs in the purchase?
How can I recoup legal costs on a sale?
Is it difficult to sell at an auction?
Schedule:
7-7.25- Welcome
7.25- Mortgage Update
7.30- Auction Panel
8.00- 30 second shout out and networking break
8.15- Auction Panel continued
9.15- Meeting formally finishes and informal networking
Reviews:
" Fantastic. I always walk away with renewed vigour and solutions to property problems that I had not considered myself. What the regular attendees don't know about property at this event probably ain't worth knowing! "
— James Gallagher
" 5 Star! Anyone interested in property investing especially in the residential market - this must be the best Network Event they could possibly attend. The quality and expertise remains exceptionally high, Brendan runs a small but perfectly formed event. If you're interested in property - DON'T MISS IT!!!!! "
— Alex McKellar
" This is where the experts meet the experts! Anybody who is looking for a wealth of information will be surrounded by a wealth of knowledgeable and very helpful people. Everybody likes to be in a position to do business. However this is one of the least "pitchy" groups. More help less people trying to flog you snake oil. I like it! "
- Barry Danser