Description
** Dont make payments here! This is just here to give you all additional information. Use the contact info listed on the flyer to make payments! Thanks!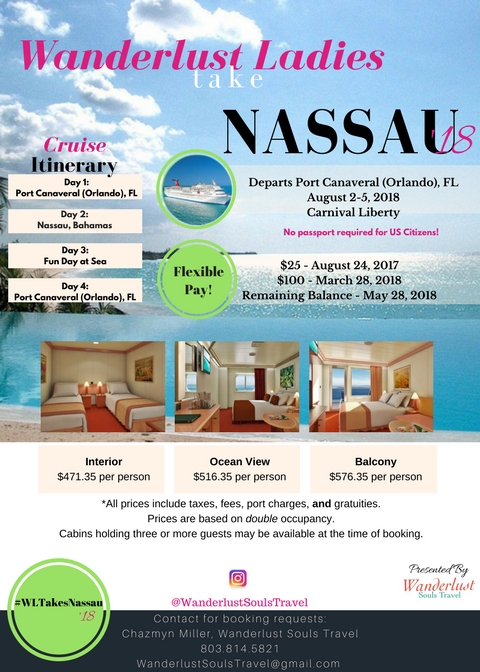 CARNIVAL LIBERTY
https://www.carnival.com/cruise-ships/carnival-liberty.aspx
ITINERARY

Day 1 - Thursday, Aug. 2, 2018
Departs Port Canaveral (Orlando), FL at 4:00pm
Day 2 - Friday, Aug. 3, 2018
Nassau, Bahamas from 12:00pm - 8:00pm
Day 3 - Saturday, Aug. 4, 2018
Day 4 - Sunday, Aug. 5, 2018
Arrive in Port Canaveral (Orlando), FL at 8:00am
---
PRICING
Interior - $471.35 PP
Ocean View - $516.35 PP
Balcony - $576.35 PP
*Based upon double occupancy.
*All of the prices include port charges, taxes, and fees, AND gratuities ($38.85/per person).

*Single guests are required to pay the full $200 deposit amount.
*Cabins holding three or four guests are booked based on availability and require full deposits ($100 per person) at the time of booking. Pricing for those cabins will be quoted upon request.
*Deposits are non-refundable!
Included
Your choice of cabin
4 days, 3 nights aboard the Carnival Liberty
All meals onboard, including 24-hour room service
Onboard entertainment, including shows, comedy clubs, discos, bars, etc.
Use of pools, hot tubs, fitness facilities, etc.
All taxes, fees and port charges
Not Included
Airfare and transfers to the ship
OVernight parking at the Port
Bottled water, soda, alcoholic beverages
Casino & Gambling
Shore Excursions and Sightseeing - Book early!
Spa and salon services
Items of a personal nature
Travel Insurance (recommended)
Specialty Dining Options
---
PAYMENT SCHEDULE
$25 - August 24, 2017
$100 - March 28, 2018
Remaining Balance - May 28, 2018
*Cabins will be assigned once the full deposit of $100 per person is made by everyone in that room.
---
PROOF OF CITIZENSHIP
Carnival highly recommends that all guests travel with a passport valid for at least six months beyond completion of travel.
An original or copy of a birth certificate issued by a government agency (state/county/city) or the Department of Health and Vital Statistics.
A clear, legible copy of a birth certificate that was originally issued by a government agency (state/county/city) or the Department of Health and Vital Statistics. The copy does not need to be notarized or certified.
Birth Certificate Card
A Consular report of Birth Abroad
Internationally adopted children (under the age of 18): If the adoptive parent was not issued a birth certificate, we will accept as proof of citizenship, a Certificate of Citizenship by the U.S. and adoption paperwork. A Certificate of Citizenship is issued by the U.S. once the adoption is finalized.
*Also, make sure you have a government issued photo I.D.!
---
VACATION PROTECTION

Trip Cancellation Coverage
100% cash back if you cancel for some of the most common reasons (severe weather, illness, etc.)
75% in Future Cruise Credit if you cancel for any reason not covered by the plan.
Travel Insurance
Trip Delay Up to $500 for "catch-up" expenses
Baggage: Up to $1,500 is your stuff is lost, stolen, or damaged and up to $500 reimbursement if you have to by necessary items while your bags are delayed 24+ hours
Medical: Up to $10,000 if you get sick or hurt on vacation
Emergency Evacuation: Up to $30,000 for emergency medical evacuation and repatriation
24/7 Worldwide Travel Assistance
Interior Rooms +$65
Ocean View +$49
Balcony Rooms +$65
---
CANCELLATION POLICY
June 4, 2018 - $100
June 19, 2018 - 50%
July 5, 2018 - 75%
July 20, 2018 - Full Penalty
---
TERMS AND CONDITIONS
Cabin availability is based on a first come, first served basis.
Single travelers will be responsible for total cabin deposit based on double occupancy.
Cabins not deposited by required dates, will be released back to the cruise line. Anyone wishing to join the group after the initial deposit date, will be subject to prevailing rates at the time of booking, and full deposit. Cabins cancelled for non-payment, may be reinstated at current rates.
Deposits are based on double occupancy only. Any group member wishing to secure a cabin for three or more passengers will be required to pay the full deposit at time of booking. Cabins of three or more are based on availability and may not always be available in like categories. Please contact your agent for pricing and details.
Updated 07/11/2017