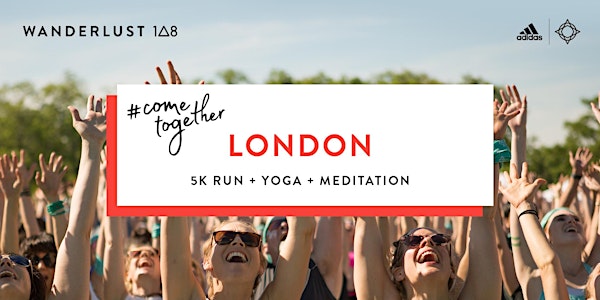 Wanderlust 108 London 2017
Date and time
Sat, 23 Sep 2017 07:30 - 16:00 BST
Location
Victoria Park Old Ford Road London E3 5TB United Kingdom
Description
Wanderlust 108 is a triathlon unlike any you've ever known. This "mindful triathlon" brings three events together in your favorite local park: a 5K run (or walk), an outdoor yoga experience, and a guided meditation – but with a twist.
5K TRIATHLON
This is a 5K (+/-) your way, so don't sweat it! Or do. Run or walk, prance or skip, stroll or strut --we don't mind. Just make it to the finish line.
YOGA
90 minutes of yoga flow underscored by a DJ? That's the Wanderlust way. Whether it's your first or 500th time on the mat, you'll find your rhythm.
MEDITATION
Get your sit together. Our 30-minute guided meditation will clear your mind, relax your body and complete the mindful triathlon
AND MORE...
Following the triathlon, you can choose your own mindful adventure by partaking in one scheduled activity, grabbing a healthy, organic lunch, stopping by Wanderlust's True North Cafe. From DJs on the main stage to lawn activities like hooping and acroyoga, to local and craft vendors at our bespoke Kula Marketplace, there's plenty to do when you're not on your mat. Nationally recognized teachers, speakers and musical talent are featured at each event to make for a fun-filled day.
To learn more about the day's lineup and schedule, click here.
CHARITY PARTNERSHIP
For every Wanderlust 108 London ticket purchased, Wanderlust will donate £1 to Hope For Children, an international charity that passionately believes every child has the right to a happy, healthy and positive childhood. Click here for more details.
TICKET INFORMATION
After your purchase you will receive a confirmation mail from Eventbrite, Wanderlust's Ticket partner.

Your e-ticket (s) can be found in the appendix of this mail.

Important: If you have not received a confirmation mail, please check your spam folder. If you can not find them there too, please click here and go to Eventbrite.

If you have other problems with your order, please click

here

and contact Eventbrite.

Further questions and general information about the event can be found here

.

Would you like to review or update your order?

Here

you can find all the information.

All purchases are binding.

Whether it's rain or sunshine, the event takes place.

The mentioned teachers and artists are confirmed at the time of the publication, but can change at short notice.
I accept the terms of use to purchase the online ticket.
Here
you will find the general terms and conditions.
About the organiser
Wanderlust's mission is to help you find your true north.  We've been producing events that gather together the mindful community since 2009.
Wanderlust festivals are multi-day celebrations of yoga, fitness and music that are held in awe-inspiring resort locations around the world. Wanderlust 108 is a one-day "mindful triathlon" that combines a 5k run, vigorous yoga and a guided meditation in your favorite city park.  Our newest event, Wellspring, is a 3-day wellness summit exploring what will make you, and the world, well.
Regardless of your individual path, the practices, ideas and community you will find at Wanderlust will help you continue your journey towards a healthy and inspired life.