Description
O Wanderlust 108 é o único 'triatlo mindful' do mundo.
O único triatlo mindful do mundo combina corrida, yoga e meditação com atividades outdoor, workshops e talks inspiradoras, num dia inteiro dedicado à promoção do bem-estar físico e mental.
O desafio é desacelerar e aproveitar mais a vida.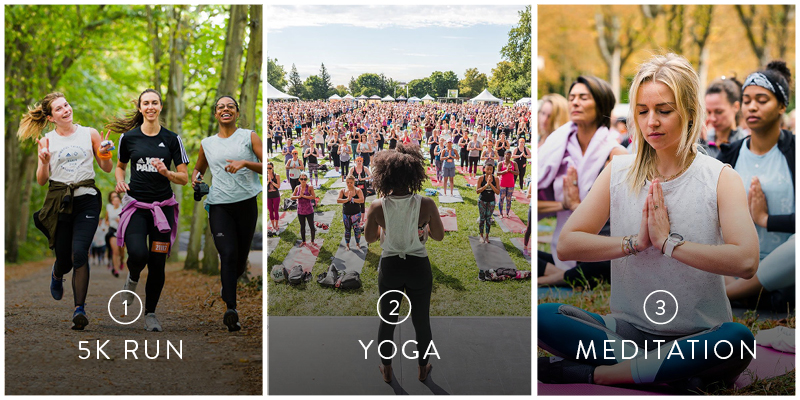 Música, um mercado de artesanato, comida orgânica e saudável e outras surpresas preparadas para acontecerem ao longo de todo o dia tornam o Wanderlust algo único.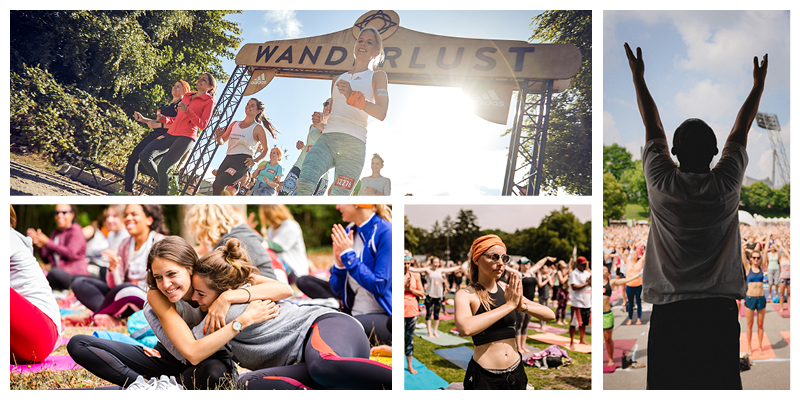 Corrida (ou caminhada 5Km) - triatlo 1a parte
São 5km para percorreres à tua maneira. Aqui nada é impossível. A correr, a andar, a saltar ou saltitar o que importa é chegar.
Yoga - triatlo 2a parte
Uma sessão de yoga de 75 minutos ao som de um DJ. Este é o estilo Wanderlust! Seja a primeira ou a centésima vez no tapete, o ritmo é teu!
Meditação - triatlo 3a parte
Completa este triatlo mindful com 30 minutos de meditação guiada: está ao alcance da mente, ser feliz.
E mais...
Completado o triatlo mindful, durante todo o dia, os participantes podem ainda participar em variadíssimas atividades, pensadas para promover corpo e mente sãos. Desde aulas no relvado como hula hoop, yoga aéreo, e acroyoga, a talks com professores e speakers reconhecidos a nível nacional.
Mais informações sobre o evento em: https://wanderlust.com/108-events/lisbon-pt-2/
INFORMAÇÕES E BILHETEIRA
• Após a compra, será enviado um email de confirmação da Eventbrite, parceiro na área de gestão da bilhética do Wanderlust. O seu bilhete eletrónico será envido por e-mail. Importante: se não receber um email de confirmação, verifique a sua pasta de spam.
• Se encontrar outros problemas com o pedido, clique aqui e vá a Eventbrite.
• Gostaria de rever ou atualizar o seu pedido? Aqui encontra toda a informação.
• Todas as compras são efetivas e independentes das condições atmosféricas.
• O cancelamento e/ou alteração do evento, não obriga o promotor a devolver o valor do bilhete.
• Os professores, speakers e artistas anunciados podem ser alterados sem aviso prévio.
Aqui poderá consultar os termos e condições gerais.
PARA MAIS INFORMAÇÕES:
Contacte o serviço de apoio ao cliente do Wanderlust.
THE WORLD'S ONLY MINDFUL TRIATHLON
Wanderlust 108 is a triathlon unlike any you've ever known. This "mindful triathlon" brings three events together in a Lisbon local park: a 5K* run (or walk), an outdoor yoga experience, and a guided meditation – but with a twist.
From DJs on the main stage to lawn activities like hooping and acroyoga, to local food and craft vendors, there's plenty to do when you're not on your mat. Nationally recognizedteachers, speakers and musical talent are featured at each event to make for a fun-filled day.
Bilhetes disponiveis na Eventbrite, Ticketline, Worten, Fnac, El Corte Inglès, A.B.E.P.
Join the Mindful Movement at Wanderlust 108!
For more information about the event, including ticketing, vendor and volunteer applications, please visit https://wanderlust.com/108-events/lisbon-pt-2/
Follow Wanderlust UK on social media for live updates:
Official Hashtags: #Wanderlust108 #Wanderlust_portugal #wanderlust2018 #cometogether
TICKET INFORMATION
• After your purchase you will receive a confirmation mail from Eventbrite, Wanderlust Ticketpartner. Your e-ticket (s) can be found in the appendix of this mail. Important: If you don't receive confirmation mail, please check your spam folder. If you can not find them there too, please click here and go to Eventbrite.
• If you have other problems with your order, please click here and contact Eventbrite. Further questions and general information about the event can be found here.
• Would you like to review or update your order? Here you can find all the information.
• All purchases are biding.
• Whether it's a rain or sunshine, the event takes place.
• The mentioned teachers and artists are confirmed at the time of the publication, but can change at short notice.I accept the terms of use to purchase the online ticket. Here you can find the general terms and conditions.
DO YOU NEED HELP?
Look at the Wanderlust Helpdesk and contact us for all FAQs directions and more.