Description
Oh hey good lookin!
You made it this far, so we know you're thinking about signing up for our incredible adventure retreat in Panama next February. Here's the scoop: us Wanderlove girls travel all over the world together, but this time around we want you to join in on our fun. In this week-long adventure, you'll be able to practice yoga at sunrise, learn how to surf, try your hand at scuba diving, soak up the sun on a private island, and eat delicious local food. We'll have reiki sessions available upon request, a mala bead and jewelry shop, free gear from our partners, and memories for a lifetime. You DON'T want to miss this.
Important note: this retreat is for ALL yoga, surfing, and adventure levels. The only requirement is a strong case of wanderlust and adventure.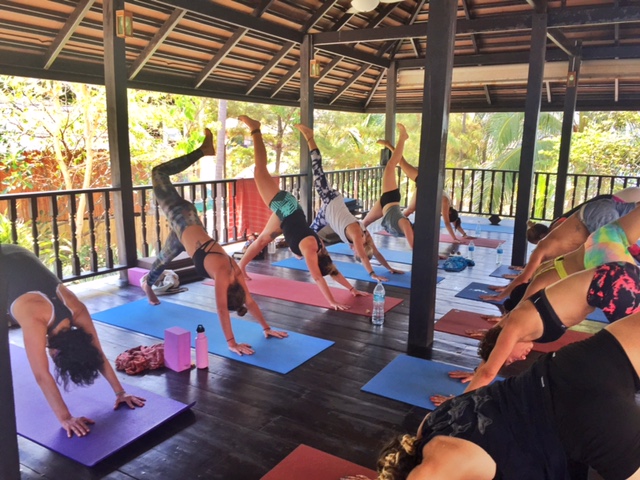 Let's go to Panama!
In March 2016, us Wanderlove laides (Julie Kern and Jessica Vitorelo) went to Thailand for a yoga retreat on a little island called Koh Samui. It was then and there that we realized Wanderlove is not just a magazine, it's a movement. We made a vow that one day we would host our own retreat, and invite all our traveling sisters to come and join us. And here we are :)
There are 1000's of retreats, so why this one?
The Wanderlove Adventure Retreat's main focus is on the activities. There will of course be yoga, meditation, healthy food cleansing, and time for self-reflection, but this will all be balanced with exciting activities, free time to do your own thing, and exploring Panama's off-the-beaten-path town of Santa Catalina.
What is the total cost of the retreat?
$1,295 not including airfare. Flights from the U.S. to Panama City are between $400-500 last time we checked. With your $350 + fees deposit today, you'll have $945 left to pay by February 1, 2017.
What is included in the price?
6 nights at

Santa Catalina Retreats
12 meals
Daily yoga
2 surf lessons at Estero Beach + unlimited use of surfboards all week
Unlimited use of kayaks, stand up paddleboards, and bikes
1 beach bonfire
1 pool party
1 boat trip to the beautiful, crystal clear waters of Santa Catalina Island
Scuba diving or snorkeling in Coiba National Park - a UNESCO World Heritage Site (please specify which you would prefer at checkout - no change in cost either way)
Yoga gear
Mala bead / homemade jewelry shop
Reiki sessions (additional fees may apply)
Who are the yoga instructors?
The incredible Tara Barchalk of Lavendar & Lime Yoga, and Rita Bolla Lapinel of FloFox Designs. Both are trained in Yoga and Reiki treatment.
Are boys allowed?
Sorry, but no boys allowed in this club. We want to get our lady power vibes on.
What is the sleeping sitch?
You will either be placed in a double, or a triple share. If you are interested in a single, please email us as this is an additional charge. If you have a roomie request, please email us!
When should I arrive/depart?
You should plan to arrive in Panama City on Saturday, February 11th.
The bus to the retreat will depart from Panama City (from city center, not from the airport) on Sunday, February 12th. It is a 5 hour drive to the resort. Recommended hotel for the night is Magnolia Inn in Casco Viejo.
International departures should be scheduled no earlier than Sunday February 19th from Panama City.
Is there a payment plan?
We don't want money to be the only reason you can't participate, so we are proudly offering payment packages that are available upon request.
Is my deposit refundable?
Nope, sorry. No if, ands or butts about it. We recommend purchasing insurance from World Nomads to cover your trip in case anything comes up that would prevent you from traveling.
What do I do after I pay my deposit?
Sit back, relax and start stretching! Once you've paid your deposit, you are officially going to Panama! The remaining balance of $945 is due to Wanderlove by February 1st, 2017 via PayPal (info@wanderloveworld.com) or your spot will be forfeited. Please send payment as a "Friends & Family."
I'm still not sure if I should go, who can I talk to?
Send us an email and we'll do our best to convince you.