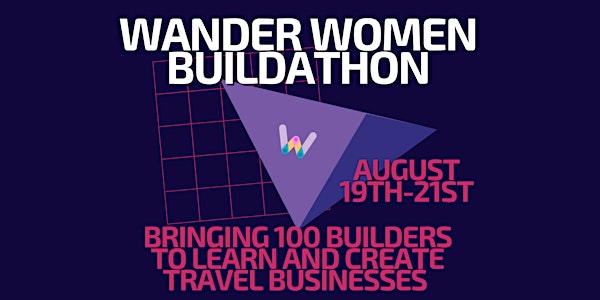 Wander Women Business Buildathon
As a community, let's kickstart the entrepreneurial community spirit to achieve financial, location, and creative independence!
Refund Policy
Contact the organizer to request a refund.
Eventbrite's fee is nonrefundable.
About this event
Wander Women is hosting our inaugural virtual buildathon!
It's a 3 day online paid event where our members and registrants will get together online and in-person to learn and build businesses together. It's a must-attend event for anyone looking to learn new business acumen and innovate with like-minded peers and network!
Our buildathon will be hosted from August 19th, 6 pm PST / 9 pm EST/ August 20th, Saturday 9 am SGT, and will have events running throughout all timezones.
Check us out at: https://buildathon.wanderwomendao.com
Speakers and Workshops
Beyond building as a community, Wander Women will focus on their core value of education. Throughout the three-day weekend, Wander Women will be hosting around 10 workshops with industry specialists to help grow your business knowledge!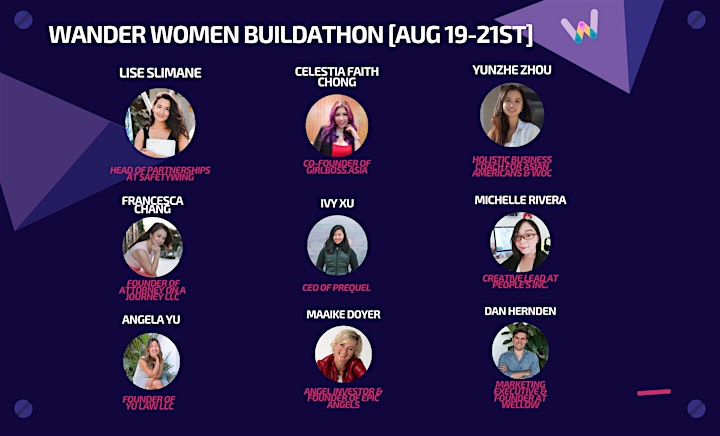 Some business talks and workshops we have planned:
For a complete list, click here!
Our events will be hosted on Zoom, with discussions and chats happening in the WWD Discord server!
Building and Pitching
The Wander Women buildathon aims to create solutions for our community: In particular, solutions for issues that women might encounter while traveling or living overseas in a new place. How do we make traveling or living abroad in a new place easier for the members in our community?
PROJECT STATEMENT: Build a travel tool, product, service, or platform being it web2 or web3 products for Wander Women
Criteria
Must be built for the Wander Women community, as all participants are building products that the WW community will fund and have access to.
Product or service should be global and not country specific
Can be built as a web2 or web3 product
Steps for Participating
To join the buildathon, please gather and prepare the following information to be submitted before August 21st, 12:00 pm SGT, to this link: TBD
Project Name
One sentence elevator pitch.
Team lead and members (with LinkedIn or resume links)
Your final submission must include:
Pitch deck of service / project idea
Link to any product mocks, initial prototypes, etc.
Note: in order to be eligible for the grant, you will need to present your pitch online. If you are unable to make the pitch event, you may record yourself in advance.
Building and Pitching FAQ
Why should I join the buildathon? Through the Wander Women's buildathon, you'll have a network to lean on that'll support your business and a market ready to test your product or service. Think of this buildathon as a way to ideate, validate and apply what you've learned through the workshops we run, and make lifelong global friends.
How many people can be on my team? There is no cap on the number of people on teams, as long as there is one member that identifies as a women. Wander Women will also be hosting networking sessions to help you find fellow business enthusiasts!
Where will participants submit their proposals and present? Participants will need to upload a pitch deck and record/present a 5 minute proposal to the community virtually—there will also be time for q&a. All presentations will be recorded and shared .
How are winners determined? The community will vote on the projects collectively to see what projects they want to get funded.
What would winners get? The winners will receive funding for their projects so they can continue building their business.
First Place: $1000 USD
Second Place: $500 USD
Third Place: $500 USD
IRL Meetups
Let's meet even beyond the Zoom call and our Discord community!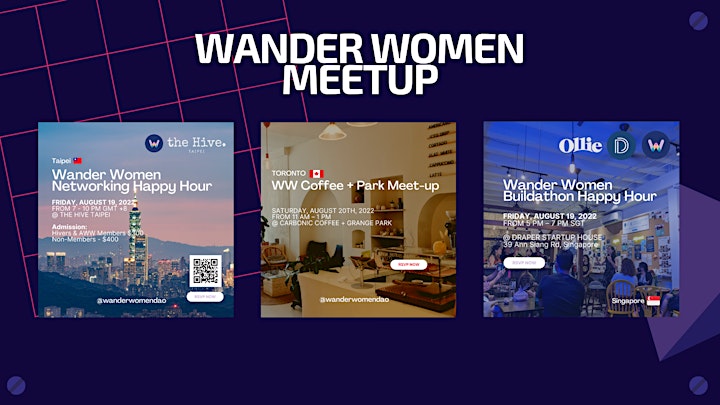 Currently, we've planned meetups in the following locations:
Singapore Happy Hour (Sign up here)
Time: Friday, August 19th, 2022, 5-7 PM SGT
Address: 39 Ann Siang Rd, Singapore 069716 (Draper Startup House)
Taiwan Happy Hour (Sign up here)
Time: Friday, Aug 19th, 2022, 7:00 – 10:00 PM TST
Address: No. 115號, Section 1, Chongqing S Rd, Zhongzheng District, Taipei City, Taiwan 100 (Hive Taipei)
Admission: Hivers & AWW Members - $300 TWD | Non-Members - $400 TWD
Toronto Coffee + Park Meetup (Sign up here)
Time: Saturday August 20th, 2022, 11 AM - 1 PM EST
Address: 37 Baldwin St, Toronto, ON M5T 1L1 (Carbonic Coffee + Grange Park)
San Francisco Meetup (Sign up here)
Address: Fable, 558 Castro Street, San Francisco CA 94114
Please reach out to hello@wanderwomendao.com if you have questions!