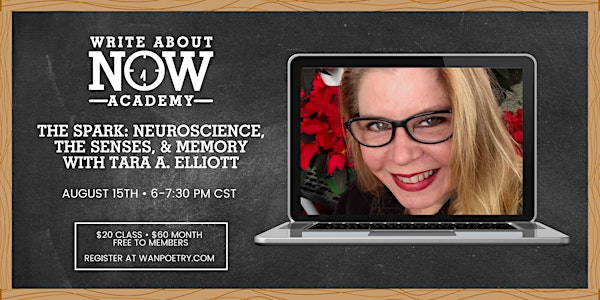 WAN Academy: The Spark: Neuroscience, the Senses & Memory w/ Tara A Elliott
Sensory imagery and its impact on memory
About this event
OVERCOME WRITER'S BLOCK, BECOME A BETTER WRITER & HAVE FUN WITH WRITING AT THE WRITE ABOUT NOW ACADEMY (WANA)
WANA is a year long schedule of instructor-facilitated virtual writing classes that meet for 90 minutes each and every Monday from 6-7:30 PM CST via Zoom.
Every week we are offering writing workshops facilitated by some of the most talented poets from all across the globe.
Most workshops will be generative in nature, giving you the tools you need to continue to grow as a writer and artist, or if you're just looking for accountability in writing, a place to show up each week, we will continue to offer writing prompts and a quiet writing breakout room during our classes.
You will also have access to the recordings and workshop material just in case you miss a class or wish to revisit a class you attended.
THIS WEEK'S WORKSHOP: The Spark: Neuroscience, the Senses, & Memory
What is it about certain writers that permits their words to linger long after you have put the book back on the shelf? Why do we remember certain lines, scenes, or settings? How is it that we can perfectly picture Platform 13, the green light across from Gatsby's pier, the plums in William's icebox? Is there a secret? Attendees will probe how the human brain works through an overview of its various parts and functions, participate in hands-on writing activities designed to highlight certain brain triggers, and explore the use of sensory imagery as well as its impact on memory through intense close reading. This session is open to all levels and all genres of writers and will fundamentally explore how memory is the single most important spark in igniting our reader's imaginations.
Three activities:
1. Connections -- Participants will create unusual similes in three areas -- general, nature based, and abstractions and share these among the other participants.
2. Home -- Participants will have a limited time to create a description of their family home from childhood and discuss the memories that rise from the activity.
3. The Imagists -- Participants will sketch what they see in poems by Sandburg, Williams, HD, and Hulme, and discuss what images came through and why.
After reading "Inertia" by Richard Kenny, participants will highlight the sensory imagery. They then will apply this technique to a poem that they've written before the workshop.
Participants should bring a draft of a poem to work on during the workshop.
ABOUT THE INSTRUCTOR
Tara A. Elliott's poems have appeared in The TAOS Journal of International Poetry & Art, The Shore, Stirring, and The American Journal of Poetry, among others. As the founder and director of Maryland's Salisbury Poetry Week, further community outreach includes her role as co-chair of the award-winning annual Bay to Ocean Writers Conference. She serves as President of Eastern Shore Writers Association (ESWA). The 2018 recipient of Maryland Humanities' Christine D. Sarbanes Award, she has also twice been awarded the Light of Literacy Luminary Award by Wicomico County Public Library (Adult Literacy--2020), and Education--2016). She has served as Poet-in-Residence for the Freeman Arts Pavilion, is a fellow of Virginia Center for the Creative Arts, and recently received an Independent Artist Award by the Maryland State Arts Council. Poems are forthcoming in Gargoyle and Ninth Letter.
HOW TO ATTEND
A Single Class Pass provides access to an individual class as well as its recording. A Month Pass provides access to every class, even if the class has already happened via the recordings. Some facilitators will host multiple classes called the Writer's Suite, which also has its own pass and recordings. All classes are free to active, paid monthly Write About Now Members on Facebook or PayPal. For more info on how to become a member, visit www.wanpoetry.com.