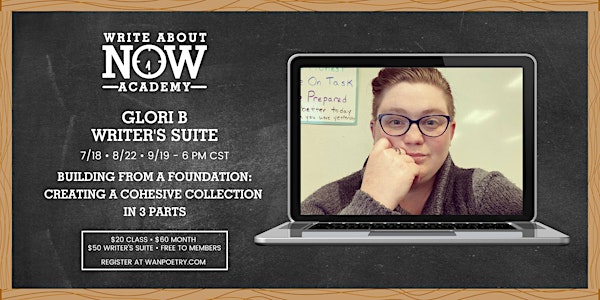 WAN Academy: Building from a Foundation Part 2 w/ Glori B (Writer's Suite)
A 3-part writing workshop on creating a cohesive poetry collection
About this event
OVERCOME WRITER'S BLOCK, BECOME A BETTER WRITER & HAVE FUN WITH WRITING AT THE WRITE ABOUT NOW ACADEMY (WANA)
WANA is a year long schedule of instructor-facilitated virtual writing classes that meet for 90 minutes each and every Monday from 6-7:30 PM CST via Zoom.
Every week we are offering writing workshops facilitated by some of the most talented poets from all across the globe.
Most workshops will be generative in nature, giving you the tools you need to continue to grow as a writer and artist, or if you're just looking for accountability in writing, a place to show up each week, we will continue to offer writing prompts and a quiet writing breakout room during our classes.
You will also have access to the recordings and workshop material just in case you miss a class or wish to revisit a class you attended.
THE WRITER'S SUITE
Throughout the year, certain writers will be hosting multiple workshops which we are promoting as a Writer's Suite. Some are offering multiple stand-alone workshops; others will build on each other and should be attended sequentially.
Glori's Writer's Suite will include the following 3 workshops and writers should plan to attend each one in order to be able to fully participate and get the most from the workshops:
JULY: Surveying the Land
AUGUST: Breaking Ground
SEPTEMBER: Doors, Windows, and Fixtures
THIS WEEK'S WORKSHOP: Building from a Foundation: Creating a Cohesive Collection Part 2: "Breaking Ground"
In this three-workshop series, participants will create a personalized workbook that will allow them to ideate on a theme to create a cohesive collection of poetry. The workshop is based on UX Design principles and calls upon participants to do research into *themselves* and create personalized prompts that fit their writing needs.
Part 2: Breaking Ground
* We will utilize the profile created in session 1 to generate a new poem
* We will practice 3 methods of using the profile to generate new work
* There will be breaks for writing, and time for sharing out work and giving feedback
* At the end of session 2, they will have created the "bones" of three poems for their collection
* "Today and Every Day" - finish with suggestions of how to use their profile to continuously jumpstart inspiration
ABOUT THE INSTRUCTOR
Glori B. is the stage name of Gloria C. Adams, a poet, educator, publisher, mother, and leader in the Austin slam scene. She has competed on Final Stage at the National Poetry Slam, the Women of the World Poetry Slam, and Texas Grand Slam and is a three-time National Haiku Head-to-Head Champion. She has competed regionally and nationally on seven slam teams, twice winning Group Piece Finals at the National Poetry Slam, and was the coach for the 2018 Outside Voices Slam team. In 2014, she founded Piecemeal Press, which has published chapbooks by over a dozen Texas-based poets. In collaboration with other slam artists, she has created five short plays, winning four "Best of Fest" honors at the Hyde Parke Short Fringe Festival. She is the author of seven chapbooks, and her work can be found on YouTube and Facebook video via Write About Now.
HOW TO ATTEND
A Single Class Pass provides access to an individual class as well as its recording. A Month Pass provides access to every class, even if the class has already happened via the recordings. A Writer's Suite pass will give you access to every class/recording facilitated by that specific writer. All classes are free to active, paid monthly Write About Now Members on Facebook or PayPal. For more info on how to become a member, visit www.wanpoetry.com.