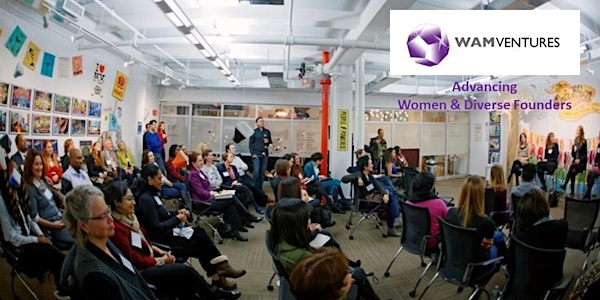 WAMVentures Forum: Pitch to Investors | Retail Tech + Fashion Tech
When and where
Location
ThoughtWorks, Inc. 99 Madison Avenue 15th Floor New York, NY 10016
Refund Policy
Contact the organizer to request a refund.
Description
WAMVentures Forum kicks off the fall season with Retail Tech & Fashion Tech investors & experts! Meet Aubrie Pagano, Co-Founder & CEO of Bow & Drape (retailing online with 300+ stores) and Investment Partner with XFactor Ventures (venture capital fund investing in companies with billion dollar market opportunities that have at least one female founder); Sapna Shah, Founder of Retail X Series (retail tech bootcamp) & Principal of Red Giraffe Advisors (investor & retail tech expert); and Irene Ryabaya, Co-Founder of Monarq (first women-focused incubator in NYC)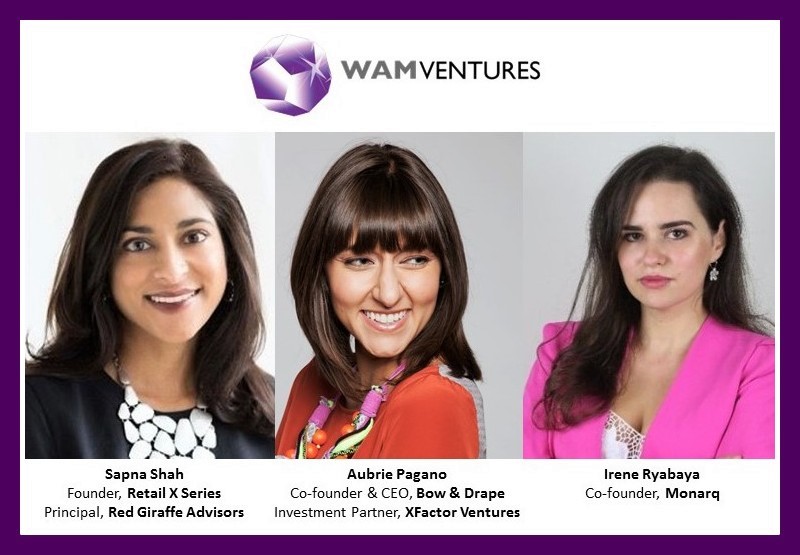 MEET OUR SPEAKERS:
Aubrie Pagano is Co-Founder and CEO of Bow & Drape, a customization brand that celebrates showing your big personality. At B&D, she has driven the business to success, retailing online and in over 300 stores including Nordstrom, Bloomingdale's, and Saks and partnering with everyone from The New York Post, Dominos, and artist Donald Robertson. She was named Forbes 30 Under 30 in Retail, PayPal's 30 under 30 Makers + Shakers, LinkedIn's Next Wave of Professionals under 35, and introduced the world's first 3D printed accessories in market according to WWD. Aubrie also serves as an Investment Partner at XFactor Ventures, a venture capital fund that focuses on first-in capital for billion dollar businesses with at least one female founder. She holds a BA from Harvard and began her first business when she was six.
Sapna Shah, Founder - Retail X Series and Principal - Red Giraffe Advisors: Sapna is an angel investor, retail expert and three-time entrepreneur. Through Red Giraffe Advisors, Sapna makes angel and early-stage seed investments in retail, fashion and consumer start-ups and offers advisory services to early-stage companies. Sapna is also the founder of Retail X Series, a retail startup boot camp program for pre-seed stage founders who are revolutionizing the future of retail.
Previously, Sapna co-founded Retail Eye Partners, an independent Wall Street equity research firm. Sapna also co-founded a menswear e-commerce retailer, Mind the Chap. Prior to Retail Eye Partners, Sapna held executive strategy roles at Linens 'n Things, Inc. and at Ann Taylor, and spent time at Gap, Inc. Previous to her career in retail, Sapna worked in investment banking at Punk, Ziegel & Knoell and in credit at Morgan Stanley.
Sapna received her B.S. in Economics from the Wharton School as well as a B.A. in East Asian Studies from the College of Arts & Sciences at the University of Pennsylvania. She received her M.B.A. from Columbia Business School.
* * *
Irene Ryabaya, Co-Founder of Monarq, investor, adventurer, techie, introverted networker & accidental feminist. Monarq builds diverse networks, accelerates revolutionary ideas & funds women-led startups. Monarq is the first women focused incubator in NYC. After a decade in finance working on various commodity trading desks, Irene is dedicated to creating more women led startups via strategy consulting, direct investment and deep impact events. Irene is also an advisor to Quentin Road Ventures. She was a trader with Hess Energy Company and technology lead for the commodities trading desk at Goldman Sachs. Irene graduated from New York University with a degree in computer science.
* * *
PITCH SESSION: Apply to pitch for investor feedback at: contact "at" wamventures.com by October 18, 2017, 12 midnight EST. Submit 1-page executive summary including stage of business, problem, solution and market size of your industry/vertical. Preference for companies that have achieved MVP and demonstrate progress toward traction and/or unique technology (emphasis on retail tech, fashion tech and businesses with scaling potential). Use SUBJECT: Pitch at WAMVentures Forum 10/26/17. * * Presenting team must have at least one woman or diverse founder/co-founder or key team member. * *
WAMVentures encourages women and diverse founders to pitch and gain valuable investor feedback.
HOST: Veronica Guzman, Founder, WAMVentures Group LLC
REGISTER EARLY: Prior WAMVentures Forums have sold out! NO DOOR registration.
* Light food & beverage during networking *
* * SPONSORS: email us at: contact "at" wamventures.com* *
CONNECT with the WAMVentures community!
* * *
WAMVentures is the trade name of WAMVentures Group LLC
WAMVentures advances entrepreneurship for women & diverse founders and welcomes high impact leaders! WAMVentures embraces an inclusive community and men who support women entrepreneurs are welcome!
Copyright 2017. All rights reserved.