Sales Have Ended
Ticket sales have ended
Follow us on Twitter: @wamventures
Sales Have Ended
Ticket sales have ended
Follow us on Twitter: @wamventures
Description
WAMVentures Forum: Pitch to Investors | Be a Game Changer!

2017 is starting off with many challenges around the world. What trends and strategies do you need to keep current and implement as an entrepreneur, investor or service provider?
Meet dynamic women leaders and investors, Nathalie Molina Niño, CEO, BRAVA Investments, Jules Miller, Venture Partner, LunaCap Ventures and Cigdem Altay Binal, Director, L-SPARK Corporation who will share their game changing experiences during Women's History month at WAMVentures Forum in NYC!
CONFIRMED SPEAKERS: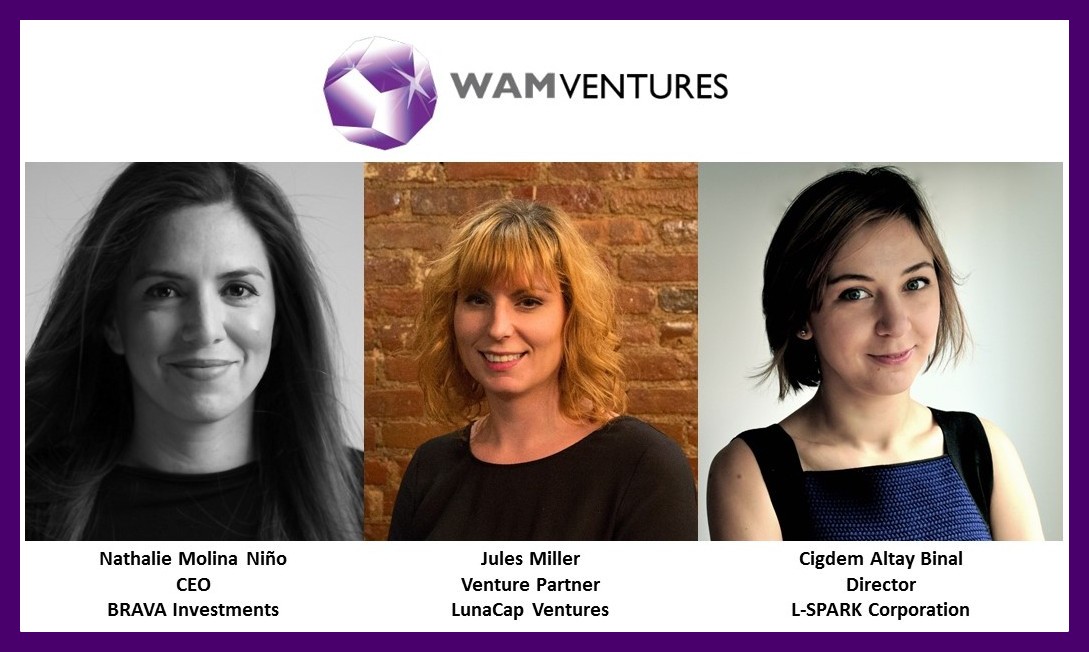 Nathalie Molina Niño: CEO BRAVA Investments. Nathalie is an impact investor focused on making a catalytic impact on women in the world. A technologist and coder by training, she's a consummate entrepreneur, and a storyteller at heart, passionate about telling the often untold stories of women change-makers.
Keith Ferrazzi called her a "super-connector" in his updated best-selling classic, Never Eat Alone. Nathalie is the "fuel core of a network that makes it easy for her to tap the resources to get stuff done, and done quickly."
In 2016, as interim CEO of SELF MADE, Nathalie led the development of the SELF MADE platform based on the book by Telemundo's former Entertainment president, Nely Galan, including the launch of a mobile app, video series, and web platform.
In 2015, Nathalie stepped in as interim Chief Revenue Officer of PowerToFly, a startup aimed at closing the gender gap in tech. Nathalie launched her first tech startup at the age of 20, she later graduated with a degree in play writing at Columbia University. In 2012, Molina Niño co-founded Entrepreneurs@Athena at the Athena Center for Leadership Studies at Barnard College, with the mission of leveling the playing field for women entrepreneurs, where she remains a founding advisor.
Jules Miller, Venture Partner, LunaCap Ventures. Jules is an impact investor, 3-time entrepreneur, 'intrapreneur' and hands-on operations expert. She is currently Venture Partner at LunaCap Ventures, an early stage venture debt fund investing in military veteran, women and minority (MWM) founders, and was previously interim COO of BRAVA Investments, a holding company investing in companies that economically benefit women. As an entrepreneur, Jules is co-founder & managing director Evolve Law, a community of entrepreneurs dedicated to accelerating the adoption of technology and innovation in the legal industry, was co-founder & COO of Hire an Esquire, a venture-backed labor marketplace providing an on-demand workforce of attorneys to law firms and in-house legal departments, and was founder & managing director of Carbonado Group, an on demand workforce of environmental sustainability experts. Previously she spent 7 years as an 'intraprenuer' helping companies including Ernst & Young, Salesforce.com and Tiffany & Co. to launch and grow new business units. Jules earned her BA from UCLA and her MSc from The London School of Economics.
Cigdem Altay Binal, Director, L-SPARK Corporation. Cigdem has over 10 years experience in technology industry having served in various roles in software design, product and project management, marketing and business development. For the past 2 years Cigdem has focused her efforts on building relationships with investment firms and the startup community in New York on behalf of both Wesley Clover International and L-SPARK. She is a mentor with Founder Institute and is a Women inPower fellow.
Cigdem holds a Bachelor of Telecommunications Engineering from Sabanci University, Executive MBA from Bosphorus University and obtained a Master in Science in Integrated Marketing from New York University and Private Equity & Venture Capital Executive Program from Harvard Business School.
PITCH SESSION: Apply to pitch for investor feedback at: contact "at" wamventures.com by March 8, 2017, 12 noon EST. Submit 1-page executive summary including stage of business, problem, solution and market size of your industry/vertical. Preference for companies that have achieved MVP and demonstrate progress toward traction and/or unique technology (SaaS, IoT, disruptive technologies) or advanced business solutions (optimized by leveraging technology). High impact businesses (social ventures) and high performing consumer product companies with traction are welcome. Use SUBJECT: Pitch at WAMVentures Forum 3/13/17. * * Presenting team must have at least one woman founder/co-founder. * *
WAMVentures encourages women founders to pitch and gain valuable investor feedback.
HOST: Veronica Guzman, Founder, WAMVentures Group LLC
AGENDA:
Check-in & Networking: 6:00-6:30pm
Panel Discussion: 6:30-7:30pm
Pitch Session: 7:30-8:30pm
Networking: 8:30-9:00pm
* Light food & refreshments during networking *
REGISTER EARLY: Prior WAMVentures Forums have sold out! NO DOOR registration.
VENUE SPONSOR: Galvanize is a dynamic learning community for technology. Our community is where people and companies with the guts and smarts to create real-world change congregate and inspire each other. Our goal is to make opportunities in technology available to all those with the aptitude, determination, and drive.
* * SPONSORS: email us at: contact "at" wamventures.com* *
CONNECT with the WAMVentures community!
* * *

WAMVentures advances entrepreneurship for women & diverse founders and welcomes high impact leaders! WAMVentures embraces an inclusive community and men who support women entrepreneurs are welcome! WAMVentures is the trade name of WAMVentures Group LLC
Copyright 2017. All rights reserved.