Sales Have Ended
Ticket sales have ended
Follow us on Twitter: @wamventures
Sales Have Ended
Ticket sales have ended
Follow us on Twitter: @wamventures
Description
WAMVentures Forum: Meet leading venture capital & angel investors and learn about AI (artificial intelligence), robotics & advanced technologies involving hard-tech and life sciences. Featuring Oliver Mitchell, Autonomy Ventures; Frances Schwiep, Comcast Ventures and Ramphis Castro, ScienceVest.

CONFIRMED SPEAKERS: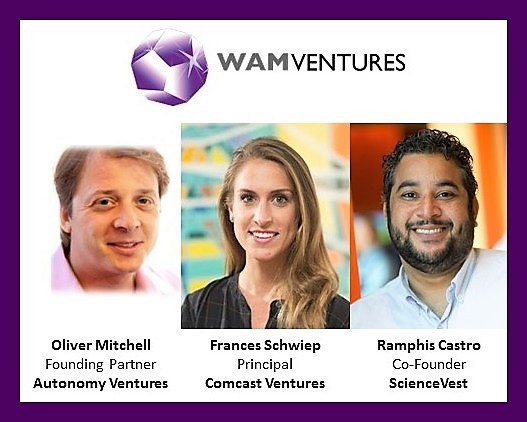 Oliver Mitchell, Founding Partner, Autonomy Ventures. Oliver has been a leading operator and manager of emerging technologies for more than 20 years. Oliver has built and sold numerous ventures, including: Holmes Protection to ADT/Tyco, Americash to American Express, and launching RobotGalaxy, a national EdTech brand. Oliver has been investing in the robotics industry for close to 10 years, with four successful exits in his angel portfolio in the past two years (including 2 IPOs). He is a member of New York Angels and co-chairs the Frontier Tech Committee. Oliver holds 14 patents, has appeared on numerous television shows, and is a sought after speaker/syndicated writer of robotics.
* * *
Frances Schwiep, Principal, Comcast Ventures. Frances is a New York-based venture capital investor focusing on early-stage investments in enterprise tech companies, with a particular focus on startups that are leveraging AI and digital assets to redefine the future of work, cities, and communication mediums in a "cloudy" and mobile world. Prior to joining Comcast Ventures, Frances was an investor at Highland Capital and Redstar Ventures, where she focused on consumer tech, healthcare IT, and B2B marketplaces. Before that she was a product manager at MC10 Inc., a wearable computing company where she helped develop applications for the company's bio-sensors in sports and health verticals. Frances began her career in data science and consulting and holds an MBA from Harvard Business School.
* * *
Ramphis Castro, Co-Founder, ScienceVest. Ramphis is the co-founder of ScienceVest (YC F3), a fund and platform for hard-tech and life science companies, and Impact Science Angels, an angel group focused on investing in companies that can impact 1MM+ lives. He is a Kauffman Fellow, a community of over 450 innovation investors worldwide representing 160 venture firms and corporate venture groups in 40 countries on 6 continents, that have collectively deployed $200B in venture capital. He is the Co-Chair the NYC chapter of the Society. As a Fellow, he has researched the funding gaps for radical science companies in the U.S., collecting interviews of over 200 stakeholders across the research & commercialization ecosystem in the U.S.
* * *
PITCH SESSION: Apply to pitch for investor feedback at: contact "at" wamventures.com by May 12, 2017, 12 noon EST. Submit 1-page executive summary including stage of business, problem, solution and market size of your industry/vertical. Preference for companies that have achieved MVP and demonstrate progress toward traction and/or unique technology (emphasis on AI / artificial intelligence, robotics or advanced solutions leveraging technology including hard-tech & life sciences and enterprise technology companies addressing future of work, cities and communication mediums). Use SUBJECT: Pitch at WAMVentures Forum 5/17/17. * * Presenting team must have at least one woman or diverse founder/co-founder or key team member. * *
WAMVentures encourages women and diverse founders to pitch and gain valuable investor feedback.
HOST: Veronica Guzman, Founder, WAMVentures Group LLC
REGISTER EARLY: Prior WAMVentures Forums have sold out! NO DOOR registration.
* Light food & beverage during networking *
* * SPONSORS: email us at: contact "at" wamventures.com* *
CONNECT with the WAMVentures community!
WAMVentures is the trade name of WAMVentures Group LLC
WAMVentures advances entrepreneurship for women & diverse founders and welcomes high impact leaders! WAMVentures embraces an inclusive community and men who support women entrepreneurs are welcome!
Copyright 2017. All rights reserved.