Sales Have Ended
Ticket sales have ended
Follow us on Twitter: @wamventures #wamventures
Sales Have Ended
Ticket sales have ended
Follow us on Twitter: @wamventures #wamventures
Description
Join WAMVentures Forum on November 15 (Wed 6-9pm) & meet investors involved in AI, Machine Learning & Future Tech! Meet investors Erik Nordlander, Engineering Partner - GV (Google Ventures); Elizabeth Galbut, Managing Partner - SoGal Ventures and Pano Anthos, Founder & Managing Director - XRC Labs.
MEET WAMVENTURES FORUM SPEAKERS: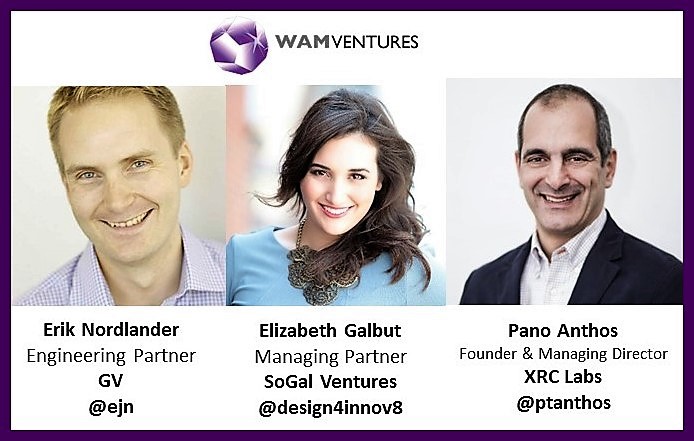 Erik Nordlander, Engineering Partner - GV
Erik joined the GV team in 2010 as an engineering partner. He is based out of New York City. Along with his technical knowledge, he brings expertise in building top notch engineering teams and scaling complex systems.
Prior to joining GV, Erik led the team that built Google's next generation display ad serving system. He helped Google's acquisition and technical integration for Doubleclick (DCLK) and led a team that built statistical modeling and machine learning models for Google's ad businesses. Erik was also a developer on Google's core engineering infrastructure, including a distributed file system that key products, such as Google.com and Gmail, rely on today.
Erik studied computer science and engineering at MIT, where he did his graduate research at the Computer Science and Artificial Intelligence Laboratory on unique data extraction and disk forensics.
* * *
Elizabeth Galbut, Managing Partner - SoGal Ventures
Elizabeth Galbut is a venture capitalist, designer, professor, and global speaker on healthcare innovation. She is Managing Partner of SoGal Ventures which invests in diverse founding teams in the US and Asia. With 49 investments to date including 2 exits, she is actively seeking to back exceptional startups revolutionizing how the next generation lives, works, and stays healthy. SoGal Ventures has been featured in over 100 publications such as BBC, Fast Company, Fortune, Forbes, and Entrepreneur Magazine for their innovative approach to investing. This year, Elizabeth received TechWeek100 Innovative Investor and NYC's 33U33 Top Venture Capitalist awards.
Elizabeth's favorite investment area is the intersection of smart design and machine learning/AI fueling major health tech innovation. Her portfolio of digital health startups include lab platform Everlywell, global health network MORE Health, sexual wellness brand Unbound, digital pathology analytics pioneer Proscia, medication adherence tech eMocha, smart water bottle Hidrate, AI-powered drug discovery Insilico Medicine, smart socks Siren Care, asthma management tool Tueo Health, and physician authorization system Glidian.
Prior to graduate school, Elizabeth was a strategy & operations consultant at Deloitte Consulting focusing on large healthcare clients. Outside of her client-facing work, she contributed to business development efforts that led to over $200M of new work. Elizabeth holds a MBA/MA Design Leadership Dual degree from Johns Hopkins University and Maryland Institute College of Art. She is also a proud alumnus of Georgetown University and London School of Economics.
* * *
Pano Anthos, Founder & Managing Director - XRC Labs
Pano leads XRC Labs as its Founder and Managing Director. Having founded 4 startups around key platform shifts, he saw the seismic shift coming to retail and with the right vision and timing recruited Parsons School of Design and Kurt Salmon to be founding sponsors. Now with 18 accelerated startups, 10 active world class retail sponsors, 60+ business mentors, Pano has built a world-class ecosystem for retail and consumer goods innovation at XRC Labs. He speaks regularly at NRF national and regional meetings, Shoptalk and RILA executive conferences. He leverages a deep startup network in Silicon Valley, New York, and Boston to fuse leading technology, E-commerce and user experience innovations to existing customer-oriented businesses.
* * *
PITCH SESSION: Apply to pitch for investor feedback at: contact "at" wamventures.com by November 9, 2017 12 noon EST. Submit 1-page executive summary including stage of business, problem, solution and market size of your industry/vertical. Preference for companies that have achieved MVP and demonstrate progress toward traction and/or unique technology (emphasis on AI, AR, machine learning & other future/emerging tech and businesses with scaling potential). Use SUBJECT: Pitch at WAMVentures Forum 11/15/17. * * Presenting team must have at least one woman or diverse founder/co-founder or key team member. * *
WAMVentures encourages women and diverse founders to pitch and gain valuable investor feedback.
HOST: Veronica Guzman, Founder, WAMVentures Group LLC
REGISTER EARLY: Prior WAMVentures Forums have sold out! NO DOOR registration.
* Light food & beverage during networking *
* * SPONSORS: email us at: contact "at" wamventures.com* *
CONNECT with the WAMVentures community!
WAMVentures is the trade name of WAMVentures Group LLC
WAMVentures advances entrepreneurship for women & diverse founders and welcomes high impact leaders! WAMVentures embraces an inclusive community and men who support women entrepreneurs are welcome!
Copyright 2017. All rights reserved.