Description
WAMVentures Forum: Meet leading venture capital & angel investors and learn advanced business development strategies. Featuring Adam Quinton - Lucas Point Ventures, Amy Kadomatsu - ROKO Labs and Brian Laung Aoaeh - KEC Ventures. We'll also explore frontier technologies and emerging trends.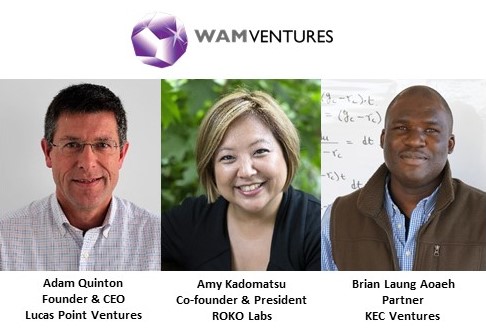 Meet the WAMVentures Speakers:
Adam Quinton, Lucas Point Ventures. As the Founder & CEO of Lucas Point Ventures Adam invests in and advises early stage companies.
Adam's focus is supporting diverse management teams. His investments include The Muse, Glassbreakers, Venuebook, Pinks and Greens, Snaps, Rapt Media, Hire an Esquire, and Validately. He sits on the Board of Pinks and Greens and serves as an Advisor to a number of companies as well as Chicago based Techweek. In 2014 he served as Chief Financial Officer of leading NYC based cybersecurity company NopSec, another of his investees. He is an Advisor/Mentor to San Francisco based Astia, Boulder based MergeLane, New York based 37 Angels, Menlo Park based Women's StartupLab and LA based Vinetta Project.
In 2014 Adam was named by AlleyWatch one of "25 Angel Investors in New York You Need to Know" and also one of the "100 NYC Tech Influencers You Need to Know". In 2015 he was featured in Tech.co as "One of 8 VCs Making Waves" and in 2016 was named as one of "26 great people spearheading change in tech investment" by Silicon Republic.
* * *
Amy Kadomatsu is co-founder and president of ROKO Labs, a mobile platform company that helps app creators grow and engage their user communities by adding referral programs, chatbots and promo code tracking, to their apps. ROKO Labs is also the host of the App Idea Awards, a competition for app entrepreneurs to pitch their app ideas to top-tier VCs including First Round Capital, Greycroft and Samsung Ventures.

Prior to ROKO Labs, Amy was a Managing Director at McGraw-Hill Financial, a Fortune 500 company. A serial entrepreneur, Amy has created and launched multiple start-ups including TheMarkets.com, which was sold to S&P Capital IQ in 2010 for $300M. Passionate about innovation and entrepreneurship, Amy is an active seed investor with HBS Alumni Angels of Greater New York, a mentor at Entrepreneurs Roundtable, pitch night judge and advisor to start-ups. She also serves as Board Chair for MOUSE, a national nonprofit that empowers students to become leaders, inventors, and creators in the technology ecosystem. Amy is a graduate of Harvard University and has an MBA from Harvard Business School.
* * *
Brian Laung Aoaeh is a partner at KEC Ventures, an early stage venture fund based in New York City, where he devotes the majority of his time to assessing potential Seed and Series A investments in technology startups. He blogs at Innovation Footprints and is on Twitter: @brianlaungaoaeh, LinkedIn: Brian Laung Aoaeh and Instagram: @brianlaungaoaeh.

* * *
PITCH SESSION: Applications (1-page executive summary) to pitch at WAMVentures Forum were due on November 11, 2016 by 12noon EST. Select entrepreneurs will pitch to seasoned angel & venture capital investors and a serial entrepreneur (with exits / acquired). Preference for companies that have achieved MVP and demonstrate progress toward traction and/or unique technology (SaaS, IoT, disruptive technologies) or advanced business solution (optimized by leveraging technology). Presenting team must have at least one woman or diverse founder/co-founder.
TIP: Due to the overwhelming number of pitch applications: APPLY EARLY for future WAMVentures Forum and submit to: contact "at" wamventures.com. USE SUBJECT: Pitch at WAMVentures.
* *
WAMVentures encourages women & diverse founders to pitch and gain valuable investor & expert feedback.
HOST: Veronica Guzman, Founder, WAMVentures Group LLC
AGENDA:
Check-in & Networking: 6:00-6:30pm
Panel Discussion: 6:30-7:15pm
Pitch Session: 7:15-8:00pm
Networking: 8:00-9:00pm
* Light refreshments during networking *
REGISTER: Prior WAMVentures Forums have sold out! NO DOOR registration.
* * SPONSORS: email us at: contact "at" wamventures.com * *
CONNECT with the WAMVentures community!
* * *
WAMVentures advances entrepreneurship for women & diverse founders and welcomes high impact leaders! WAMVentures embraces an inclusive community and men who support women entrepreneurs are welcome! WAMVentures is the trade name of WAMVentures Group LLC
Copyright 2016. All rights reserved.