Description
Meet the women leaders & experts focused on Equity Crowdfunding & Alternative Funding Models.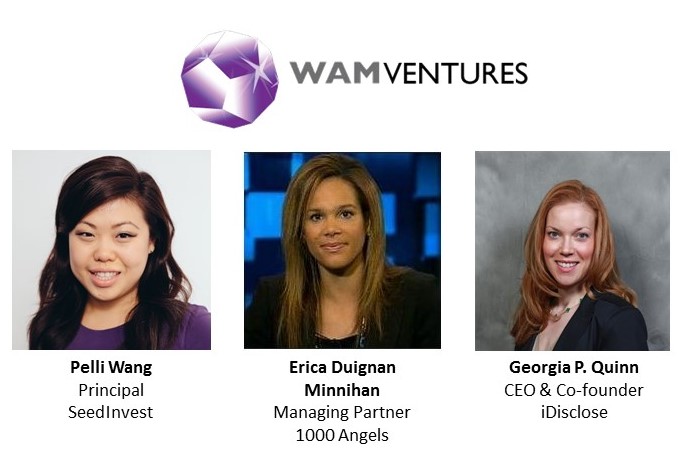 Meet the women leaders & experts focused on Equity Crowdfunding & Alternative Funding Models in NYC: Pelli Wang - Principal, SeedInvest; Erica Duignan Minnihan - Managing Partner, I000Angels and Georgia P. Quinn, CEO & Co-Founder, iDisclose. You'll learn the dynamics, compliance and investors' tips regarding equity crowdfunding and how investment-ready businesses are selected to connect with networks of accredited investors. Network with the inclusive WAMVentures community!
SPEAKERS:
Pelli Wang, Principal, SeedInvest - investor & startup enthusiast. SeedInvest is a leading equity crowdfunding platform and early-stage VC fund. Prior to joining SeedInvest, she worked at Lean Startup Machine, which is a NYC startup that was part of the TechStars accelerator. She led their business development efforts in Asia/Greater China and built key partnerships with tech leaders and influencers. She also spent time in various investing roles at Capmark and Barclays Capital and graduated from the Wharton School of the University of Pennsylvania with concentrations in Finance, Management and Accounting with a minor in East Asian Studies.
Erica Duignan Minnihan, Managing Partner, 1000 Angels. Erica is Managing Partner at 1000 Angels, a private venture investment network for select accredited investors, family offices, and venture funds. 1000 Angels enables accredited investors to build a high-growth venture portfolio free of management fees, carried interest or capital commitments. Erica graduated from Columbia University Business School and University of California - Los Angeles (UCLA).
Georgia P. Quinn, CEO & Co-founder, iDisclose. iDisclose is an adaptive web-based application that enables entrepreneurs to prepare customized institutional grade disclosure documents for crowdfunding and private financings a fraction of the time and cost. Like TurboTax, iDisclose empowers entrepreneurs to do it themselves, because companies shouldn't spend all their money raising money. Heralded by Thomson-Reuters as a Top Female Attorney in NYC, Georgia also serves as of counsel at the leading firm in crowdfunding, Ellenoff, Grossman & Schole, specializing in facilitating financial transactions and compliance with the JOBS Act regulations. A foremost expert in corporate finance, she has worked on over $1 billion in business transactions over the course of her legal career. Georgia is a graduate of Columbia Law School and New York University.
HOST & Moderator: Veronica Guzman, Founder, WAMVentures Group LLC
AGENDA:
Check-in & Networking: 5:30-6:00pm
Panel Discussion: 6:00-6:45pm
Pitch Session: 6:45-7:30pm
Networking: 7:30-8:30pm
* Light refreshments during networking *
* * *
FOR ENTREPRENEURS
* * APPLY to PITCH at: contact "at" wamventures.com. Submit your 1-page executive summary by June 12, 2016 (12pm midnight EST). * * Preference for companies that demonstrate strong traction including scalable revenues, well-formed teams, investment-grade, solid customer base, achieved MVP or unique technology or unique business solution. Presenting team must have at least one female founder/co-founder).
* * REGISTER EARLY for entry : NO door registrations * *
WAMVentures is the trade name of WAMVentures Group LLC
WAMVentures advances entrepreneurship for women & diverse founders and welcomes high impact leaders! WAMVentures is an inclusive community and guys are welcome... remember to support women & diverse entrepreneurs!
Copyright 2016. All rights reserved.
Save
Save
Save
Save