Description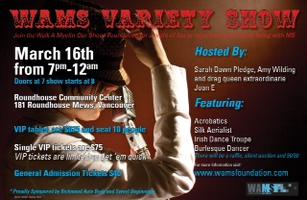 Richmond Auto Body and Sweet Beginnings present the WAMS Variety Show:
Come join the Walk A Myelin Our Shoes Foundation for a night of fun and entertainment at the Roundhouse Community Center on March 16th 2012!
This year is a bit different than the last as we have a great show planned with limited VIP tickets available for those who wish to have reserved seating right in front of the stage as well their own VIP drink line, which means there will be no waiting in line! VIP tickets are limited and can be purchased as single tickets or entire tables (which seat 10) Silent auction, raffle and 50/50 will also be a part of this fabulous evening!
We can't wait to see you all there!!!
If you have any questions, please feel free to contact me at carmen@wamsfoundation.com
Organizer of WAMS Variety Show
The Walk a Myelin our Shoes ("WAMS") Foundation focuses on helping MS sufferers' access alternative treatments that aren't available to them through the standard medical system or are beyond their financial means. WAMS supports the standard medical systems worldwide, but aims to provide an extra layer of care to build hope and enhance the quality of life of MS patients.
WAMS takes a personal approach and gets to know and makes a real difference one patient at a time. Donation will be used to sponsor a specific person and help them get the treatment they seek. WAMS puts a face on the disease, so the world understands the suffering and the need for quick action and research to find a cure for the harrowing disease.
In addition, the WAMS foundation acts as a social advocate to encourage public action and commitment to strengthening community services affecting those with MS.
To do our work we rely heavily on public and corporate donations. If you would like to donate to the WAMS Foundation, please go to www.wamsfoundation.com