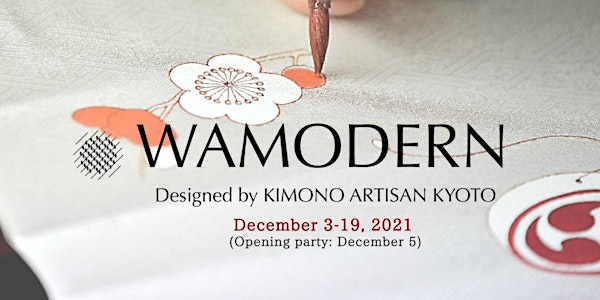 WAMODERN - Opening party of Kimono Exhibition from Kyoto
Authentic Traditional Kimono Exhibition from Kyoto, Japan
When and where
Location
J-COLLABO 300 7th Street Brooklyn, NY 11215
About this event
[Opening Party]
December 5th from 3 - 6 pm
[Open Hours]
Mon - Thursday: By appointment only (email: jplusbcafe@gmail.com)
Friday - Sunday: 12 pm - 6 pm
[Exhibition Overview]
The dyeing and weaving techniques and designs of Kyoto's kimono have been handed down from generation to generation for more than 1,000 years. At WAMODERN, we aim to use this exhibition to bring kimono, a sustainable garment system unparalleled in the world, to the global fashion scene.
Since taking on the challenge of New York Fashion Week five years ago, we have been presenting our traditional techniques to different audiences all over the world. Based on this experience, we hope to expand into new markets, using our traditional techniques in collaboration with artists in New York and around the world. Having our work recognized in New York City, which is known for its art and fashion scene, is a monumental achievement for us.
Through this exhibition, we would like people in New York to see and feel the designs and sensitivities that have been expressed in the form of kimono for a long time, as well as the techniques and expressions used to achieve them. We encourage you to share your opinions and critiques with us, so that our value system can evolve further, keeping in mind our native Japanese worldview while also incorporating new elements such as Sustainable Development Goals.
[Kimono Artisan Kyoto]
Kimono Artisan Kyoto is a determined association of textile artisans who use age-old techniques such as Kyo-Yuzen, Surigata-Yuzen, Kyo-Shu, Kyo-Kanoko Shibori, and Nishijin-ori to make kimono, the traditional dress of Japan. As bearers of a world- renowned cultural industry, we hope to create a "kimono lifestyle" where everyone has their own unique piece to enjoy in their daily lives. In the old capital of Kyoto, we have tied together an association of talented and professional artisans for "kimono-making" to keep this beautiful and practical art form alive for generations to come.