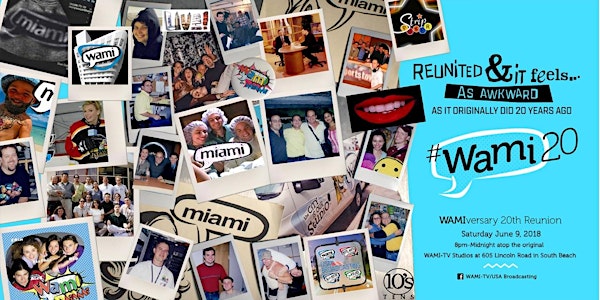 WAMIversary 20 Year Reunion #WAMI20
Location
Original WAMI-TV Studios Sky Deck on the Roof!
605 Lincoln Road
Miami Beach, FL 33139
Refund policy
Refunds up to 30 days before event
Description
Dear WAMILY,
The #WAMIVersary is sold out and almost here. 130 of you and many of your closest WAMILY will be there.
We're super excited to see you this Saturday at the WAMIversary 20 Year Reunion.
Here's a few things to keep in mind:
- Attire: Miami Summer Chic is reccomended though sporting some WAMI gear is cool too! It will be typical warm and humid so do dress comfortably. Extra points for those sporting 1998-2001 fashions.
- Sharing Is Caring: Bring WAMI swag if you would like to share on the WAMI display table.
- Let's get this party started! (on time): Fashionably late is de riguer for South Beach, but not for this soirée. The party is from 8pm - 12a. Please show up on time since our time is short and we have alot going on, plus you won't want to miss the food and bar. Remember, there's still one or two slow elevators so we want to avoid lines. That hasn't changed much since back in the day.
- Eats & Drinks: Cocktail hour is from 8p- 9p followed by heavy apps for dinner beginning around 8:30pm, though the bar will be open until the house lights come up at midnight! Bring your Advil and stay hydrated, people.
- Schedule of Events: We have some surprises in store for you. We can't tell you what they are because then they wouldn't be surprises now would they? We'd like to begin the program no later 9:00pm.
- WAMI-Cam: If you show up, we will be taping for our video, social media, and Facebook Live so please be cool with that. If you are in the witness protection program or cheating on a spouse, best not to come.
- Parking: If you are driving you can park in the same parking garage as when we worked there (17th Street and Pennsylvania Ave.) There's actually 2 parking garages there now or in the parking lot between Jefferson and Meridian Avenue. We suggest Ubers and cabs as the libations will be flowing liberally.
- The Location: Follow the red carpet! Entrance to the party is at 605 Lincoln Road. Please use the glass doors to the left of the Starbucks to access the elevators. You will check in inside with security who will issue you a ticket and name tag before you hit the rooftop. If you paid for "+1" let them know, they will be working strictly from the list.
- As for pregame get togethers and postgame after parties, there's some informal gatherings but nothing is scheduled by us so please check with your friends and their friends.
- Show Us Your WAMI: Please share your pics of the weekend Tag #WAMI20 when posting on social media and post on our WAMI FB pages: WAMI TV & WAMI Lost Directory.
- Further details are on the EventBrite site where you bought your tickets: https://www.eventbrite.com/myevents/
- If you have any problems evening of event, please email our party coordinator Jordan at jordanscheffler219@gmail.com or text him at 561-558-3856. Let him know your name and that you are attending WAMI20.
- In a pinch with questions up until 5pm Saturday, contact Chris Sloan on FB Messenger or email at chris.sloan@2c.tv.
Get Ready to Get Your WAMI On! See you Saturday Night - 8pm sharp!
Your #WAMI20 Host Team!A Message from Chris Sloan, Jimmy Vargas, Lara Richardson, Manny Gonzalez, Victor Otero, Donald Hansen, Steve Cohen, Miguel Piedra, Barbara Ravanzo, Rhonda Ginsburg, Johnnie Walker, Sahar Alshlani, Mark Clark: