Event Information
Location
35 West 4th Street
35 West 4th Street
New York, NY 10012
Refund policy
Refunds up to 7 days before event
WAMCon New York is a recording arts conference for women (including transgender or cisgender; gender non-conforming individuals).
About this event
WAMCon New York is a recording arts conference for women (including transgender or cisgender; non-binary and gender non-conforming individuals) presented by Women's Audio Mission (WAM). WAMCon New York is hosted by New York University's Steinhardt School, Department of Music and Performing Arts Professions, as well as The Cutting Room and other to-be-announced locations. WAMCon New York is generously sponsored by Dolby Laboratories, Spotify, Eventide, Epidemic Sound, iZotope, Shure, the Recording Academy, Universal Audio, and Pace Anti Piracy.
WAMCon New York speakers to date include Simone Torres (Cardi B, Sia), Gloria Kaba (Beyonce, Frank Ocean), Heba Kadry (Bjork, Neon Indian, Mars Volta), Susan Rogers (Prince, David Byrne), Lisa Chamblee (Prince, Stevie Wonder), Peggy McCreary (Prince, Van Halen), Haley Shaw (Gimlet Media, Uncivil,Mogul) and Chiquita Paschal (Peabody Award - Uncivil, Another Round). More speakers to be announced September 2019!
Don't miss this immersive experience with award-winning music producers, recording engineers, songwriters, podcast producers and audio professionals involved in making the music and media you love most! This event is perfect for aspiring producers and engineers as well as musicians and students interested in the recording, music and podcast industries.
To date, WAMCon has been presented in cities around the country like New York, Los Angeles, Nashville, and Boston, in collaboration with such partners as Dolby Laboratories, Disney Animation Studios, Universal Music Group, Capitol Studios, YouTube, The Recording Academy, iZotope and more.
*WAMCon participants receive a free EXHIBITS-PLUS badge to AES New York 2019 using the code AES19WAM at http://www.aes.org/events/147/registration/?vip=aes19WAM.
Special notes:
(1) Friday, October 18th's conference location will be announced via e-mail to ticket holders at the request of our host.
(2) Due to security reasons, WAM will be unable to accommodate any non-ticket holders (i.e., no waitlist). Only advanced ticket holders will be granted admission. Tickets will not be available on site. Tickets are non-transferable.
(3) Refund policy: We are able to honor requests for ticket reimbursements only up to 7 days prior to the event.
(4) Schedule subject to change. Full lineup to be announced September 2019.
ACCESSIBILITY
NYU:
* Fully equipped with ramps. 

The Cutting Room:
* Has a single half step up for each room.

WAM is dedicated to ensuring WAMCon is accessible to everyone, and we are happy to assist people in navigating the space however possible. Please contact us if you would like to arrange accommodations or have any concerns. Thank you!
--
SCHEDULE
Friday, October 18, 2019 - 5:30pm - 8:30pm
Location:
To be announced via e-mail to ticket holders prior to the event.
5:30pm - 6:30pm - Registration and Reception
6:30pm - 6:45pm - Welcome by Women's Audio Mission
6:45pm - 7:35pm - Conversation with Leslie Ann Jones and Terri Winston
7:35pm - 8:25pm - Engineering Prince: A Panel Discussion with Lisa Chamblee, Sylvia Massy, Peggy McCreary and Susan Rogers
8:30pm - Event Close
Saturday, October 19, 2019 - 6:00pm - 8:00pm
Location: Dolby SoHo, 447 Broadway, New York, NY 10013
6:00pm - Doors Open
6:30pm - Dolby Atmos demonstrations begin
6:30pm - 7:30pm Networking Workshop
7:30pm - Beat Battle with Ms. Madli and V-Notes
8:00pm - Event Close
Sunday, October 20, 2019
Locations: New York University (NYU) Steinhardt School , 35 W. 4th Street, New York, NY 10012; The Cutting Room Studios, 14 E 4th St #602, New York, NY 10012
9:30am - 10:00am - Registration at NYU Steinhardt (Registration will occur at NYU, workshops will be at both NYU and The Cutting Room).
10:00am - 11:10am - Immersive Workshops
* Podcast Production with Chiquita Paschal and Haley Shaw (NYU Conference Room)
* Vocal Production with Simone Torres (NYU Control Room)
* Beatmaking with Zukye Ardella (NYU Live Room)
* Pro Songwriting Process with Artists with Jenn Decilveo and Hinds (The Cutting Room Studio A)
* iZotope Product Demos with Rachel Alix (The Cutting Room Studio B)
11:30am - 12:40pm - Immersive Workshops
* Live Concert Sound with Fela Davis (NYU Conference Room)
* Vocal Production with Simone Torres (NYU Control Room)
* Intro to Creative Sampling and Ableton Live with Angelo Duncan (NYU Live Room)
* Recording Drums with Vira Byramji (The Cutting Room Studio A)
12:40pm-1:40pm - Lunch at NYU
2:00pm - 3:10pm - Immersive Workshops
* The Mastering Process with Kim Rosen (NYU Conference Room)
* Hybrid Recording/Mixing with Brandie Lane (NYU Control Room)
* Composing for Ads and TV with Kari Steinert (NYU Live Room)
* Recording Piano with Angela Piva (The Cutting Room Studio A)
3:30pm - 4:40pm - Immersive Workshops
* Mastering Discussion with Emily Lazar (NYU Conference Room)
* Deconstructing a Mix with Gloria Kaba (NYU Control Room)
* VR and Immersive Audio with Sally Kellaway (NYU Live Room)
* Music Licensing with Epidemic Sound (The Cutting Room Studio A)
4:40pm - Event Close
--
SPEAKERS
RACHEL ALIX
Rachel Alix is Sound Designer at iZotope and a vocal-centric electro-pop producer and performance artist based out of Cambridge, MA.
While honing her musical talents at Boston's Berklee College of Music, Alix found a passion for production and music tech in a live setting. She currently works as a Sound Designer on iZotope's Spire recording program, and has also been instrumental in translating artists' pain points into technical features across iZotope's suite of mixing, mastering, and creative products.
ZUKYE ARDELLA
Zukye Ardella, 27, is a producer, engineer, and songwriter from Uptown Manhattan. While only 8, she began creating music as a hobby and carried her talents well into her 20s. Working as an Emergency Medical Technician after achieving a bachelor's in pre-medicine, Zukye was able to attain her first recording session in 2014. Today, she has triumphantly worked with over 1000 clients in multiple commercial studios in NYC and garnered the skills to record and mix new music as a specialty. Transforming her hobby into a profession, she was able to open countless opportunities for herself. Zukye has helped many artists, including major label artists, compose new music and has arranged melodies ready for general release. Zukye still produces original beats regularly, and her work can be found on many platforms such as Tidal, Apple Music, Spotify, Google Play, Pandora and more!
VIRA BYRAMJI
Vira Byramji is an audio engineer specializing in studio recording and mixing. Vira's entrance into the industry was through the legendary Electric Lady Studios in Greenwich Village, where she was the assistant manager and a staff engineer. There, she worked with major labels and high profile clients such as Patti Smith, Paul Banks, AR Rahman, and David Gahan (of Depeche Mode) to name a few.
After leaving Electric Lady, she began working with LA-based producer Jonathan Wilson. With him she traveled to Haiti and there worked with Jackson Browne, to LA for Father John Misty's Pure Comedy album, and engineered remote sessions for Roger Waters and Lucius at the start of their world tour. She has also kept herself busy in New York with local artists like Gabriel Garzón-Montano, Joan as Policewoman, Thomas Bartlett and Tamar-Kali.
In 2017, Vira co-founded a monthly meet-up called Now What??. This networking event is an evolving platform that provides a space to discuss questions and explore answers with peers in the music industry.
LISA CHAMBLEE
Lisa Chamblee is a summa cum laude graduate of the Institute of Production and Recording, where she worked prior to becoming a staff engineer at Paisley Park, recording songs for Prince's GRAMMY-nominated album 3121 as well as LotusFlower.
Chamblee was second engineer to George Duke at Studio West, where she took part in recording Stevie Wonder, Aretha Franklin, Teena Marie, Ledisi, and Tower of Power. She also managed the prestigious Oasis Mastering and managed projects for Lady Gaga, Lana Del Rey, Ne-Yo, and others. Chamblee is business partners with fellow alumni Dave Hampton and is co-founder and COO of their Reftone brand of recording studio reference monitors, where she oversees manufacturing, sales and marketing.
ASHLEE CHANELLE
As a Senior Licensing Manager at Epidemic Sound, Ashlee Chanelle has the pleasure of helping individual content creators, production companies, and brands soundtrack their digital content with quality music while supporting highly talented music creators at the same time. She is a 2009 honors graduate of the Institute of Audio Research, winner of their 2009 Best Mix Award, and a featured alumni. During her studio years, Ashlee had the pleasure of either assistant engineering, mixing, producing, or live sound designing for artists such as J. Quiles, Don Neil, Lori Michaels, Haus of Gaga's Lady Starlight, Cáthia, Jason Martin + Power Animal Systems, Andrew Barret Cox, Breedlove, Gina Volpe, producer Barb Morrison, R.e.a.P, B3B3′, Mitchell Royel, Gabbie Giftsz, and more.
FELA DAVIS
Fela is a graduate of Full Sail University and has almost 20 years of experience in audio engineering. Her past experiences include working for industry powerhouses Clair Global and House of Blues. Fela has also mixed for the likes of Ron Carter, Brian Blade, Jose Feliciano, Meshell Ndegeocello and Bilal. She's currently front of house engineer for 6-time Grammy Award winner Christian McBride, mixing sold out shows across Asia, Europe, Canada and America.
When not on the road, she's recording and creating new projects at 23dB Productions & One of One Productions Studio. 23dB Productions specializes in live mixing, recording, producing original music, podcasts, creating video and social media content for businesses (Focusrite, OWC, Lewitt Microphones, etc). 23dB's mobile recording services are used at Live Nation NYC venues (Music Hall of Williamsburg and Bowery Ballroom), SiriusXM's Real Jazz The Lowdown: Conversations with Christian McBride live broadcast from The National Jazz Museum in Harlem and Atlantic Records! 23dB records, mixes and edits at their One of One Productions Studio located 5 minutes from NYC in Fort Lee, NJ! The One of One Productions studio also specializes in podcast recordings that is also home to The Art of Music Tech Podcast that Fela hosts with her 23dB business partner, Denis Orynbekov. The Art of Music Tech Podcast highlights the latest in audio gear, mixing techniques and interviews top audio engineers, musicians and producers (Leslie Ann Jones, Jeff Bova, Jett Galindo, Patrick Smith) about their journey in audio. It's available for download on Apple Podcasts, Spotify, Google, iHeart Radio and YouTube.
JENNIFER DECILVEO
Jennifer Decilveo is an American Grammy and Brit nominated songwriter and producer based in Los Angeles.
She has produced and co-written multiple platinum selling songs including Andra Day's Grammy nominated and critically acclaimed single Rise Up and Anne Marie's Brit nominated Ciao Adios. She was instrumental in the development of indie darling Ryn Weaver and Britain's Anne Marie and is a recipient of the Ashford and Simpson's Songwriter's Award.
Jenn recently finished writing/producing Bat for Lashes, Bloxx via Chess Club and Ben Platt on Atlantic. She is currently EPing Wens' debut album on Warner's, Joy Crooke's on Sony and Emma Kate on Secretly Canadian. She is also in the studio with an array of artists but is heavily involved with Jake Bugg (RCA), Hinds (Mom + Pop), George Cosby (Columbia) and Fletcher (Capitol).
Some recent releases include Meg Meyers, Beth Ditto of The Gossip, Albert Hammond Jr. of the Strokes and The Wombats, Caitlyn Smith, Joseph and Rae Morris.
ANGELO DUNCAN
Angelo is a nonbinary recording artist, songwriter, and performer, as well as a nonprofit professional with over 10 years of experience in the nonprofit sector. Angelo has performed throughout the U.S. & their music & performances have been included in such festivals as Outsider Festival in Austin, TX, San Francisco Pride, Frameline: LGBTQ Film Festival, MTV's Road Rules, Billboard, National Queer Arts Festival, & they were recently a guest lecturer at the Ableton Loop conference in Los Angeles. Angelo is currently a Development and Communications Associate and Instructor in Electronic Music Production at Women's Audio Mission.
HINDS
Hinds' breakout debut album Leave Me Alone was an album of party anthems drenched in metaphors. Their sophomore record I Don't Run was Hinds' return in 2018 with an honest reflection on a period that changed their lives beyond their wildest imaginations. They've never professed to being error-free, and they're all the more brazen for it having survived everything that's been thrown at them: world tours, sold-out crowds, harsh criticism, sexism, and all that lies in-between. Hinds have become better musicians, tighter friends and tougher characters. They are one of the biggest indie bands to ever emerge from Spain.
LESLIE ANN JONES
A recording and mixing engineer and record producer for over 40 years, Leslie has held staff positions at ABC Recording Studios in Los Angeles, the Automatt Recording Studios in San Francisco, Capitol Studios in Hollywood, and now Skywalker Sound where she continues her career recording and mixing music for records, films, video games, and television, and producing records primarily in the Classical genre. She is a past Chair of The Recording Academy's Board of Trustees and is the recipient of 4 Grammy Awards, including 2 for Best Engineered Album-Classical. She serves on the Advisory Boards of Institute for Musical Arts, G.A.N.G. (Game Audio Network Guild), and is an Artistic Advisor to the Technology and Applied Composition degree program at the San Francisco Conservatory of Music. Leslie also chaired the committee that wrote "Recommendations for Hi-Resolution Music Production, published by the Producers and Engineers Wing of the Recording Academy.
GLORIA KABA
Gloria is a Ghanaian-American sound engineer, producer, mixer and writer with over 10 years experience in the studio, often operating under the moniker Redsoul. She began her career in 2006 as an intern at Battery Studios and later as an assistant engineer at MSR Studios where she spent 6 years working with engineers, producers, and artists including Madonna, Beyonce, Phil Ramone, Kanye West, Salaam Remi, Aretha Franklin and Frank Ocean.
Gloria is now a freelance engineer, finding her niche working closely with legendary hip-hop artist and producer Q-tip. Her recent credits include work on A Tribe Called Quest's final album "We Got It From Here...Thank You For Your Service" and Solange's breakthrough release, "A Seat At The Table". She has also lent her songwriting talent to another legendary producer, William Orbit, who is responsible for producing Madonna's successful Ray of Light album.
With a return to her songwriting and production roots, Gloria hopes to continue forging a road forward with a perspective and voice all of her own.
KEISHH
KEISHH is a music producer from Maryland that spends most of her time figuring out how to mesh glittering synths with hard 808's. Growing up inspired by Missy, Timbaland, and Pharrell, she's always valued artists with a unique sound. She taught herself about audio software throughout college where she gained experience collaborating one-on-one with a variety of artists. Moving to NYC was the next step to keep pushing forward. During her second year there she produced a project with Miss Eaves titled Feminasty that premiered on NPR, landed in an episode of HBO's Insecure as well as Netflix's original series Big Mouth. Currently a producer in a duo with artist ET.PAT, she continues to explore and expand her sound. In 2018 they released their first EP titled Camp Mars along with 5 visuals, and collaborated with 4AD Records artist Tune-Yards to remix their single 'Look at Your Hands'. They continue to experiment and collaborate as they work on their next project.
SALLY KELLAWAY
Sally Kellaway is the Senior Audio Designer at Microsoft, where she is exploring the future of Spatial Audio in Mixed Reality, Artificial Intelligence and Machine Learning for Enterprise applications. This intersection of technologies allows Sal to build new workflows and technology pipelines that leverage interactive and immersive audio technologies from audio post production, psychoacoustics and game audio with the mission to discover how humans hear, experience and use audio as signals in Mixed Reality. Sal has a deep passion for communicating about the power of audio, and has spoken at conferences across the globe about her experience working across Game Audio, VR and Audio Hardware Development.
BRANDIE LANE
Brandie Lane currently serves as a United States Army Sergeant First Class (Promotable) and the non-commissioned officer-in-charge of the Audio Section with the West Point Band, located at the United States Military Academy in West Point, NY. She has served as producer, recording engineer, and front of house engineer for the many performing elements of the band and is credited on their commercial stereo and surround sound releases, television and web specials for NBC, FOX, CBS, HISTORY, and special events in New York City. Prior to joining the United States Army, she held the position of Head Audio Engineer at GRAMMY winning Sono Luminus, an independent classical label in northern Virginia.
Brandie's accolades include a GRAMMY Award for "Best Engineered Album, Classical", engineering credits on multiple GRAMMY nominated albums, a Downbeat Award for "Best Engineering for a Live Recording" and an "Award of Excellence" from the Audio Engineering Society High Resolution Recording Competition. Her military awards include the Meritorious Service Medal and the Army Achievement Medal.
EMILY LAZAR
Renowned Mastering Engineer, Emily Lazar has mastered thousands of albums with musical luminaries such as: Foo Fighters, Beck, Coldplay, David Bowie, Sia, Panic! At the Disco, Maggie Rogers, Dolly Parton, Garbage, Sonic Youth, Natalie Merchant, Lou Reed, Morrissey, Depeche Mode, Tiësto, Vampire Weekend, Björk and many others. Lazar is the first female mastering engineer to win the Best Engineered Album (Non-Classical) Grammy, which she won for her work on Beck's Colors. She received three additional Grammy nominations and was the first female mastering engineer to be nominated for a Grammy for Best Engineered Album Non-Classical for Bird and the Bee's (Greg Kurstin and Inara George) album, Recreational Love. Emily has been featured in such publications as Rolling Stone, Billboard, Mix, Sound on Sound and Electronic Musician and gave the closing keynote address at The Audio Engineering Society (AES) Convention in 2017. Currently she is serving her fourth term on the Board of Governors for The Recording Academy and is the Co-Chair of the NY Chapter's Producers and Engineers Wing.
JOHN LOOSE
John Loose is Director of Audio Production at Dolby. John originally joined Dolby in 1997 to kick-start the computer game industry's adoption of Dolby audio, now a world standard. Since 1999, he has turned his focus to audio production as composer, surround mixer and mastering engineer, working on hundreds of DVDs, Blu-rays, and media demos. He has also been a re-recording mixer on several feature films.
John's original training was as a classical percussionist, graduating from the Mannes College of Music in 1986. He has appeared on forty CDs and has toured the world playing in major concert halls and festivals, playing both early classical music and pop music.
SYLVIA MASSY
Sylvia Massy is a 35-year audio industry veteran recording producer, engineer, and mixer.
While a staff engineer at Larrabee Sound in West Hollywood, Massy worked on recordings for Aerosmith, Big Daddy Kane, Prince, Wendy & Lisa, Rosie Gaines, Seal, and Julio Iglesias. She engineered and mixed GRAMMY-awarded 1997 Best Country Album, Johnny Cash's Unchained; mixed The Beastie Boys' Tibetan Freedom Concert; produced Red Hot Chili Peppers, Sevendust, Powerman, and 5000; and owned and operated RadioStar Studios. Massy is an illustrator, visiting professor at Berklee College of Music in Boston, and the author ofRecording Unhinged.
KATT MATT
Katt Matt oversees Creative Licensing for Epidemic Sound in North America. Prior to Epidemic Sound, Katt worked with Steve Gordon, ESQ. clearing music for The Smithsonian National Museum of African American History and Culture; she worked in the licensing department for legacy label and publisher ABKCO Music & Records where she mastered her craft of synch pitching and licensing. Katt has landed Epidemic Sound synch placements with Netflix, HBO, Showtime, and many others. Katt has also landed commercial placements for Lexus, LG and Target.
PEGGY MCCREARY
Peggy McCreary is an accomplished audio engineer, sound effects editor and foley mixer, and spent many years at the famed Sunset Sound recording studio in Los Angeles. McCreary has worked with Booker T. Jones, Toto, Van Halen, Kris Kristofferson and Little Feat, and others. Her time with Prince had her busy with nearly all of his projects in one of the most notably prolific periods of his career. McCreary worked onControversy, 1999, Purple Rain, Around the World in a Day, Parade, and with Apollonia 6, Jill Jones, The Time, Andre Cymone and Shelia E.
MS. MADLI
Estonian born composer and producer Ms Madli gained wider recognition after winning iStandard's Producer Showcase in NY in 2015. From that event she advanced to the international showcase where she competed in the "Beast of the Beats" competition going head to head with over 100 winners from all around the US and the world and eventually winning third place. Since then, Ms Madli has won several other showcases and participated in celebrity cyphers across the country, presenting her music alongside industry heavyweights like Rockwilder, Bink!, 808 Mafia, The Olympiks and Major Seven. Recently, she was featured on "Sway in the Morning" where she was the guest producer for the Friday morning cypher. As a classically trained musician, Ms Madli has composed corporate clients like AirbnB and Planned Parenthood as well as prime time TV shows and film on VH1, CBS, ABC as well as other major networks.
CHIQUITA PASCHAL
Chiquita Paschal is an award-winning arts journalist and podcaster on a mission to understand how creativity fuels human resilience. She specializes in developing and producing podcasts about art, culture and politics. Her production and editorial experience includes hard news, talk shows and highly-produced narrative storytelling. She helped to produce Gimlet Media's Uncivil, which won a Peabody Award in 2018. Previously, she was a member of the "Pod Squad" at BuzzFeed where she produced episodes of Another Round, See Something Say Something and No One Knows Anything. Before podcasting, Chiquita reported and produced daily segments across public media, from NPR's Morning Edition to PRI's The World.
As a consultant and freelance editor, her current and recent projects include Essence's celebrity pop culture interview podcast Yes Girl, politically focused shows like Hysteria from Crooked Media and Democracy in Color and independent shows about art and culture such as The Witch Wave and her own pilot about the creative process called Spark!
ANGELA PIVA
Angela Piva is highly skilled in all aspects of music/audio production, recording, mixing and mastering with over 30 years of professional audio engineering experience and accolades. Recognized by several Grammy award nominations from NARAS as well as dozens of RIAA multi-platinum sales and awards for many projects both past and present. Angela is currently a member of the Audio and Music Production Faculty & Staff at the Feirstein Graduate School of Cinema, Brooklyn College CUNY. Credits include: Michael Jackson, Tony Braxton, Naughty By Nature, Queen Latifah, Run DMC, Ronnie Spector, Groove Theory, Mary J Blige, Color Me Badd, Zhane, Lil Kim, Next, Heavy D, Christopher Williams, Ghostface Killah. Film Music Mixing Credits: New Jack City, Poetic Justice, Juice, Love Jones, Toy Story, The Show, Sunset Park, Space Jam, NJ Drive, Why Do Fools Fall in Love. Voiceover work including: Cherry Jones, Stanley Tucci, Lynn Redgrave, Lauren Bacall, Anderson Cooper and more.
SUSAN ROGERS
Susan Rogers holds a doctoral degree in experimental psychology from McGill University (2010).
Prior to her science career, Rogers was a multiplatinum-earning record producer, engineer, mixer and audio technician, best known for her work with Prince (1983-1987). She is currently a Professor in the departments of Music Production & Engineering and Liberal Arts at Berklee College of Music, Boston. She teaches music cognition, psychoacoustics, record production and engineering. Rogers is also a PRN Alumni Foundation board member.
KIM ROSEN
Kim Rosen is a mastering engineer working out of her own studio, Knack Mastering, located in Ringwood, NJ. Kim's mastered six Grammy® nominated albums in the past four years; one winning for Best Folk Album (Aimee Mann), three nominated in Best Blues Album categories (Bettye LaVette, Victor Wainwright and Theresa James) as well as two nominations in the Best Engineered Album/ Non-Classical category (Bonnie Raitt and The Milk Carton Kids). Her clients include producers and engineers such as Ryan Freeland, Ed Cherney, Joe Henry, Matt Ross-Spang, Paul Q. Kolderie and artists such as Rhiannon Giddens, Aimee Mann, Belly, Bonnie Raitt, Billy Bragg, Wynonna Judd, The Birds of Chicago, The Barr Brothers, Over The Rhine, Sarah Jaffe, Anthony Green and Title Fight.
HALEY SHAW
Haley Shaw is a composer and sound designer at Gimlet Media, where she has created work for The Habitat, Mogul: The Life and Death of Chris Lighty, Peabody winner Uncivil, Jonathan Goldstein's Heavyweight, Startup, The Nod, The Pitch, and Crimetown among others. Her music has appeared on Gimlet Media, CBC, and This American Life, on film projects with CBC Films, Skybound, and for brands Reebok, Adobe, Blue Apron, Squarespace, Prudential, and Audible.
EMMA SHILLIDAY
Emma Shilliday is a graduate of the Belmont University Songwriting program and found her passion for music supervision and editorial through writing songs to pitch for film and tv. She honed her skills working for LA-based music supervision company Neophonic Music and Media and assistant music editing on several television shows. She eventually made her way to New York where she dove head-first into the music library world, first working at well-known production music company Jingle Punks, and then at Epidemic Sound where she currently works in sales and licensing.
ZEPHRAH SOTO
Zephrah Soto is the Music Licensing Coordinator for North America at Epidemic Sound. A 2017 REMU alum, she is an accomplished singer, songwriter, music producer, and engineer. Zephrah has worked at various recording studios around the nation, including Honolulu's Blue Planet Sound as Assistant Engineer, JAMBOX Entertainment in the heart of Manhattan as Studio Manager and House Engineer, and the legendary Avatar Studios in NYC. Specializing in Pop & R&B, she co-runs a recording studio (Zeke & Zeph) in Astoria, Queens.
KARI STEINERT
Kari Steinert began her music career studying violin at the Tanglewood Institute where she was coached by members of the Boston Symphony Orchestra and had the privilege of being conducted by Leonard Bernstein. This experience led her to the Eastman School of Music. 
After 20 years as senior writer/creative director at Big Foote Music + Sound in NYC, Kari is now a freelance composer, writing, arranging and producing music for advertising, television, movie trailers, independent films and multi-media. She has scored hundreds of commercials for many notable ad campaigns including Visa, Nike, Charles Schwab, AT&T, Coke and Mercedes-Benz. Her music can be heard on several TV networks such as National Geographic, The History Channel, CBS, Lifetime, WB, Bloomberg and Nick Jr. 
Kari currently lives in beautiful Bucks County, PA with her wife and two boys.
SIMONE TORRES
Simone Torres is a Multi-Platinum, Grammy Nominated, engineer, vocal producer, and vocalist from New York who works alongside five-time Grammy Award-Winning Vocal Producer Kuk Harrell. Simone has worked with artists such as Jessie J, Camila Cabello, Cardi B, Sia, Usher, Dua Lipa, DNCE, and more. You can learn more about Simone on simonetorres.com and keep up with her on instagram @officialsimonetorres. Simone has also recently started an alternate Instagram account to help mentor up and coming engineers and producers. For more on that check out @asksimonet.
TERRI WINSTON
Terri Winston is Founder and Executive Director of Women's Audio Mission and a former Professor and Director of the Sound Recording Arts Program at City College of San Francisco. Her career as a songwriter, composer, recording engineer, and producer spans 30 years. Winston was signed by Polygram and BMG, and has shared the stage with P.J. Harvey, Pixies, Throwing Muses, Flaming Lips and Fugazi. In the studio she has worked with Lenny Kaye of the Patti Smith Group, Greg Hawkes of The Cars, Kronos Quartet, St. Lawrence String Quartet, Wu Man, and Tanya Tagaq. Winston holds a B.S. in Electrical Engineering from Purdue University.
--
Women's Audio Mission focuses on increasing the gender balance in audio production and technology sectors since less than 5% of the population employed in these sectors are women. There are limited spots available in our conferences and they often sell out, so we ask that if you are not woman-identified (transgender or cisgender), non-binary or gender non-conforming, that you reconsider registering. We will not turn anyone away, but please be mindful that if you take up a seat, that is one less woman or non binary-identified individual that we can serve. We thank you for your understanding in advance and for joining us in our mission to advance women and girls in music production and the recording arts.
--
WAMCON NY SPONSORS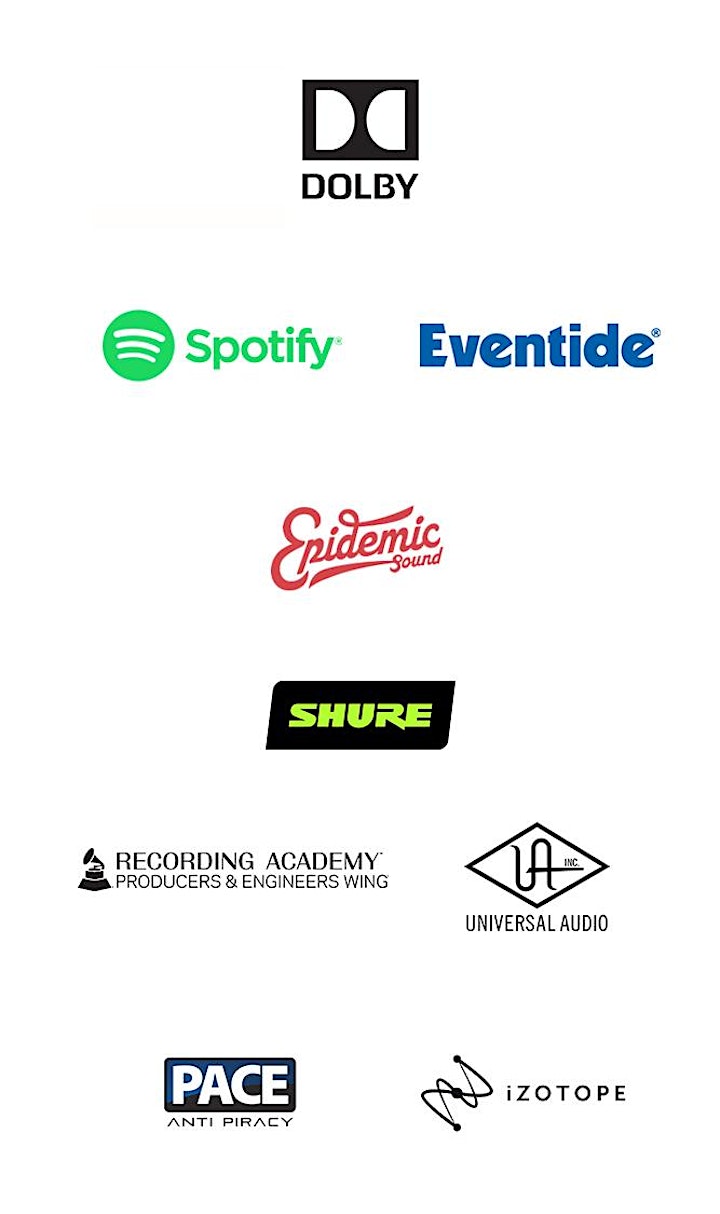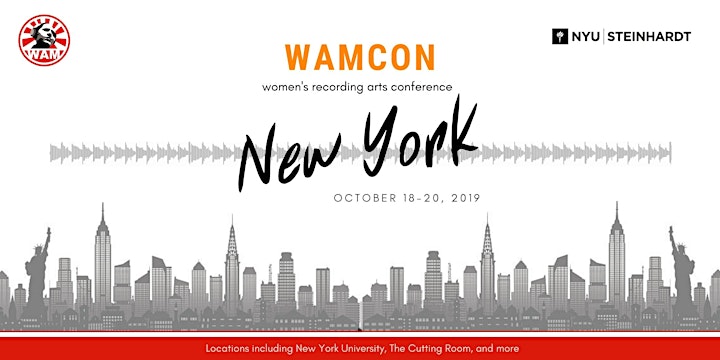 Date and time
Location
35 West 4th Street
35 West 4th Street
New York, NY 10012
Refund policy
Refunds up to 7 days before event