About this Event
DOORS OPEN AT 6:30PM.
A Cuban-American whose parents fled Castro's Havana with him still in the womb, Walter Salas-Humara was raised bilingual just across the Florida Straits in Fort Lauderdale. College at University of Florida in Gainesville and a residency with the Vulgar Boatmen left him with a lifelong habit of Mudcrutch/Tom Petty-style crunchy guitar riffs. Chasing the punk prairie fire to New York just in time to sift through the ashes, he formed The Silos in 1985 with guitarist Bob Rupe and violinist Mary Rowell, plugging the main cable of American rock idiom into the jerry-rigged soundboard of Velvets-era feral experimentalism. The unlikely result, as evidenced by About Her Steps (1986), the seminal Cuba (1987) and their RCA debut The Silos (i.e., The One with the Bird on the Cover, 1990) was a loose-limbed conceptual country-rock that in turn influenced (if not outright inspired) the alt-country No Depression movement just around the corner. The band was voted Best New American Band in Rolling Stone Magazine's Critics' Poll of 1987 and appeared on Late Night with David Letterman in 1990.
With this apocalyptic agrarianism safely encoded in his band's name, Salas-Humara moved on once that lineup had run its course -- taking with him not the country revisionism that by now could have sustained him in an endless holding pattern, but rather the Lower East Side's fervid avant-gardism, that high-test mixture of aggression and dissonance the neighborhood wears like a jailhouse tattoo. He forged connections in Austin, another lost outpost tailor-made for his particular set of influences, where he formed the poor man's supergroup the Setters with songwriters Michael Hall of the Wild Seeds and Alejandro Escovedo of the True Believers. Moving to Los Angeles, he recorded and toured with Tom Freund, Manny Verzosa, Jon Dee Graham, Gary Sunshine and Darren Hess. Those middle records – Hasta la Victoria! (1992), Susan Across the Ocean (1994), Heater (and its remixed mutant twin Cooler) (1998) validated the early acclaim and expanded Salas-Humara's reputation as one of the finest songwriters working in the American vernacular. In 1998, Salas-Humara moved back to New York and formed Silos 3.0, with Konrad Meissner on drums and Drew Glackin on bass and guitar.
Throughout the new millennium, the Silos have continued to release an admirable body of work. Laser Beam Next Door (2001) and Come on Like the Fast Lane (2007) are fierce power trio albums that burst with the crackling intensity of proto-punk legends the Velvet Underground and Television. When the Telephone Rings (2004) and
Florizona (2011) are intricately crafted productions, densely layered with glittering detail. With the passing of Drew Glackin in 2008, and the addition of Rod Hohl (bass and guitars), Bruce Martin (keyboards) and Jason Victor (guitar), the band has entered a new phase. Walter Salas-Humara and Silos present and past have marshaled the best of America -- our wide tradition, focused innovation and unfettered optimism. Embrace them as a national treasure.
2014 brought the release of a new Walter Salas-Humara solo album, Curve and Shake. Rolling Stone editor Anthony DeCurtis describes the album - "That sense of being untethered from certainties, of floating, permeates Curve and Shake. The feeling is gentle, not quite scary, but with an element of unease. Letting go of expectations combines aspects of sadness, freedom and even wonder. Like so many great singers, Walter communicates as much by what he doesn't say as by what he does. His raspy tone provides a rich counterpoint to the genial surrealism, the offhand magical realism, of so many of his lyrics. His words are presented as if they're describing straightforward events, but they speak a rich, associative poetry that evokes emotions more so than facts. His guitar playing is similarly adaptable – raw and stinging one moment, dreamy and droning the next.
2016 brought the release of 2 albums. Work: Part One, an acoustic rendering of Walter's best songs written in the 80s, is the first in a series of acoustic albums defining Walter as a singer/songwriter. It is produced by guitarist extraordinaire Richard Brotherton and includes familiar Silos Mary Rowell on violin and Amy Allison on supporting voice. Explodes and Disappears is an album of new songs, the follow up to Curve and Shake. Walter sings witty songs about modern life, rocks a sweet Spanish melody on guitar, swings a sexy jazz number, and then reaches deep for a soulful expression of values in a troubled world. He tops it all with a funky number chronicling 3 American misfits searching for peace of mind and headed for disaster on the shores of Mexico -- all skillfully blended into a seamless flow.
2017 has seen the release of Work: Part Two, the continuation of the acoustic series produced by Rich Brotherton. Walter is currently working on an electric album of songs in both Spanish and English to be released in the Spring of 2018. He is already singing many of these songs on tour.
Walter Salas-Humara has shared the stage with the following greats: Wilco, Lucinda Williams, Matthew Sweet, American Music Club, Chris Whitley, Hootie and The Blowfish, Violent Femmes, The Jayhawks, Yo La Tengo, Certain General, The Reivers, The True Believers, The Wild Seeds, Victoria Williams, Willard Grant Conspiracy, Mark Ribot, Ryan Adams, Jon Dee Graham, Alejandro Escovedo, Let's Active, Young Fresh Fellows, Miracle Legion, Living Color, Souled American, The Minus 5, Steve Wynn and the Miracle 3, Jon Langford, The Waco Brothers, Chuck Prophet, Jerry Joseph, Caitlin Cary, Anders Parker, Tom Freund, Centro-Matic, Spottiswoode and his Enemies, Lynyrd Skynyrd, …to name a few.
https://waltersalashumara.com/tour
https://www.facebook.com/waltersalashumara
https://www.instagram.com/wsalashumara/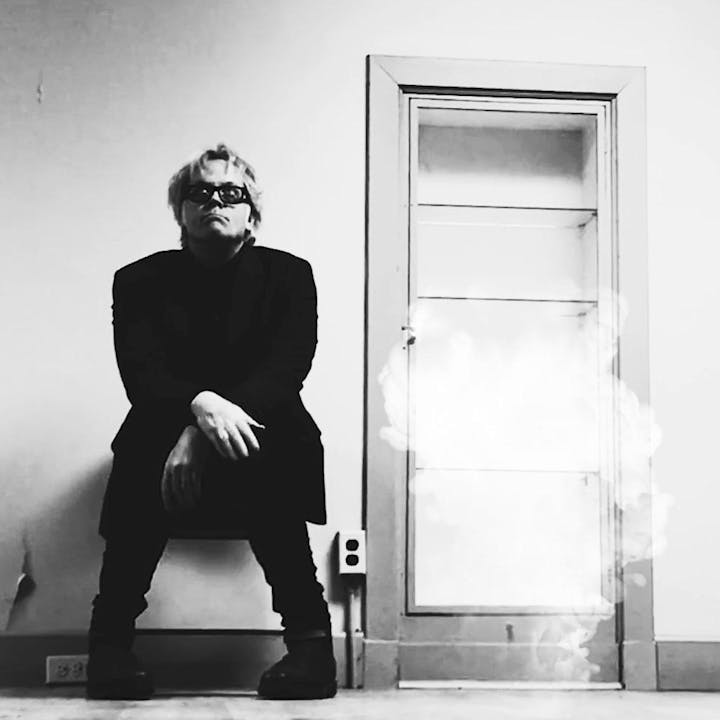 Philip B. Price is best known as the lead singer and polymath behind the New England-based melancholic folk/pop band Winterpills, but his CV stretches far back into the late 80s and draws on minimalist/jagged art-rock, lo-fi pop, power pop, dance-noise, post-punk, pre-emo, flowery brit-folk, and hooky shoegaze.
Price's early years in music were spent partly in collaboration with electronic musician Antony Widoff (who worked with David Bowie, U2, David Torn), a colleague from Bennington College. Price also performed live with Glenn Branca acolyte Jonathan Bepler (Music for Cremaster) while at Bennington and composed several instrumental pieces for dance performances.
Post-Bennington, with Widoff, he formed the upstate NY art-rock quartet Memorial Garage (1986-1989). After recording 2 albums for SF-based Top Records and an unreleased 22 song live album, the band broke up in 1989.
A short-lived collaboration with drummer Jerry Marotta (Elvis Costello, Peter Gabriel, Stevie Nicks), bassist Michael Nunziata and keyboardist Harvey Jones (Ellis Paul, Sara Lee) yielded the release of a 4-song EP titled Weatherless. Price then retreated into his home studio where over the next 6 years he self-released 8 albums of diverse and often devastatingly emotional and confessional rock.
Now relocated to New Hampshire, in 1992, bassist and fan Max Germer approached Price about forming a band based largely on this raw pop material, and The Maggies were born. The band endured several line-up changes, but between 1993 and 2002 released 8 albums and 2 EPs of loud, harmony-based shimmering and inspired power pop and became regional stars, signing to Jerry Harrison's short-lived label (GarageBand Records) though larger success eluded them.
After The Maggies ended, Price released two more solo albums (13 Songs For Right Now in 2002, and Honey In The Chemicals in 2003, both on Brooklyn-based Listen Here! Records) and toured extensively behind them (with John Wesley Harding and others) until the Winterpills came together in late 2003 with Flora Reed, Dennis Crommett and Dave Hower. The band signed to Signature Sounds in 2004, have released 7 critically lauded albums and toured worldwide. The band has made it onto MOJOs Top Ten lists and songs have been featured on many TV shows, including Showtime's Weeds and NBC's Grey's Anatomy.
Currently on a semi-hiatus from Winterpills duties, 2018 saw the release of a huge amount of this wide-ranging back-catalog material (12 albums total) in preparation for an all-new solo album in late 2018, his first solo outing since 2004. A 'best of' collection of the unreleased solo material was released as a 2-CD set on Signature Sounds.
Price will release his first solo all-acoustic album since 2004 in the summer of 2019.
Price also has collaborated with author Jonathan Lethem, indie rock legend Walter Salas-Humara, and has been in two bands with Fountains of Wayne frontman Chris Collingwood (including his current project Look Park, on Yep Roc).
His spare, riveting live shows, with his quavering irish tenor, spidery guitarwork and dense wordplay, manage to make intimacy feel massively anthemic, and grinding rock seem like a close-whispered romantic inside joke. - Quynlyn Demitrus
http://facebook.com/philipbpricemusic
https://www.instagram.com/winterpills/
Performers
Date and Time
Location
Refund Policy