Description
lacpug meets are now made possible by


and
---
Next lacpug Meet is Wednesday, October 23, 2019
beginning at 6:45PM -
till we drop at the Gallery Theatre in Hollywood Ca.

Walter Murch, LumaTouch, JVC & Endcrawl.
Join us Wednesday, October 23 for a jam packed lacpug Meet.
Walter Murch returns and will spend 30 minutes or so with us to show and tell on the ten-year-in-the-making-documentary Coup 53, directed by Taghi Amirani and edited and co-written by Walter. You need to get to Gallery Theatre early for this as Walter goes on at 6:45PM. No Stump the Gurus this month.

Also will welcome LumaTouch, the powerful multi-track video editor for professional mobile journalists, filmmakers, and professional video producers.
Also: Alicia Reed from JVC returns to show off the line of 500 series "connected" cameras. Designed for concurrent live IP production and high-quality 4K acquisitions, they are VERY versatile to say the least.
Also: You've seen it in hundreds of movies, but just don't know it. Endcrawl allows you to build end credits in your browser, collaborate in one place, preview your layout in real time, and get one-click renders whenever you like. It supports 4K. Over 1,000 productions have used Endcrawl to help finish their movie. John 'Pliney' Eremic will present.
Plus World Famous Raffle.
---
Agenda (subject to change and availability)
6:45- 7:30PM - Coup 53 - Walter Murch
Ten years in the making, COUP 53 tells the story of the 1953 the Anglo-American coup d'état that overthrew Iran's government of Prime Minister Mohammad Mossadegh and reinstalled the Shah. The CIA/MI6 covert action was called Operation Ajax. It was all about Iran's oil and who gets to control and benefit from it. BP was at the heart of this story. Directed by Taghi Amirani, co-written and edited by Walter Murch, COUP 53 is a politically explosive and cinematically innovative documentary that lifts the lid on secrets buried for over sixty-six years.


About Walter Murch
Walter Murch has been editing sound in Hollywood since starting on Francis Ford Coppola's film The Rain People (1969). He edited sound on American Graffiti (1973) and The Godfather: Part II (1974), won his first Academy Award nomination for The Conversation (1974), won his first Oscar for Apocalypse Now (1979), and won an unprecedented double Oscar for Best Sound and Best Film Editing for his work on The English Patient (1996). Most recently he helped reconstruct Touch of Evil (1958) to Orson Welles' original notes, and edited The Talented Mr. Ripley (1999). Mr. Murch was, along with George Lucas and Francis Ford Coppola, a founding member of northern California cinema. Mr. Murch has directed --Return to Oz (1985) -- and longs to do so again, but as an editor and sound man he is one of the few universally acknowledged masters in his field. For his work on the film "Apocalypse Now (1979)", Walter coined the term "sound designer", and along with colleagues such as Ben Burtt, helped to elevate the art and impact of film sound to a new level


7:35PM - 8:05PM - The New Series of JVC "Connected Cam" cameras - Alicia Reed
JVC has a new series of "Connected Cam" cameras, the GY-HC500, GY-HC500SPC and GY-HC550 that will be shipping soon. These all have HD, 4K, HDR, IP-connectivity, and the ability to record 4:2:2 10-bit 60p ProRes right in the camera body onto an optional SSD card. These cameras also have a 20x optical zoom lens that offers up to a 40x zoom in HD mode and a shallow depth of field due to the camera's 1" sensor. They can also be remotely controlled via IP as well as stream recorded clips or live video right from the camera. These are priced at $3900 - $5500 MSRP, so are a great choice for live event coverage, remote production, news, sports, music videos, documentaries, blogging, trainings, and more!


About Alicia Reed
Alicia Reed from JVCKENWOOD will be at the October 23 meeting to demonstrate the new JVC Connected Cam Camera and tell you more! Alicia has represented JVCKENWOOD on the West Coast for over 13 years, and previously worked at IDX Batteries, Audio Video Supply, and Frontline Video.
8:05- 8:30PM - Break
This is the most important part of the show. It's networking time. This is a great opportunity to not only ask questions and get problems solved, but to meet people that just might change your life. Edit5 Consoles will be in lobby showing off Editing tables and chairs and there will be cookies. And water.

8:30PM - 9:00PM - Editing with LumaFusion - Androu Morgan and Chris Demiris
Androu and Chris from LumaTouch will be talking about workflows that allow editing ProRes footage (using proxies derived from Frame.io and some cameras) on LumaFusion and then exporting to Final Cut Pro XML and matching back to the ProRes footage to finalize the edit in FCPX."
About Androu Morgan
Androu leads quality assurance testing, provides technical support, and consults on editing feature design. Androu has been a video editor for the best part of 30 years. He began his career in London as an offline editor for One Zero Nine Productions working on a variety of programs. With the advent of non-linear editing he found a position with Lightworks as a technical support specialist.
He has had a strong involvement with various non-linear editing systems in the past 15 years including Avid Media Composer, Newscutter, FAST Systems 601, Pinnacle Liquid, Premiere Pro and FCPX.
Most recently he worked as an independent videographer and editor in the Pacific Northwest.
About Chris Demiris
Chris has over 30 years of software engineering and leadership experience, specializing in video and GPU video processing technologies.
He co-founded Hollywood FX in 1993, delivered an award-winning line of 3D video motion graphic products, and helped engineer the sale of Hollywood FX to Pinnacle Systems in 1999.
As part of the Pinnacle Studio team at Pinnacle, Avid and then Corel, he created and integrated numerous technologies and products for 3D motion graphics, GPU video processing, digital-rights-management, and much more.
He led the development and release of the highly-successful Pinnacle Studio for iPad (previously Avid Studio).
Most recently he led the engineering team at Condition One, creators of incredible immersive video technologies. Chris received his BS in Computer Science at Westminster College.

9:05PM - 9:35PM - Endcrawl - John 'Pliney' Eremic
You've seen it in hundreds of movies, but just don't know it. Endcrawl allows you to build end credits in your browser, collaborate in one place, preview your layout in real time, and get one-click renders whenever you like. Endcrawl now supports 4K and has been used in over 1000 TV shows and feature films.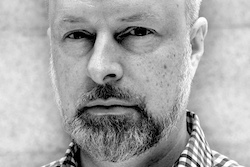 About John 'Pliney' Eremic
John is the co-founder of Endcrawl.com and works in media tech at HBO. Previously he ran a post production boutique for 8 years. That company, OffHollywood, had separate exits to Light Iron/Panavision and the Vitec Group.
He has lectured publicly at Columbia University, and the Hong Kong Design Institute.
Currently serves as a board member for the non-profit Blue Collar Post Collective.



---